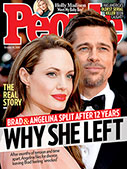 This Week's Issue!
People Top 5
LAST UPDATE: Tuesday February 10, 2015 01:10PM EST
PEOPLE Top 5 are the most-viewed stories on the site over the past three days, updated every 60 minutes
Yo, Mama! The Wrestling Stallone, Sly's Mother, Jackie, Returns to the Ring with a Stable of Rambettes

My girls are champions in the ring
They're on the go, they never stop
That's why they're headed for the top

It is the final bout of the evening in a grimy warehouse on the outskirts of Las Vegas, and Jackie Stallone is on her feet, screaming encouragements in her gravelly voice at the unfolding mayhem. Before her, in the pink-roped ring, 24 bizarrely clad women are scratching, clawing and upending each other in a choreographed catfight billed as "Battle Royal." One of Jackie's grapplers, Cheyenne Cher, in cheerleader attire, is being viciously assaulted by an ax-wielding, hockey-masked bruiser named Dementia. "Hey, Cher, pom-pom her to death!" screams a teenager in the audience. Another fan shrills encouragement at a Mohawked, bleached blond in dog collar and studded leather wristbands. "Fart on her, Beastie!" he cries. From a corner, the TV announcer surveys the carnage with mock horror and splutters, "This is shocking! This is disgraceful! Where are the paramedics? Do we need security here? Oh, my! Fans, can you believe this action?!"

The answer, of course, is that they can. Gorgeous Ladies of Wrestling (GLOW), the wildly trashy, wildly popular syndicated weekend wrestling show, commands an estimated seven million viewers watching on 73 channels. For this smashing success, a lot of the credit goes to that eminent shrinking violet and GLOW manager, Sly's mom, Jacqueline Stallone.

A former female wrestler herself, Jackie was introduced to GLOW'S producers while she worked out in a gym near her Santa Monica condo in 1986. "They asked me if I'd be interested in handling the girls," she says. "I liked the concept. We're trying to accomplish female physical fitness in the United States. But my real goal is to get female wrestling into the Barcelona Olympics in 1992."

Though the staid U.S. Olympic Committee may be presumed to be spectacularly indifferent, Stallone thinks GLOW has already given female wrestling new life. "You have to have a little bit of color to entertain an audience and attract viewers," she says, and GLOW—the acronym could stand for Gruesome, Lewd, Outlandish and Wacky—clearly provides more than a little bit. Matches are orchestrated, high-camp morality plays pitting the "good" Stallone's Sweethearts against the "bad" Kitty's Killers, led by the evil Aunt Kitty, supposedly a former prison guard who drew a pink slip for roughing up inmates. Contestants include Ninotchka, a sadistic Soviet spy; Jailbait, a nubile, underage vixen; Babe and Sally, well-scrubbed farmers' daughters from Hog Hollow, Nebr.; and Justice, a former Harlem cop now pursuing her own brand of law and order. While critics have called the show one step below pornography, Howard Rosenberg of the L.A. Times calls it "TV at its exquisitely raunchiest, trashiest and tongue-in-cheekiest."

Stallone's children—Sylvester, Frankie and ToniAn—have all refrained from public comment on their infamously outspoken mother's new career, leaving a void she is more than happy to fill. "I'm sure they're all embarrassed, if you want to know the truth," she says, clearly unembarrassed herself. "They feel as though this is hardly the position for me, for a mother. They probably think I should stay at home and mind my own business. But they don't realize that if I had stayed home and minded my own business, they'd be home minding their own businesses. Sylvester wouldn't be in these controversial movies that he's in. He'd be home watching television. They had an outrageous upbringing—a unique upbringing—and this is why he is where he is today."

She claims she despised her own rugged rearing. Jacqueline Labofish's parents were fitness fanatics; her mother, Madeleine, once swam the English Channel, and her father, John, trained with Charles Atlas. Together they forced their daughter to work out every morning in the basement gym of their Washington, D.C., house. "I hated it," says Jackie, who can still bench-press 150 pounds. "When I was 12 years old I had a 40-inch chest. I was muscular. I was out in the yard tossing a medicine ball. Boys didn't like me. I would have rather been chasing them and necking in the park and running around in rumble seats."

At 16, thoroughly exercised, Jackie left home, planning to catch on as an aerialist with the Ringling Bros. circus. Instead she wound up wrestling professionally in a seedy Baltimore gym and working as a cigarette girl in Manhattan's Stork Club. Then in 1947 she married Frank Stallone, who became a hairdresser. Over the next 16 years, she bore two children by Stallone and, after divorcing him in 1963, one by pizza manufacturer Tony Viliti. "I was a tough mom, but only to the point where I knew it was good for them," she says. "I had a boxing ring in the house. I had punching bags. I had to pay my children to exercise. Did Sylvester like it? No. We didn't ask them to like it. But he's disciplined, and now he's got his son, Sage, disciplined. Sage is into weight lifting and likes the results."

For better or worse, Jackie's new job has rekindled her desire to bang heads herself, something GLOW'S producers have been reluctant to permit after "the episode" last fall. "I suddenly wanted to get into the ring," says Jackie. "The girls tried to get me offstage. I wasn't supposed to be violent, but I got carried away. I slugged, I kicked, I punched, I screamed, I was a raving maniac. If my kids ever see the tape they'll be horrified. But I thought it was my chance to shine again, and they were taking it away from me." Luckily for them, Jackie's pugnacity has been quieted some by a new love interest, Jack Rapoport, a burly businessman who claims to be as committed as Jackie to women's wrestling.

In fact, Gorgeous Ladies of Wrestling, at once outrageous and athletic, seems the ideal vehicle for Jackie, just as charity work seems right for Mother Teresa. "I love my life," declares Jackie. "I wish I had a few more curls in my hair and was two inches taller. But I have all my own teeth, I have my own hair. I have great kids—they're old and stuffy compared to me—I have a new lover and I have all the money I can spend. What the hell more do I want?" Certainly not self-improvement. "I know it sounds terrible, but I can't see one thing wrong with me," she says. "Unfortunately, I'm madly in love with myself."

—By Susan Reed, with Michael Alexander in Las Vegas


I'm Mama Stallone, listen to me sing
Advertisement
Treat Yourself! 4 Preview Issues
The most buzzed about stars this minute!