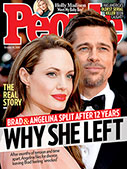 This Week's Issue!
People Top 5
LAST UPDATE: Tuesday February 10, 2015 01:10PM EST
PEOPLE Top 5 are the most-viewed stories on the site over the past three days, updated every 60 minutes
Natalie Merchant, Pop Poet, Finds Asylum with 10,000 Maniacs


Though she is the only living rock star in sight, Merchant is ignored by the Elvisphiles, who have heard neither of her nor of the other 9,999 Maniacs. But after years of obscurity, the band—Merchant, bassist Steve Gustafson, 31, drummer Jerry Augustyniak, 29, keyboardist Dennis Drew, 30, and guitarist Rob Buck, 30—is getting noticed by other pop culturalists. Critical raves from the likes of England's New Musical Express ("The finest American band to cross the Atlantic in years"), together with a current hit single, "Like the Weather," have helped the Maniacs sell 400,000 copies of their third album, In My Tribe. The days when the Maniacs could be heard only in basement clubs and on late-night college radio stations appear to be over. "I never really thought we were going to be pop stars," Merchant says. "But I don't mind now. It's kind of fun. I don't think it's asking too much to have 1,000 people in every major city in America come to see us play. Now we're even getting a couple more than that. It's a good feeling."

In return, fans get Merchant's lyrics that take on subjects as diverse as alcoholism, illiteracy, Jack Kerouac ("Hip flask slinging madmen, steaming café flirts, they all spoke through you") and child abuse. "A lot of the songs are about really frightening subjects," Merchant says. "But we hide them in nice little pop melodies, and it kind of lures people in." Part of the lure comes from Peter Asher, Linda Ronstadt's producer, who helped give the LP its sprightly folk rock sound.

"They're original, not mainstream," says Mike Gallis, 18, who wore a peace symbol T-shirt at a Pittsburgh record signing. "They have something to say besides the usual pop garbage."

Their fans' devotion can be maniacal. They throw books, not lingerie, during shows and visit backstage bearing gifts and seeking truth. "Some come up and say, 'Is this Jack Kerouac a friend of yours?' I tell them to go to the library and look it up," says Merchant, who tries to persuade fans she's no oracle. "I always talk to them about themselves. I'll say, 'Does your mother have the same color eyes as you?' Then they realize I just want to talk about them."

A waiflike vegetarian and political activist who carries a sketch pad in her knapsack ("I love to draw chubby, cherubic-looking children") and quotes leftist heroine Emma Goldman with approval ("If I can't dance at your revolution, I'm not coming"), Merchant seems to be a '60s flashback come to life. In concert, she mesmerizes audiences with an idiosyncratic whirling dervish dance that is part graceful Deadhead, part Martha Graham. "I just get lost in it," she says.

If she seems the latest bloom of flower power, look to Merchant's girlhood in Jamestown, N.Y. Her mother, Ann—who was divorced from her father, Tony, when Merchant was 7—worked as a secretary at nearby Jamestown Community College and tended to hang out with professors, potters and psychologists. "They were all these strange hippie characters," says Merchant, who stopped watching TV at the age of 11, "when my mother pulled the set out of the wall." At 16 she dropped out of high school to take college courses and work three jobs, one at a "whole-foods bakery run by this older hippie community. A lot of great people were living in Jamestown then. It was a good little scene."

Out of it popped the Maniacs, whose name was inspired by a Grade B horror flick. Just 17 when she joined the group, Merchant says, "The first five times I went to see 10,000 Maniacs [in 1981], I wasn't in the band. But they saw me sitting there and said, 'C'mon up and sing.' So I did that for the next five shows. They kept luring me up onstage, and I kind of liked it. It was pretty exciting, and Jamestown as a whole was pretty boring."

Still, it remains home to the 10,000, just back after an eight-month tour. "We stay because it's cheap," says Drew. Merchant, whose romance with REM's Michael Stipe cooled last year, lives alone in an apartment "too filled with junk." Despite the seriousness of Maniac lyrics, she wants it known that she doesn't "sit around and wallow in awful things all the time. I like just going for walks all day, sitting in a field and having a picnic. I get so elated sitting around and drinking wine and talking to people."

Other than bestowing on the Maniacs a Certificate of Recognition from the Jamestown Centennial Committee—a distinction the Rolling Stones, to name only one band, cannot claim—hometown folk leave Merchant and her bandmates alone to do as they please. "We can't fill Jamestown's bigger halls," Gustafson says. "People figure, Twelve dollars?! Aw, hell, I used to see them for two down at the Rusty Nail.' "

—By Steve Dougherty, with Lisa Russell


When Natalie Merchant, lead singer and lightning rod for the band 10,000 Maniacs, wanders into a "We Remember Elvis" convention in the basement of a Pittsburgh motel, she isn't impressed. She passes up the Elvis toenail clippers and doesn't even bid on a cummerbund—a steal at $80—once worn by the full-figured rock royal. "I'm extremely ignorant about pop culture," says Merchant, 24 and out of place among Elvis' ever-so-slightly-graying fans.
Advertisement
Treat Yourself! 4 Preview Issues
The most buzzed about stars this minute!