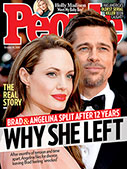 This Week's Issue!
People Top 5
LAST UPDATE: Tuesday February 10, 2015 01:10PM EST
PEOPLE Top 5 are the most-viewed stories on the site over the past three days, updated every 60 minutes
Starring in Track, Tennis and Soccer, Laurinda Mulhaupt Won't Let Blindness Put Her on the Sidelines


A 5'4" California girl next door, Laurinda began to realize there was something wrong with her eyes five years ago. The affliction was eventually diagnosed as Stargardt's disease, and though it has left her peripheral vision intact, she can see clearly only a few feet in front of her. No one knows what causes Stargardt's. "It's hereditary, but usually there's no family history because it's a recessive gene and never expresses itself until two partners carry it," says ophthalmologist Dr. James R. Brinkley, a clinical associate professor at the USC School of Medicine. "It's very rare, and there's no corrective surgery. But I'd say the odds are pretty strong that her vision will remain at this level."

From the beginning, Laurinda has been determined not to let her problem take over her life. "It just made me want to work harder," she says. "Sometimes in the morning I look in the mirror, and I can't see my face very good, and I think, 'Oh, my God, is it getting worse?' But I just have to look closer. I guess what really bothers me more than anything else is not being able to see faces real good. Like last night, I went to a play, and everyone's laughing because of the actors' expressions, and I couldn't see their faces. But that's really my fault because I could use binoculars."

Laurinda's parents, Richard and Linda Mulhaupt, both teachers, took the news harder. "They really broke down when they heard," she says. Then, because she did not want to be pitied, they agreed to keep her failing vision a secret. For almost three years, Laurinda, a solid B-plus student, simply sat close to the chalkboard in classes, borrowed friends' notes and bought books with large type. Almost nobody noticed. Kerry Leander, the tennis coach, had seen Laurinda play when he coached at a rival school last year. "I not only had no idea she had this eye problem then, I also didn't know about it through the first couple of months of this season," he says, "although one teacher asked if I'd seen anything different about her, because she seemed to hold books real close to her face." Laurinda finally told him of her condition. "He just said something like, 'No wonder she couldn't hit those volleys,' " she recalls. "I'm not really good at the net, so I usually play back."

The family decided to disclose Laurinda's secret after they were approached for a story about her sports success by the L.A. Times, which didn't know of her disorder. Getting it out in the open was a relief for Laurinda, though reactions to the story sometimes amused her. "All these people started writing me letters and stuff, saying you're such an inspiration and da, da, da," she says. "Then five people who had Stargardt's called or wrote and told me they have these telescopic lenses. I'm probably going to start using those for classes and stuff. So it's been real good I went public."

This being California, however, many of Laurinda's peers simply can't comprehend the enormity of one aspect of her disability. "Yeah, I can't drive," she says philosophically. "Everyone's like, 'Wheeeerrre's your caaarrr?' I mean, this is Mission Viejo. Everyone drives a car. And I tell them I don't have my license, and they say, 'Whhhyyyy?' And I tell them my eyes aren't good enough, and they say, 'Get glaaaasssses.' And I say, 'They don't work,' and it just goes on like this."

Laurinda still carries a rigorous academic schedule—math analysis, chemistry, history and French. When she attends college in two years, she plans to continue with athletics and to concentrate on her strongest sport, track. In the meantime she'll just do what comes naturally—everything, including skiing on snow and on water. "If I can't see something, I just fall," she says. "My dad is always saying, 'You do too much.' But I think that's what we're here for—to do all we can."

—By Ken Gross, with Rick Holmstrom in Mission Viejo


It's the start of the track season in Southern California, and all eyes are on 17-year-old Laurinda Mulhaupt, a junior at Capistrano Valley High, who is running the 800-meter event for the varsity. Even some of the fans at the nearby baseball field have come over to cheer her on. "Come on now, Rinnie!" they cry from the bleachers as the sun-bleached blond whips around the track. "Kick some ass out there, honey!" And though she is beaten by a split second by the favorite from Irvine High, no one thinks of Laurinda as a loser. That isn't merely because she is a standout in three different sports—track, tennis and soccer. It isn't even because Laurinda, with 20/200 vision in both eyes, is legally blind. "No big deal," she says, and in fact almost nobody knew about her sight impairment until a few months ago. Rather, Rinnie Mulhaupt is admired in suburban Mission Viejo for her courageous refusal to quit.
Advertisement
Treat Yourself! 4 Preview Issues
The most buzzed about stars this minute!