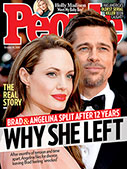 This Week's Issue!
People Top 5
LAST UPDATE: Tuesday February 10, 2015 01:10PM EST
PEOPLE Top 5 are the most-viewed stories on the site over the past three days, updated every 60 minutes
'80s Lady K.T. Oslin Strikes Country Gold at An Age When Most Plans Don't Pan Out


So she reinvented it. "I write songs the way I think women think today," she says, and those songs have turned Kay Toinette Oslin into a country phenom at 46. Her first album, 80's Ladies, made country music history last year when it rose higher and faster on the charts than the debut work of any woman before her. The album reached No. 1 this February and was certified gold for 500,000 copies sold. The title song earned Oslin the 1988 Grammy Award for best country female vocal performance, and she knows just why. "There are a
million beautiful young women singers," Oslin says. "I am not one of them. Writing is the key to all of this success for me." That's because for wry good humor and solid sense, K.T. is hard to beat, and her tale about how her success came about is a song worth hearing.

It took a while. Oslin's mother, a retired lab technician who lives in Austin, Texas, had taken a shot at a musical career of her own at 16. When Les Brown's Orchestra came to town, she got up, sang a song and was offered a job—but her parents wouldn't let her go on the road. K.T. (whose father died when she was 5) inherited Mom's talent, and it took her pretty far pretty fast, at first. After studying drama at Lon Morris College in Jacksonville, Texas, she joined the chorus of a Hello, Dolly! touring company and graduated to the Broadway cast in 1967. She was 24.

"New York spelled terror for me," she says. "I'm from the suburbs. I'm from yards. My first apartment had five locks on the door and a bathtub in the kitchen." She won small roles in West Side Story and Promises, Promises but moved Upstate with a boyfriend and spent two years "doing macrame and growing tomatoes" before heading back to the Big Apple alone.

There she "quietly starved to death for six years." Singing jingles and playing happy housewives in TV commercials barely paid the rent, and "babbling about my husband's hemorrhoids" on TV did little for her ego. So she tried writing songs. "They were very definitely country," she says. "They just came out that way." She landed a deal with Elektra Records, which released an early version of her current album's "Younger Men" ("The only trouble with being a woman my age is the men my age") in 1980.

The song got little radio play, and Oslin lost her contract. "I felt like a failure for the first time in my life," she recalls. "I got real fat and I got real depressed." At her 25th high school reunion in 1985, "I wept on my best friend's shoulder," Oslin says. "She's got a kid and a house, and I'm thinking, 'I've never owned anything. Am I going to be one of those crazy old bag ladies who thinks she's in show business?' I gulped and thought, 'God, I've got to try this one more time.' "

She borrowed $7,000 from an aunt, put together a band and did a showcase for record executives in Nashville in 1986; she got no offers. But she sent a tape of 80's Ladies to RCA Records, which released the album three months later. Oslin was 44.

"People have comebacks at this age, but they don't start at this age," Oslin marvels. "Some of it terrifies me—the being recognized, the fear that I'll turn into a raging ass." But the rewards, emotional as well as material, are real. "I'm more secure and confident because I'm successful. I understand why men love success so. It's fabulous."

Now dating Nashville producer Steve Buckingham, 39, Oslin says, "I don't know that I've ever been in love, but I like him a lot. It's probably the most relaxed relationship I've ever had. You don't play the stupid games you used to."

Oslin now splits her time between Manhattan, where she lives in a modest one-bedroom apartment, and Nashville, where she just bought her first house. She is currently on tour, opening for the country-rock band Alabama. "Young 20-year-old boys come up to me and give me flowers," she says. "I'm talkin' real cuties." Does she wish this all happened years ago? No way. "I'd rather it be starting now," says Oslin, "than ending now."

—By Steve Dougherty, with Victoria Balfour in New York


Well over 40, a little overweight and virtually unheard of until a year ago, K.T. Oslin is not your typical country music star. Without a rhinestone in her wardrobe, she dresses hip, talks smart and never ever sings about how proud she is to stand by her no-good, two-timin' man. Though born country (Crossette, Ark.), she was raised in suburban Houston, lives in Manhattan and admits she once "hated" country music. "During the '60s, when it was all middle-aged men singing about drinking whiskey and cheating on their loyal wives, I didn't like the genre."
Advertisement
Treat Yourself! 4 Preview Issues
The most buzzed about stars this minute!