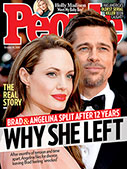 This Week's Issue!
People Top 5
LAST UPDATE: Tuesday February 10, 2015 01:10PM EST
PEOPLE Top 5 are the most-viewed stories on the site over the past three days, updated every 60 minutes
The Late, Great Preston Sturges' Brilliant Stage and Screen Career Gets a Big Boost from His Son Tom


Then in 1977, Sturges, who was studying music at the University of California at Davis, was asked to speak about his father to a film class. "Here's a class of 300 people, and they want to talk about him," he recalls. "I began to wonder, 'Who is this guy?' " His interest grew a year later, when he went to a film festival to see the first movie Preston Sturges wrote, The Power and the Glory, with Spencer Tracy. Seventeen minutes of the 1933 drama had been lost forever from the discolored and decaying film. "My heart hurt for him," Sturges says. "His first film, and it was almost gone. I thought, 'If I don't do something, Dad's whole life's work will disappear.' "

Vowing to preserve the Sturges legacy, Tom, now vice-president of the Chrysalis Music Group, eventually saw to it that 14 of his father's screenplays would be published by the University of California Press. He shopped around unproduced Sturges scripts—Paramount and Warners have each optioned one. He's cooperating with author Donald Spoto on a Preston Sturges biography, and he himself is editing a book of his father's letters for Simon & Schuster. With the help of his mother, he unearthed an early Sturges satiric play, A Cup of Coffee (which had been filmed as 1940's Christmas in July), for a successful stage premiere this year off-off-Broadway. "There's always been a cult following of his works," says Sturges, noting, for instance, that the 1929 Broadway comedy Strictly Dishonorable, which just completed a revival in L.A., has been produced on campuses for four decades. "But it's like a wave crashing on the beach. I think the interest had been there for a long time, but it's as if no one knew whom to call."

Sturges, who resembles his handsome forebear, says that Preston was a prolific writer blessed with early success and that he gained acclaim in the '30s and '40s for a string of fast-paced plays, scripts and movies that mocked social conventions with sophisticated, biting humor. In addition to The Great McGinty, Sturges also wrote and directed hits that include the 1941 social comedy The Lady Eve, with Henry Fonda and Barbara Stanwyck, and the offbeat satires Christmas in July (1940), Sullivan's Travels (1941), The Palm Beach Story(1942) and Hail the Conquering Hero (1944).

By the late '40s, however, Preston's box office appeal had waned; then, Tom believes, he was blacklisted during the McCarthy era. Plagued by debts, he died in New York of a heart attack at 60, just as his career seemed about to rebound. "He had so much going, two plays being optioned, a screenplay signed," says Tom. "Now it's up to me to let him live a little longer."

The youngest of Sturges' three children (brother Preston is a lyricist and half-brother Solomon is in the real estate business), Tom can't remember his father. "But I feel a true connection with my dad," he explains. "He's real to me. Mom used to put the projector on the piano and a sheet on the wall and show us some of his movies. He made me laugh. How could you not love someone who makes you laugh?"

Sturges' share of the income from any play and movie deals will go entirely to his mother, Sandy Nagle Sturges, Preston's fourth and last wife, who is now a Los Angeles estate planner. "If my dad were alive today, he'd be protecting my mom," says Sturges. "But he's not here. I'm here. I'm taking care of my mom."

Sturges, who lives in the Hollywood Hills and plans to marry in December, admits that even though his present job has him matching songs with the likes of Aretha Franklin, George Michael and Whitney Houston, he may one day follow his father into the movie business. "I feel I'll get there eventually," says the novice author of one unsold screen comedy. Meanwhile, he keeps pushing his father back toward the top, hoping for deals such as one that may soon bring Cup of Coffee to Broadway. "It would be such a gas to sit with my father now," he muses, "him being 90 years old, and say, 'Hey, Dad, remember that play you wrote in 1931? It's gonna open on Broadway this summer.' "

—By Ron Arias, with Lee Wohlfert in Los Angeles


As a kid growing up in Hollywood, Tom Sturges was only vaguely aware of his late father's reputation. He was just 3 when playwright, screenwriter and director Preston Sturges—who was hailed in the '40s as Hollywood's greatest comedic genius—died in 1959. Of course, Tom would show his pals the unusual bookend his mother, Sandy, kept in the living room—his dad's 1940 original-screenplay Oscar for the political comedy The Great McGinty. And he knew there was a Preston Sturges star on Hollywood Boulevard. "But I never thought about his reputation one way or another," Sturges, 31, recalls. "Mostly I'd come across his name in some review of a Peter Bogdanovich or Woody Allen film. He was a footnote."
Advertisement
Treat Yourself! 4 Preview Issues
The most buzzed about stars this minute!