People Top 5
LAST UPDATE: Tuesday February 10, 2015 01:10PM EST
PEOPLE Top 5 are the most-viewed stories on the site over the past three days, updated every 60 minutes
Heather O'Rourke's Grieving Mother Tells Why She's Suing Her Child's Doctors for Wrongful Death


Heather O'Rourke gave this interview last June. Had fate been kinder, Heather would be jetting about the country now, promoting Poltergeist III, which opens this week. But on Feb. 1, seven months after she finished filming, Heather died of cardiac-pulmonary arrest and septic shock, the result of an undetected intestinal blockage.

The news was startling. How could the popular child star have died so suddenly? Heather's mother, Kathleen O'Rourke Peele, 38, is furious over what she believes is the answer. Last month she filed a wrongful-death suit in California Superior Court in San Diego County claiming her daughter's illness was misdiagnosed, eventually causing her death. The suit's primary defendants are the Kaiser Foundation Hospital and Southern California Permanente Medical Group, a plan in which patients are treated by a rotating staff of physicians. Kathleen states that she received a letter—dated March 30, 1987—from Dr. James Tipton of L.A.'s Kaiser Foundation Hospital saying that there was "conclusive radiographic evidence for Crohn's disease [a chronic inflammation of the bowel]." The suit charges that the operation performed on Heather on the day she died at Children's Hospital and Health Center in San Diego established conclusively that she did not have Crohn's disease but an acute bowel obstruction due to a congenital stenosis. "It was an intestinal blockage that had probably been present since birth," says Kathleen. "The X rays taken, if properly read, would have disclosed that this was the kind of condition that should have been treated surgically." Says Kaiser spokesman Alan Mann: "We have reviewed the case extensively and are satisfied that the diagnosis made, and the care provided, was accurate."

Beverly Hills attorney Sanford Gage, Kathleen's lawyer, is seeking unspecified damages. "It covers both the personal loss [the emotional stress suffered by Heather's mother] and the economic loss," says Gage. "The economic loss is difficult to project, but from our preliminary investigations, I'd say we're talking about a career that was very sizable, maybe greater than $10 million." Gage claims the suit wasn't intentionally filed to coincide with the release of Poltergeist III, "It's taken my office 3½ months to obtain all the records and X rays and put them in the hands of medical experts," he says.

Sitting in Gage's office, Kathleen dissolves into tears while publicly talking about her daughter's death for the first time. "The first month was awful. I had to force myself to get up, to eat," she says. "Shopping was almost impossible. What Heather liked best was to coordinate everything in one color, from shoes to earrings. Another thing, I couldn't cook in the kitchen anymore. Heather loved pies, cakes and cookies, and I used to make them for her. In the beginning I didn't know if I was going to make it. I thought, 'Why go on?' "

The first sign of Heather's illness, Kathleen says, appeared in January 1987. Heather was at home at the time with her mom, step-dad Jim Peele, 45, and sister, Tammy, now 16, at their three-bedroom house in the woods of Big Bear, Calif., 120 miles east of L.A. The simple A-frame house had been purchased with money Heather had earned. (Kathleen married Jim, a part-time truck driver, in 1984, three years after divorcing Michael O'Rourke, a construction worker who is Heather and Tammy's father.) Heather began feeling nauseous. Kathleen took her to a Kaiser facility in San Diego; she had been enrolled in the Kaiser plan earlier by her ex-husband's union. "I had taken her to Kaiser three or four times that month," says Kathleen. "They kept telling me she had the flu."

Then Heather's feet began swelling. Kathleen took her back to Kaiser, where they put her in the hospital for a few days of tests. They discovered she had a parasite called Giardia and gave her the drug Flagyl to kill it. The drug seemed to work. "Essentially, Heather was fine," says Kathleen. "You know how kids are. They bounce right back." But Kathleen, who considers herself an "overprotective mother," took Heather back to Kaiser for a follow-up visit just before filming was to start on Poltergeist III. "They did an X ray after giving her this chalky, white barium stuff to drink," says Kathleen. "And they found that the parasite cleared up, but there still was some kind of inflammation. They called what they saw Crohn's, and they put her on cortisone and sulfa."

During the time they were in Chicago for Poltergeist III, April through June, there were no symptoms, says Kathleen. However, she did take Heather to a private doctor there to see about getting her off the cortisone, which had caused her face to puff up. "She was rather embarrassed about her chipmunk cheeks," says Kathleen. Heather was gradually eased off the drug, and by September her face went back to its normal proportions. "She was delighted," recalls Kathleen.

To celebrate the end of shooting, Heather, her mother and her truck-driver stepfather unhitched the cab of his 18-wheeler and spent two months, July and August of 1987, driving from Chicago to Disney World in Florida and then back to L.A. "It was the vacation of a lifetime," says Kathleen. "Heather's health seemed excellent."

Just before starting Poltergeist III, the family had moved from Big Bear (the doctors at Kaiser had told Kathleen that parasites were more common in a mountain area) to a large, two-bedroom apartment in Lakeside, Calif. There seemed to be no further cause for alarm until Sunday, Jan. 31, 1988, when Heather woke up vomiting. During the day, Kathleen had Heather drink Gatorade, which Kaiser doctors had recommended as a stomach remedy. The next morning, Feb. 1, Heather got up and informed her mother she was going to school. "I told her, 'No, you're not!' " says Kathleen, who tried feeding her some toast. "She said, 'I can't even swallow.' Then I noticed her fingers and toes were blue, and she started to breathe real heavy, kind of fast. And her stomach was distended. I called our local doctor and his office said, 'Bring her right in.' About 20 seconds later she fell on the floor. That's when I called the paramedics."

Suffering from septic shock, Heather was still conscious when the paramedics arrived. When one asked her if she was feeling bad, she said, "A little." On the way to the ambulance Kathleen says she told Heather, "I love you," and Heather replied, "I love you, too." They were the last words mother and daughter exchanged.

During the less than 10 minutes it took the ambulance to drive to American Medical International Hospital in El Cajon, eight miles away, Heather suffered cardiac arrest and lost consciousness. The paramedics tried to revive her. She arrived there at 9:25 a.m. She was "technically dead," says Kathy Beaudoin, the head of nurses. After doctors resuscitated her, they helicoptered her to Children's Hospital and Health Center in San Diego, about 20 miles away, where she arrived at 10:45 a.m. in a critical state. Kathleen was joined at the El Cajon facility by husband Jim, who hadn't been allowed to ride in the ambulance.

At Children's Hospital Kathleen and Jim were told that Heather had suffered cardiac arrest and that her pupils were fixed, which could mean she had suffered brain damage. Suspecting a bowel obstruction, the doctors asked Kathleen and Jim for permission to perform an exploratory operation on her abdomen. They agreed. On finding an obstructed bowel, the doctors corrected it. "But it was too late," lawyer Gage says now. "She was too far gone." At 2:43 p.m. she was pronounced dead. "I was in shock," says Kathleen. "I felt like someone was taking a knife and turning it and turning it."

A service took place on Feb. 4 at the Lakeside Memorial Chapel. The next day the final burial rites were held at Pierce Brothers in Westwood, Calif. "It was an open casket. I asked for it," says Kathleen. Before the casket was closed, Kathleen put a gold chain around Heather's neck that had the letters F-R-l-E-N-D hanging from it. She kept the companion chain spelling B-E-S-T. "Heather gave me these for Christmas. She used to tell her friends that I was her best friend and not just her mom."

Kathleen shows off pieces of a quilt she is making in Heather's memory. Each square of heavy white cloth has been imprinted in color with pictures of Heather, her family, her friends, ads from the Poltergeist films and publicity stills. "When I lost Heather, it was like I lost my shadow," says Kathleen, holding the still unsewn squares in her hands. Whatever the outcome of the lawsuit, Kathleen says, "my life will never be the same."

—By John Stark, with Eleanor Hoover in Los Angeles and Peter Keogh in Chicago


It's an eerie sight. The angelic 12-year-old sits patiently in a chair while a makeup artist transforms her into a demon from hell. Despite the circumstances, her spirits are high. She thinks the film she is making in Chicago, Poltergeist III, will be a winner. "This one is really good. I think it's the best," she says. She was only 5 when she made the first Poltergeist film, playing a child kidnapped by evil spirits. She says she liked that one. But Poltergeist II, made in 1986, didn't pass muster. "I thought it was too boring, "she says. "I don't think it would scare anyone."
Advertisement
Today's Photos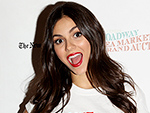 Treat Yourself! 4 Preview Issues
The most buzzed about stars this minute!