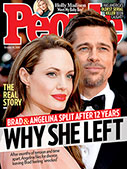 This Week's Issue!
People Top 5
LAST UPDATE: Tuesday February 10, 2015 01:10PM EST
PEOPLE Top 5 are the most-viewed stories on the site over the past three days, updated every 60 minutes
Pageant Officials Are Calling Michelle Anderson Every Name in the Book Except Miss California


Anderson's moment of disruption was brief—she was quickly hustled offstage by a production assistant—but it capped 18 months of plotting on her part to draw attention to what she and many other feminists regard as the exploitive nature of beauty pageants. Her action also left behind a trail of hurt feelings among pageant officials and other contestants who had befriended Anderson with no idea that she wanted anything more than a shot at weeping copiously in Atlantic City to the tune of "There she is..." Melinda Frey, who would have been Miss Santa Cruz in the June 13 pageant if Anderson hadn't won, was desolate. "I thought we were friends," she said. "I felt like there was a death in my family." Donna Williams, executive director of the Miss Santa Cruz pageant, was outraged. "We feel publicly raped," she said. And Renee Kenneth, Miss Torrance, who had roomed with Anderson, was incensed. "If this were as negative, unscrupulous and demeaning as she says it is," she demanded, "do you really think that someone of my stature would participate?"

The daughter of a now retired Air Force colonel, Anderson discovered her feminist consciousness early. "If I made an intelligent comment in school," she says, "boys would be intimidated, and if I acted stupid, it would be endearing." Later, she rebelled. "A construction worker would whistle and say, 'Hey, babe, you got a cute ass,' " she recalls, "and I'd say, 'I don't like being reduced to my body parts.' " Then two years ago, Anderson met Ann Simonton. Once a top model, Simonton had come to believe that pageants dehumanize women, and for eight years she had picketed the Miss California pageant. Simonton asked Anderson to phone for details of the pageant so she could make plans for a new demonstration. "I pretended I wanted to be a contestant," says Anderson. "Then all of a sudden I thought, 'Oh my gosh, what an idea...' "

Tall (5'11"), somewhat blond and already striking, Anderson set out to make herself over in the image of a perfectly groomed pageant champion. She bleached her hair, dieted, took voice lessons, spent hours in tanning salons. She also embarked on a campaign of deception, claiming, for example, to be a fundamentalist Christian. For all her preparation, Anderson had to settle for third place in the 1987 Santa Cruz pageant.

Relieved, she reverted to being herself. But as the 1988 pageant neared, she decided to try again. "The first time, I didn't know about taping my breasts, didn't know I was supposed to spray my butt to keep my swimsuit from riding up," she says. At the urging of pageant officials, she came on with studied meekness at interviews. Last February she became Miss Santa Cruz. Even runner-up Frey admits, "She deserved to win."

During her three-month reign, Anderson cheerfully attended gas station openings and dance recitals while she plotted her protest. "It was incredibly intense," she says of the moment of unfurling, "but I had no second thoughts." After getting the bum's rush, she changed quickly out of her white evening gown to join Simonton and 60 other protestors on the sidewalk outside.

Stripped of her Miss Santa Cruz title, Anderson is delighted that her duplicity finally paid off. "Pageants force all women to lie about who they are," she says. "I don't think I was lying any more than anyone else." Her personal feelings are more complicated, especially about wrecking the crowning moment for the new Miss California, Marlise Ricardos, Miss Lomita. "It was an opportunity to educate people," Anderson says, "and change hurts. What I did at that moment of glory was almost vicious. I feel extremely sorry for her." Her pity, pageant devotees say, is presumptuous. Her ploy, they insist, was a flop. "I think it's only going to make us stronger," Donna Williams, of the Miss Santa Cruz pageant, says confidently. "You're not going to stop Miss America."

—Michael Neill, with Dirk Mathison in Santa Cruz


The 1988 Miss California Pageant was about to reach its climax. Ten eager finalists had been winnowed down to two, and now it was time for emcee Mary D'Arcy to name the first runner-up and hence the winner. That's when Michelle Anderson, Miss Santa Cruz, a willowy junior at the University of California at Santa Cruz, reached deep into her décolletage and drew out a message that stunned her fellow contestants and nearly gave pageant officials apoplexy. It was a white silk banner reading, "Pageants Hurt All Women."
Advertisement
Treat Yourself! 4 Preview Issues
The most buzzed about stars this minute!