People Top 5
LAST UPDATE: Tuesday February 10, 2015 01:10PM EST
PEOPLE Top 5 are the most-viewed stories on the site over the past three days, updated every 60 minutes
11-Year-Old Adragon De Mello Has Everything a Boy Could Want—except Admission to a Ph.d Program


While Adragon had his moment in the sun, his father kept to the shadows. A self-described hermit and anarchist, Agustin Eastwood De Mello (who claims to be a distant relation of Clint Eastwood) is a secretive man. It's a trait he says he picked up from his father, "one of the top espionage agents in the U.S." Refusing to divulge his age or hometown, De Mello will talk only vaguely and reluctantly of a previous existence in which he earned advanced degrees, taught at a university and wrote for newspapers and magazines on scientific subjects. He is a renowned karate expert, he says, and has also enjoyed a measure of fame as a classical guitarist, which may explain why the fingernails of his right hand have been allowed to grow long. But little in his résumé can be verified, he warns, because his father successfully obfuscated many facts about his family. Sometimes it seems as if De Mello's entire personal history has been obliterated by his present full-time job and consuming passion: monitoring his only son's development as a boy wonder. "Adragon," he says, "is my main reason for living."

De Mello says he began to shape his offspring into a genius even before conception: Using a secret technique of his own devising, he says, he "accelerated the energy levels" in himself and Adragon's mother, a woman he never married and will not identify. The baby was born in the year of the dragon and named accordingly. After the birth—De Mello will not say where it took place—mobiles of stars and planets were hung over the newborn's crib, and recordings of Mozart and Beethoven were played in the nursery at all hours. At 6½ weeks, the baby gave his single parent a cheery "hello," De Mello claims. He also says that at 18 months Adragon picked up a guitar and started to sing, stopping every few moments to demand that his audience "clap hands."

At 5, Adragon became the only MENSA member in his Montessori preschool class. Tests that year, his father says, showed the boy to have some intellectual capabilities comparable to people four times his age. Three years and seven elementary schools later, De Mello decided that his son needed a bigger challenge and enrolled him in an algebra course at Cabrillo Community College, a two-year school near the De Mello home. Adragon aced the class and then left grammar school altogether. At 8 years old, he sped through the curriculum at Cabrillo, earning an associate degree in science and a prestigious Regents Scholarship to U.C. Santa Cruz.

Thanks to the insurance he collected after a hit-and-run driver rear-ended him in 1985, the elder De Mello was able to quit his job as a technical writer and devote all his time to his son. Every day De Mello drove Adragon from the cluttered two-bedroom bungalow that they sometimes share with a boarder to the Santa Cruz campus 4½ miles away. Then he would spend the afternoon chauffeuring the boy from one class to another. Some weeks, De Mello says, he put 550 miles on his 78 Saab. Since he had already taken some Santa Cruz courses while at Cabrillo, Adragon was able to amass enough credits for a bachelor of science degree in eight months.

Not everybody was thrilled with Adragon's dash toward a degree. "I would have preferred a less fast track," says John Lynch, a provost at Santa Cruz. "[Adragon] is definitely 11, and you wouldn't mistake him for 12. His knowledge of math may be up there, but not the things that go with it."

But Steven Hanley, who taught Adragon English in junior college, defends his former student against critics who say the boy has gone too far too fast. Adragon may not appreciate the "nitty-gritty of adult sexuality, but he was capable of writing original criticism on Huckleberry Finn," Hanley says, adding, "People aren't too disturbed by all the youth who loll about on skateboards and can't tell you the names of the last four Presidents. But they're bothered by the fact that Adragon has moved ahead."

De Mello, for his part, insists that Adragon "is directing his own future. I'm merely an assistant." Adragon agrees. It was his decision to drop out of fourth grade, he says: "I got bored with elementary school. I kept wanting to learn more and more, but they'd keep saying, 'Okay, what's two plus two?' and the next day, 'What's two plus three?' " Adragon's principal grammar school memories, he says, are of "getting in trouble for teaching other kids things they weren't supposed to learn yet." There were also run-ins with children who bit him and pelted him with rocks. Were they, perhaps, envious of his talents? "I can't say if they were jealous or not," Adragon says, "because I'm not them."

Life as the small man on the Santa Cruz campus was no more comfortable. "People would say I made them feel old, that I shouldn't be in college, and that made me depressed," Adragon says. "I did get lonely. But after a while I found a friend in computers."

Despite his extracurricular problems, Adragon hopes that he can go back to school in the fall. He wants to start working on a doctorate in scientific programming and computational math so he can become a research scientist and tackle the mysteries of creation. "I actually lost one night's sleep thinking, 'How can the universe be infinite?' " he says. But though his father says he has all the academic credentials a Ph.D. candidate could want, Santa Cruz rejected Adragon's application, which included a request for financial aid. They won't say why. Other schools have expressed some interest, even though Adragon hasn't gotten around to taking the Graduate Record Examination, a test required by most schools. "It's an antiquated test," his father says. "This boy has already proven that he's a scholar."

Adragon is also, to all outward appearances, a well-adjusted boy. He enjoys racing his battery-operated Lamborghinis around the living room, dotes on his menagerie of turtles, rabbits, and hamsters, and takes time out from playing Chopin to read science fiction and swim at a friend's pool. He's written a sci-fi trilogy and a screenplay about computer espionage. This summer "I might climb a volcano or two," Adragon says, and then launches into a detailed discussion of California's active and dormant peaks. "Adragon is extra normal," says De Mello. "He's more a child than most children and more an adult than many adults."

Sitting in his cluttered living room overlooking the ocean, De Mello admits he is "terrified" by the prospect that his son will have to go overseas to get a full scholarship to pursue his studies. If he goes abroad, De Mello will stay behind: There is not enough money for him to accompany the boy. And without his son to care for, De Mello explains, life would be frighteningly empty. "I don't know of any other reason why I'm interested in continuing to exist," he says quietly.

Hungry for some ice cream cake, Adragon wanders into the De Mellos' messy kitchen—where a pan of bacon grease is congealing on the stove and most of the table space is given over to a computer. What will he do if he has to go to some faraway school? The boy looks away nervously. "I don't want to leave," he says. "I've been in this house since I was 7. And I had my 8th birthday here and my 9th birthday and my 10th. And I'm going to be 12 in four months."

But there is no argument. In fact, De Mello says, father and son rarely fight. Adragon smiles sweetly. "I usually don't disagree with my father," he says. "Every time I do disagree, I find he's right."

—By Patricia Freeman, with Maria Wilhelm in Santa Cruz


Adragon Eastwood De Mello accepted his 15 minutes of fame with equanimity: Meeting the press in cap and gown, he said a few words about how pleased he was to be a college graduate, then went home to play with his toy cars. Newspapers from Palo Alto to Philadelphia picked up the story of the 11-year-old math whiz, noting that he was the only member of the University of California at Santa Cruz class of '88 to ask for a lop-eared bunny and two hamsters as a graduation present.
Advertisement
Today's Photos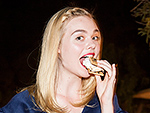 Treat Yourself! 4 Preview Issues
The most buzzed about stars this minute!