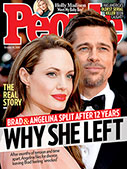 This Week's Issue!
People Top 5
LAST UPDATE: Tuesday February 10, 2015 01:10PM EST
PEOPLE Top 5 are the most-viewed stories on the site over the past three days, updated every 60 minutes
Julio Iglesias' Good Life Demands Wine, Women, Song—and More Women


Ah, Julio. Bottled, he'd fly off the shelf. But despite the fact that he has seduced whole continents with his Euro-mantic good looks and throbbing tenor, Julio wants to be more than a tan for all seasons. That he has sold a Guinness-record 100 million albums worldwide in a 20-year career and reportedly is worth more than $100 million is not enough. Julio's problem is America, where his first English language LP, 1984's 1100 Bel Air Place, sold three million copies and his duet with Willie Nelson, "To All the Girls I've Loved Before," placed him among the pantheon of post-Sinatra song-and-sex stars dominated by Tom Jones and Engelbert Humperdinck. Julio is frustrated because Nonstop, his second, three-years-in-the-making English language LP, released in May, stalled at No. 52 on U.S. pop charts. "If I go to France or Italy, I am established for a whole generation," says Julio. "But in America, they know me for selling too many records and making love to too many women."

We should all be so misunderstood. Though Julio recorded and released four other million-selling albums in four different languages during the past three years, the new record is a source of Nonstop worry. "The more I listened, the more insecure I got," he says. "I had a big depression and all kinds of psychosomatic problems for a year and a half. Ay, my God!" he laughs in mock despair, slapping his head. "Never again! My new album is like a beautiful candle without a fire. Now I have to find a way to put the fire in the candle."

Julio is, of course, a walking wick. As soon as he strolls onstage, it's spontaneous-combustion time. "The best criticism," he says, "is when the audience comes back." And though critics in the U.S have seldom been kind to him, fans are gluttonous. Arizona market-research analyst Martha Spears, 40, flew from Scottsdale to attend her 307th Julio concert at the Greek Theatre. "There was a void in my life when Elvis died," she says. "Julio filled it." One fan gets in the spirit of the Greek love fest by shouting, "Julio! I love you more than my husband." "She really does!" adds her husband. Articulated adoration ranges from the practical—"Julio, use your sunscreen!"—to the fanatical—"I want to have children with you!"

Julio has taken only one woman up on that offer. Isabel Preysler, a young woman from a wealthy Philippine family, married Julio in 1971 and bore him three children, daughter Chabeli, 17, and sons Julio Jose, 15, and Enrique, 14. Single since the couple's 1978 divorce, Julio tries to keep fan worship in perspective. "This close, I can see right in their eyes," he says. "And what do I see? That I'm in people's dreams, that's all. I thank God to make people have these fantasies. I have fun with it, but offstage, I become full of insecurities."

Sure. Yeah. You bet, Julio. What about all that tabloid rumor that you must make love twice a day and that you've bedded more than 2,000 women? "I love the girls like crazy, really, like crazy, since I was 4 years old," he says. "But I want Americans to know that I am not a superman." On the other hand, he adds, "if something is coming my way one day, maybe I react like every human being and fall in love for the moment. But I am not so obsessed that I wouldn't choose many other things before sex." When examples do not spring to mind, Julio, linked in the past with actress Maria Conchita Alonso and ex-Miss Universe Karen Baldwin, waxes philosophical. "I'm just a regular party guy," he says, "like every party guy in the world."

Not quite. Born wealthy, Julio grew up eager to please his padre, Madrid gynecologist Julio Sr., and madre Rosario. "Like everybody, I wanted to be a doctor, lawyer or engineer," he says. But goals change. After briefly studying law at the University of Madrid, Julio became goalie for Real Madrid, Spain's premier pro-soccer team. "I had more courage and attitude than talent," he says. Tragically, those qualities were put to the ultimate test in 1963 when he rolled his car, severely injuring his spine. "One day I was a guy full of strength," he says. "And the next I was completely paralyzed." Just 20, Julio spent three years in convalescence. "I learned how to control the pain in the muscles," he says. "I spent hours and hours a day giving orders to my brain: Move my fingers, my arms, my feet."

When he was able to walk again, Julio, whose permanently weakened legs still require therapy, hit the ground running. Knowing he would never play soccer again, but now accustomed to the spotlight, he decided to try his luck with singing, in which he'd previously had little interest. He spent three months at Cambridge University, studying language by day, singing traditional Mediterranean love songs in pubs at night and falling in love. When Julio quit college to take his French girlfriend to Spain, "her mother asked what I had to offer her. I said, 'A fun summer.' "

Give the man credit for truth in advertising. In the hospital he had watched a broadcast of Spain's "Festival de la Canción," a national singing competition. "I thought, 'I'm going to be there in two years.' " As promised, he sang at the festival in July 1968 and won first prize with a languid ballad, "La Vida Sigue Igual" ("Life Continues Just the Same"). The performance was recorded, and while touring Spain that summer with his girlfriend, Julio "started to hear my song on the radio. I kept changing the stations, wanting to hear my voice everywhere, and that's how it all began."

Within 10 years, the French girl was gone, but Julio had sold millions of records and starred in two movies, La Vida Sigue Igual and Todos los Diás un Diá. "They're the worst films you can ever see," he says. "I was the most ridiculous actor."

Luckily he did better onstage, where he now averages $250,000 for each of his 200-plus shows per year. "Once you touch the applause of 50,000 people, you will be miserable if there are suddenly only 2,000," says Julio. "The biggest problem in my job is that you get afraid to lose it. One day you are a winner, but the next, no matter how big of a star you are, you can be a loser."

In 1981 Julio learned again how quickly misfortune can strike, when his father was kidnapped by Spanish terrorists who demanded a million-dollar ransom. "He was kept for a month in a little room with no lights, and every day they told him they would kill him the next day," says Julio. The singer arranged to meet the ransom demand, but police rescued Julio Sr. before the payment could be made. "He looks over his shoulder all the time now," says Julio of his father. "But he is doing well, and he doesn't have the strong paranoia he had for two years after the kidnapping."

Julio's greatest fear is that fame may fade. To counter it, he tours frequently in a sumptuously appointed Gulfstream jet that allows him to book dates in Venezuela, Las Vegas, Australia, Thailand and Atlantic City in a four-week period. "It's the only luxury I have," he says, straight-faced. "I can sleep enough to be alert the next day."

One thing he is always alert to is the possibility of bad luck. Superstitious to the point of obsession, Julio leaves the dining room if salt is spilled, never uses cologne, refuses to carry cash and allows no whistling in his presence. It's difficult to get to the roots of Julio's superstitions because, notes a friend, "he also thinks it's bad luck for him to talk about them."

Single, he says, forever—"If you commit your brains and heart to another, you can no longer fight, and I need to fight"—Julio owns a 2,000-acre ranch in Argentina and a Miami waterfront mansion where his children live, watched over by his mother when he is on the road. Unlike many veteran performers, Julio says he looks forward to staying in hotels "because I wake up in the morning, go out, and when I come back, everything is clean and new, even the soap."

Preparing for the Greek Theatre concert, Julio relaxes as a masseuse rubs his feet. "It's a nice way to live, no?" he says. It is a nice way to live, yes. "How can I not love what's happened to me, how lucky I am?" says Julio. "I love to be Julio Iglesias."

—By Steve Dougherty, with Todd Gold in Los Angeles


Being a planetary sex god can be thirsty work; just ask Julio Iglesias. Two days ago he was fighting women off his back at a record-signing attended by a panting horde of 2,000. Tonight the 44-year-old crooner will seduce a crowd of 7,000 at a Greek Theatre concert in Los Angeles. But first he must skedaddle back to his $700-a-day suite at the Sunset Marquis to see to the needs of impossibly pretty Pitt Kippenhahn, 20ish, the keel-over-and-die German model who is his "companion of the month." So something special is needed to cut the trail dust. No hay problema. Julio telephones his local L.A. wine steward—he maintains lavishly stocked cellars in Miami, New York, Madrid and Paris as well. By the time he has reclined his way across L.A. in his limo, two $900 magnums of 1985 Romanée-Conti, an exquisite burgundy, await him in his hotel room—uncorked and breathing, naturally. "To love red wine, you have to have a healthy approach to life," says Julio, watching rouge light filter through his raised glass. "Red wine is life itself, the only life you can store in a bottle."
Advertisement
Treat Yourself! 4 Preview Issues
The most buzzed about stars this minute!