People Top 5
LAST UPDATE: Tuesday February 10, 2015 01:10PM EST
PEOPLE Top 5 are the most-viewed stories on the site over the past three days, updated every 60 minutes


IT DOESN'T AD UP: At the recent New Music Seminar in New York, Paul McGuinness, U2's manager, applauded the anti-advertising sentiments expressed by Neil Young in his MTV-banned video, This Note's for You. "What is the point of going through all the trouble of being Michael Jackson and achieving so much musically and culturally if you're prepared to place all the credibility at the disposal of [Pepsi]?" he said. "The music is much more precious than that."

SCRIPT TEASE: She's presently enjoying success playing the middle-aged mother in Neil Simon's Broadway Bound on Broadway, but comedian Joan Rivers wasn't always on a role. "Would you believe no one ever, ever sent me a script in my 23 years in show business," says Joan. "I'd run around saying, 'Please let me read. There's more to me than blond hair and red nail polish,' but no one listened." As for her role as a 1940s Brooklyn housewife in Broadway Bound, the normally cosmetic-conscious Joan says, "The first time I saw myself as this woman, with no makeup and brown hair, I recognized that this is what I'd have looked like had I not gone into show business. This is what I would have been."

WATERGATE UNDER THE BRIDGE: Ben Bradlee Jr., whose new book is called Guts and Glory: The Rise and Fall of Oliver North, believes the Iran-contra affair is far more serious than Watergate. "Iran-contra has constitutional implications," says Bradlee (whose dad, editor of the Washington Post, became a household word after Watergate). "Watergate was really only a political dirty trick, a break-in, that became serious when President [Richard] Nixon tried to cover it up. Iran-contra was far more serious, yet [President Ronald] Reagan never paid the price because the American people still love him. If Nixon had done Iran-contra, it would've been 'see you later.' "

RELATIVE APATHY: Actress Kyra Sedgwick, 22, who's set to marry Kevin Bacon next month, says she doesn't mind occasionally being a celebrity by association—as long as the association is with Bacon and not her dead cousin, Edie Sedgwick, whom she never knew. "I think it's kind of pathetic that people are so into her," says Kyra about Edie, the Andy Warhol protégée and movie star (Ciao Manhattan) who, at 28, overdosed on pills in 1971. "She wasn't a great actress. I mean she had some charisma, but she was wasted. I think that Edie's sad, and to call her my cousin doesn't do anything for me. If anything it's like, 'Well, she had a crazy, sad cousin who killed herself.' A lot of people have crazy, sad cousins who kill themselves."

MAKES THE HOST OF IT: Singer Kenny Rogers is going to try hosting a syndicated talk show next year. Having been a guest on a good number of talk shows himself, he says he has some pretty clear ideas on how he wants to spend, and not spend, his hour of air-time on his own show. "I'm not interested in sensationalism," he says, nor in grandstanding. "I've been a guest on talk shows where I didn't say anything. The host would ask me a question and then run on about his opinion of what my opinion would be. Some hosts want to show their intelligence by doing all the talking. I'm not going to do all the talking because I don't want to show my ignorance," he says. "I figure, a good guest talks, a good host listens."


A CONSUMING ROLE: When comedian John Cleese issued a casting call for the title role in his latest movie, A Fish Called Wanda, he didn't know it would be finis for most of the auditioning fish. "We had several acting fish that we were planning to try out," says Cleese, "but one morning we walked over to the tank and realized that this particular fish had eaten 32 extras. She must have wanted the part very badly to have disposed of the competition in that way. It was actually more characteristic of an agent than an actor, but we figured that if we did not give her the part, she might eat us also."
Advertisement
Today's Photos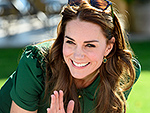 Treat Yourself! 4 Preview Issues
The most buzzed about stars this minute!