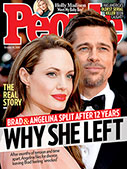 This Week's Issue!
People Top 5
LAST UPDATE: Tuesday February 10, 2015 01:10PM EST
PEOPLE Top 5 are the most-viewed stories on the site over the past three days, updated every 60 minutes
Three Gals, Three Guitars, One Birthday: the Del Rubio Triplets Shimmy into the Spotlight


The spectacle would be strange enough at some late-night hip spot—it's downright bizarre in a senior citizens' center in Monterey Park, Calif. The singers are not a trio of post-modern performance artists but the Del Rubio Triplets, three sisters—Elena, Millie and Eadie Boyd—born within 15 minutes of one another more than a few decades before the '60s moves they emulate were perfected. The exact year of the triple birth, says Millie, is "a professional secret" (they appear to be in their mid-50s). No matter. After 14 years performing on the Los Angeles hospital-and-nursing home circuit, the Del Rubios are younger than prime time and have appeared on Late Night with David Letterman.

Their big break came last summer, when the trio was spotted by Allee Willis, a songwriter (who co-wrote Neutron Dance) and professional party host. A performance at one of Willis' A-list parties led to bookings on six television shows, including The New Monkees. Within months, the triplets had also landed a record contract. Now their Three Gals, Three Guitars LP is in stores on both coasts and heading for the hinterland, and the sisters claim their fans have helped inspire a mini-run on go-go boots by Hollywood's aluminum walker set.

Just why are the Del Rubios suddenly all a go-go? "Beats me," says Eadie. Elena insists it's their versatility. "I defy the Andrews Sisters to do a ballad," she recently challenged in Details magazine. "Do they do Italian? Do they do French? Do they do Jewish? Do they do rock?"

The Del Rubios do. Willis says the Triplets' cover of Neutron Dance proves that the song has "infiltrated public consciousness. It's like the thrill of elevator music." Another plus, says Elena, is that "men at the retirement homes think we're in our 30s."

The Del Rubios' account of their past is as romantically fuzzy as some of their songs. Their father, they say, was a lawyer, their mother a socialite. Supposedly born in the Panama Canal Zone, they say they were reared in Washington, D.C.'s Sheraton-Park Hotel, where they heard a calling inaudible to others. "Even though we didn't have any talent," says Millie, "we knew we wanted to be in show business."

So Daddy bought them all guitars and financed a move to Hollywood in the early '60s. There they changed their name to Del Rubio. ("Rubio is Spanish for blond," Millie advises.)The sisters soon were working clubs in Asia, Australia and Europe. The touring left little time for love. "If you really want to get married, that's simple—take a cruise," says Elena. "We never did. We didn't want to break up our act." "Right," says Eadie. "We're not interested in security. We're artists. We're living on the edge."

When their mother suffered a stroke in 1965, the sisters came home. "We sang to her in the hospital," Eadie says. "Mom's dying words were, 'Don't let anybody persuade you to get out of this business.' " But her death—and a shrinking demand for lounge acts—left them in a funk, and for five years they lived on a small inheritance. "We just sat around," says Millie. "Finally we pulled down our guitars and tried a couple of hospitals."

By now, the sisters have put more than 374,000 miles on "Bambi," their 1971 Plymouth station wagon, driving to as many as 20 dates a week from the triple-wide mobile home they share in the L.A. community of San Pedro. That doesn't leave much time for Eadie and Elena to sew the trio's costumes, and Millie is way behind on her pet project—reading TIME magazines cover to cover and in sequence. Now mired in 1986 issues, she says, "It makes me feel clairvoyant. I know who is going to win elections and when the earthquake will happen."

But, she admits, it didn't help her predict one new trend: "Who would have thought—go-go boots?"

—By Steve Dougherty, with Doug Lindeman in Los Angeles


Looking like they spent all day in the kitschen, the three leggy blonds grab battered acoustic guitars and launch into their own heartfelt version of Carmen Miranda's "Cuanto Le Gusta": "We gotta get going, gotta get going/What are we gonna do?/We're all here at this party/The three of us and youuuuu...." As they shimmer and shake and stamp their go-go boots, pom-poms bounce along the hems of their matching miniskirts. Then, by nodding agreement of three bouffant hairdos, the trio shifts into "These Boots Are Made for Walkin'," followed by "In-A-Gadda-Da-Vida," "Light My Fire" and "Neutron Dance."
Advertisement
Treat Yourself! 4 Preview Issues
The most buzzed about stars this minute!