People Top 5
LAST UPDATE: Tuesday February 10, 2015 01:10PM EST
PEOPLE Top 5 are the most-viewed stories on the site over the past three days, updated every 60 minutes
Deborah Richman, Perfume Duplicator, Finds Economic Scents Make Economic Sense


And she has. Richman's three-year-old company, Deborah International, will sell more than $40 million worth of perfumes this year thanks to a score of products like Hemlock (her version of Halston), Omni (Opium), Enamoured (Obsession), Kleo (Chloe) and Leora (Lauren). Richman says that 80 percent of her customers are blue-collar buyers who "come to me because they save a lot of money."

She also boasts that her products contain the same oils and essences as those of her competitors. "Everything I do is first class," says Richman. "Estée Lauder doesn't spend any more on her components than I do." Her TV commercials tout the similarities between her economy scents and the high-price brands, and in one spot she "dares" a blindfold hunk to "tell the difference." No sweat, respond her competitors. "We're caviar; they're chopped liver," huffs Giorgio President Michael Gould of imitations like Gypsy. "The smell will not have the lasting effect that ours will."

Perfumes, which have up to 150 ingredients, can't be legally protected from smell-alike copies that alter a few components. Richman's competitors have repeatedly challenged her copycat scents in court just the same. (So far, Richman's biggest concession has been to change the name of Georgi Girl, her first Giorgio knockoff, to Gypsy.) Fending off suits has been a major expense, she admits, but it is one she dismisses as just "the cost of doing business."

And business is something Richman, nee Shuman, learned early. When her father lost his Long Island furniture business to bankruptcy in 1968, Richman's mother began selling bedding to support their three children. By 14, Deborah was working as well, teaming up with a neighborhood boy named Keith Richman. Calling themselves Bottoms Beautiful, they scraped barnacles off boats for $1 afoot. At 17, she married Keith, who eventually earned a law degree at Hofstra while she collected an M.A. in psychology from Long Island University.

In 1972 she got a part-time job with the pharmaceutical sales division of 3M and ended up staying for 13 years. Her biggest success: bringing the firm together with the inventor of the Buf-Puf face scrubber. But traveling for business was, she says, "a killer," made more difficult by the arrival of two children, Steven, now 8, and Jacqueline, 4. (She went into labor with her firstborn while on a plane trip back from a business meeting.) In 1985 she decided to go off on her own, trading in her "navy blazers and little stickpins" for leather dresses and other less-than-corporate costumes.

Soon Richman took notice of perfume copycat Mark Laracy, who in a single year had made more than $30 million from one of his smell-alikes. Deborah remembers asking herself, "If Mark could do that with just one product, what could I do with all the others?" Richman turned to Quality King, a large distributor of drugstore products that agreed to invest $5 million in her venture. Then she hired one of the top perfume formulators in the world. Within a year she was doing $20 million worth of business, leapfrogging over more than 100 other manufacturers of what the industry calls "alternative designer fragrances."

Richman stayed in front, she says, because "I held my own and never gave in." She now commands 150 employees in two sprawling factory buildings on Long Island. At home in her six-bedroom house, she has help from a nurse, a housekeeper-cook, a part-time cleaning lady and a personal shopper. She tries to spend evenings with Keith, now a corporate litigation attorney, and their children, but after everyone goes to sleep, she often repairs to a small home lab where she tinkers with scents until 4 a.m.

Although she's still a frequent business traveler, Richman now carries a portable phone to keep in touch with the kids back home. Her schedule is not likely to lighten soon; she is currently working on a line of cosmetics which, unlike her perfumes, will carry her own name. Credit Marc Chagall with the idea, says Richman. Shortly before he died, she phoned the famous painter at his home in France, asking for permission to use his name on one of her products. According to Deborah, Chagall replied, "I'm famous already. Why don't you make yourself famous?" And so she will, Deborah vows. Then all she'll have to worry about is someone else doing knockoffs.

—By Fred Bernstein, with Martha K. Babcock in New York


In the parlance of perfume, it was a bit of a stink. Two years ago the heavyweights of the scent trade gathered at New York's Waldorf-Astoria for their biannual awards dinner. As the honors were announced, the industry bigs behind such best-selling fragrances as Opium, Obsession and Halston cheered each other like kids at a summer-camp talent night. Then Gypsy was named a best-seller in the "popular distribution" category, and a rumble of boos rolled through the room. The reason: Gypsy is a $7.50 copy of Avon's $45 Giorgio brand cologne. But Deborah Richman, the 32-year-old "knockoff artist" who created Gypsy—and stole a corner of the fragrance market in the process—rose to her full 5-foot height and accepted the award, making a speech that she says amounted to, "I'll laugh all the way to the bank."
Advertisement
Today's Photos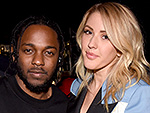 Treat Yourself! 4 Preview Issues
The most buzzed about stars this minute!