People Top 5
LAST UPDATE: Tuesday February 10, 2015 01:10PM EST
PEOPLE Top 5 are the most-viewed stories on the site over the past three days, updated every 60 minutes


PUTTING ON THE DOG PADDLE: Skipper Dennis Conner, whose love for sail will have him defending the America's Cup against New Zealand beginning Sept. 7, recently had some bad luck. "Last May, during a practice run, our vessel capsized, and I don't know how to swim," says Conner, a sailor for 38 of his 45 years. "Swimming is always a sign of failure in my sport, so I never had to learn. I dog-paddled to the rubber boat that follows us around, and they dragged me out. It was the first time that happened to me, and it was especially shocking because that day I was named the San Diego Yacht Club's Yachtsman of the Year. I went from Yachtsman of the Year to Goat of the Day, but I survived it."

BY GEORGE, SHE MEANS IT: Republican presidential candidate George Bush is netting support from tennis star Pam Shriver. "I think the media has been very unfair towards him, putting labels on him and not giving his record its just due," says Pam, who'll be playing on the women's U.S Olympic tennis team in Seoul this month. "Vice-Presidents have a strike against them because it's the second position and Americans are first-position people. It's fine to be ranked No. 4 [as she currently is], but everyone always wants to know, 'Who's No. 1?' "

EBERSOL MATES: Unlike most parents who take sides with their married children when they have a domestic flare-up, Susan Saint James's folks are painfully objective. Now that her mom and dad have moved into a home adjacent to the one she shares with TV producer-husband Dick Ebersol in Litchfield, Conn., she says, "Whenever Dick and I have a fight, it's around the family in about two minutes. When your parents are right there, it's kind of hard. They say things like, 'He's a good boy, so just calm down. He's very nervous or he's tired; you've got to understand.' They always side with him," she continues. "But it's working out well. I would never mess it up."

OILS AND VINEGAR: Pablo Picasso's daughter Paloma has a few thoughts concerning Picasso: Creator and Destroyer, the less than palette-able biography that Arianna Stassinopoulos Huffington has written about the Spanish artist. "I'm hardly mentioned [in the book]. Why? Because I'm pretty successful," Paloma, a jewelry designer, told London's W. "I ruin her theory that he destroyed those he was close to. She uses cheap psychology. At a party she looks you right in the eye and asks you questions about your personal life, then tells you it's so interesting you should write a book. Next day she'll send a little present so you don't forget her." As for her own view of her famous father, Paloma volunteers, "Nobody's perfect. You can't be that great on one side without having faults on the other."

BRIEF ENCOUNTER: Comedian Dom DeLuise has a shorts story about the first time he played the White House. "I once performed at a dinner, and I had new shoes, new socks, new underwear, a new tuxedo and I couldn't talk," says Dom. "So when I performed for Ron and Nancy Reagan in the White House in 1984,1 told myself I'd better wear some old underwear full of holes because I have to have something that reminds me I'm a peasant. My philosophy is just be yourself, although I didn't say to Mrs. Reagan, 'Hey, I got holes in my underwear.' "


FUELISH PLEASURE: Now that Patty Hearst has seen Natasha Richardson portraying her in the forthcoming movie Patty Hearst, the kidnapped heiress-turned-terrorist-turned-home-maker has some ideas about whom she'd like to portray onscreen. "Well, maybe Sally Ride," says Patty, referring to the first American female astronaut to orbit the earth. "Just because I'd love to be blasted off. I'd love to sit on tons of liquid fuel and be blasted into outer space. It wouldn't scare me, no matter how dangerous it was. I just think the challenge of going into outer space is worth the danger." Hmmm. Sounds like The Blast Temptation of Patty.
Advertisement
Today's Photos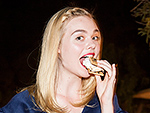 Treat Yourself! 4 Preview Issues
The most buzzed about stars this minute!