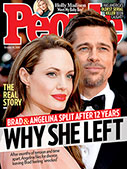 This Week's Issue!
People Top 5
LAST UPDATE: Tuesday February 10, 2015 01:10PM EST
PEOPLE Top 5 are the most-viewed stories on the site over the past three days, updated every 60 minutes
Valerie Harper Gets Her Day in Court, And, Umm, It's Sweet


On Sept. 16, after five weeks of testimony, an L.A. Superior Court awarded Harper $1.8 million in compensatory damages and a share of the show's profits that could top $15 million. A delighted Harper says the jury's ruling that Lorimar treated her with "oppression and malice" is even more gratifying than the cash. "I wasn't thinking of huge money settlements," says Harper of her long legal battle. "I was honestly thinking of clearing my name and getting my reputation back."

Both had taken a beating. In their testimony and in the press, the Lorimar people have been accused of painting Harper as a greedy, menopausal shrew. Lorimar executives described her in court as a woman "on the verge of a complete nervous breakdown" and told the jury that on one occasion, Harper screamed at her producers, "Let me go! I'm not going to win an Emmy this way!" Lorimar President David Salzman testified that after one such outburst during contract negotiations, he scribbled the words "change of life" on his notes of the meeting.

Even now, Harper launches into an adrenaline-powered speech when she recalls "that 'raging hormone' nonsense they've been using against women forever. I don't see menopause as incapacitating or leading to insanity. I'm looking forward to it," she says, smiling. But what hurts her most, Harper says, is that two once-close friends, Valerie co-executive producers Tom Miller and Bob Boyett, engineered her firing and then testified against her. "They used to give me little gifts on all occasions—Steuben glass, Tiffany clocks," Harper recalls. They also sent her "intimate, beautiful letters. I kept them because I loved them, not for a court case," she says, "but they came in handy." (After Harper appeared on a TV talk show and accused the two men of lying, Miller and Boyett—who were not available for comment—filed a separate libel suit against her.)

Lorimar attorney Donald Engel admits that it was hard to overcome Valerie's "emotional appeal to the jury," even though Lorimar presented evidence that Harper was often difficult on the set and, in July 1987, failed to appear for a taping. "We felt we had a strong case that her disruptive behavior was sufficient grounds for terminating her," Engel says. "We felt she walked out on us."

The jury felt otherwise, and Engel thinks he knows why. "The guy in charge was a postal worker. I don't think anybody on the jury was anything but an employee in their entire lives," the attorney says. "They're going to be sympathetic to an employee, and particularly one who is famous. When [the jurors] were discharged, they ran to get her autograph."

For that reason, Engel professes to be delighted with the outcome of the trial. "We're very happy," he says. "I thought they'd give her the profits plus 10, 25 million bucks." The amount actually awarded to Harper, he says, is little more than what the company—which never disputed Harper's right to profit sharing—offered her in settlement negotiations. Harper's lawyer, Barry Langberg, disputes that. He insists that Lorimar's settlement offer "wasn't 1/100th of the verdict."

Hollywood observers think the Harper outcome may encourage similar lawsuits by aggrieved stars. "The charisma of an actor gives them a tremendous advantage in jury trials," says Joseph Mannis, a top entertainment lawyer. Actors insist they need it to counter the economic clout of the companies. "This is a landmark decision for the way actors are dealt with and the way people wrongfully fired are dealt with," says Harper, whose new TV movie airs next week. "We won financially and we won morally."

—By Patricia Freeman, with reporting from the L.A. bureau


It started as just another Hollywood contract dispute. Valerie, the sitcom that Lorimar Telepictures had launched in 1985, had done well, and last year its star, Valerie Harper, decided she wanted a bigger piece of the pie. Instead, in the biggest TV dust-up since Rivers ankled Carson, she got the gate, Sandy Duncan got the renamed Valerie's Family, and Lorimar and Harper ended up in court.
Advertisement
Treat Yourself! 4 Preview Issues
The most buzzed about stars this minute!