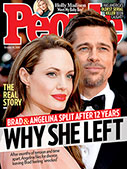 This Week's Issue!
People Top 5
LAST UPDATE: Tuesday February 10, 2015 01:10PM EST
PEOPLE Top 5 are the most-viewed stories on the site over the past three days, updated every 60 minutes
Another Kennedy, Another Victory: Young Patrick Takes Providence


Kennedy, who grew up in McLean, Va., and prepped at Andover, in Massachusetts, moved to Rhode Island only two years ago—to attend Providence College. Studying philosophy, he found a need for "a sense of purpose and direction" in his life, and a bid for the state House of Representatives seemed just the ticket. The fact that he'd be venturing, if ever so slightly, beyond the family's traditional turf appeared only to strengthen his resolve. "I thought it might take a bit of the fun out of it if I got involved in Massachusetts," he says. "I needed to strike out on my own and test my feet."

Well, not entirely on his own. Kennedy clansmen—including his father, Ted, and cousins JFK Jr. and Joe, a Congressman from the Bay State—descended on the district, shaking hands and posing for snapshots outside neighborhood polling places. Patrick estimates he spent $50,000 campaigning for a two-year, part-time job that will pay him a mere $300 per annum. Skeffington, 50, a five-term incumbent, raised $40,000 on his side, but he couldn't compete with the Kennedy name. (One Edward J. Kennedy Jr., no relation, who campaigned little and advertised not at all, swept to victory in a race for Middlesex [Mass.] County Commissioner. "People all thought he was some nephew or something," groused a defeated opponent.) Nor could Skeffington command the attention that Senator Ted attracted when he dropped in via helicopter to canvass for his son. "Sometimes I didn't know whether I was running against Patrick or his father," complains Skeffington.

The freckle-faced young Kennedy doesn't deny exploiting his family's fame. "I've been given something special—recognition because I'm a Kennedy—and I believe I have the right intentions to direct it," he says. "I'd heard about public office my whole life. I realized it didn't mean sailing in Hyannis Port, although that's nice, or skiing in Aspen, although that's nice. It meant speaking out for people who didn't have anyone to speak out for them. It really was our generation's turn to be active and involved."

Some local Democratic leaders felt differently. They viewed Kennedy as an upstart carpetbagger when he announced his plan this summer to run for the legislature from the Providence neighborhood where he rents a modest apartment. They were irked that Kennedy wanted to run against an entrenched incumbent, and they urged Patrick to wait his turn. Kennedy responded by denouncing their "arrogance," and suggested they let the voters decide. Said former House Speaker Matthew J. Smith: "We're going to send that little fella back to Hyannis where he belongs."

Skeffington's endorsement by a chapter of the National Rifle Association gave Ted Kennedy an added incentive to involve himself in the race. "No one could be more touched by the gun issue than my father," says Patrick. But the campaigning by Ted and other family members was not Patrick's only advantage. With the guidance of some of his family's skillful advisers, Kennedy employed polling, computer-generated direct mail and other sophisticated techniques in the campaign. "He had a get-out-the-vote system that was much more advanced than what we usually see," said House Speaker Joseph De Angelis. "The Kennedys know their business, and their business is politics."

Ted Kennedy was ecstatic about his son's triumph. "None of the victories I have ever had in my political life has meant as much as this one," he said. Patrick's mother, Joan, was equally proud. "He did it all by himself, with his young friends and neighborhood people he's met," she maintained, with perhaps a trace of maternal exaggeration. "He surprised me."

And having won his first contest, even as he prepares to deal with such neighborhood concerns as abandoned cars and trash removal, Patrick is already thinking about bigger things. "Oh sure, I'm ambitious," he says guilelessly. "I'd love to hold national office."

—By David Grogan, with S. Avery Brown in Providence


The want ad is fiction, but the election is now a fact: Patrick J. Kennedy has won his Democratic primary for a seat in the Rhode Island State Legislature, burying his opponent, undertaker John Skeffington, by a margin of 1,324 votes to 1,009. And since no Republican would have the presumption to run in Providence's blue-collar Ninth District, the general election in November will anoint Kennedy the youngest of his family ever to win public office.
Advertisement
Treat Yourself! 4 Preview Issues
The most buzzed about stars this minute!