People Top 5
LAST UPDATE: Tuesday February 10, 2015 01:10PM EST
PEOPLE Top 5 are the most-viewed stories on the site over the past three days, updated every 60 minutes
After Forty Years, Kid-Lit Queen Beverly Cleary's Gentle Tales Are Turning Up on Television


Six days a week for almost 40 years, Beverly Cleary, aged 72, has received such outpourings of love. She ought, by now, to be feeling that she is special, a superstar of sorts. But Cleary insists she is as resolutely unextraordinary as the every-child characters she creates in such books as Ramona Forever and Ellen Tebbits. "I've never done a thing of interest to other people in my life," she says with a sigh, except to write books that children read."

She protests too much. Cleary's more than two dozen books, most of them chronicling the adventures of pesky little Ramona Quimby, her big sister, Beezus, and their neighbor Henry Huggins, have sold 30 million copies over the years. She has received critical plaudits by the score, as well as literary honors, including the coveted Newbery Medal for children's literature. And though she hasn't bowed much to changing times—her characters still inhabit an idyllic neighborhood in Portland, Ore., still have paper routes, still gather night crawlers and feel free to talk to strangers—she is as popular with today's 8-to-12 set as she was with their parents.

This fall Cleary's characters have come to TV. A 10-part series based on the Ramona books began airing on PBS last month. And partly animated versions of The Mouse and the Motorcycle and Runaway Ralph, both about a boy and his biker-mouse pal, will appear on ABC in October and November. For Cleary, a shy former children's librarian, the move to TV is a source of apprehension. But she hopes the video versions of her work will help bring a new audience of readers to the books. For books, and reading, are what Cleary believes in most.

The daughter of Lloyd Bunn, a Yamhill, Ore., fruit farmer, and his wife, Mabel Atler, a teacher-turned-housewife, Beverly was taught early that the printed word had power. "Reading is to the mind as exercise is to the body," her mother would say, and preschooler Beverly couldn't wait to get in shape. "My mother had this enchanted world of reading," she remembers, "and I wanted in."

By age 8, she was devouring every printed item in sight. Because the family farm had failed and money to buy books was scarce, she spent hours studying advertising circulars. "Reading," she says, "became my greatest source of comfort."

Though teachers had told her she was a talented storyteller, Beverly followed her mother's advice and chose a more dependable line of work. She studied library science at college—first at the University of California, Berkeley, then at the University of Washington. While at school she met Clarence Cleary, a handsome accountant with whom she eloped in 1940. She found work in Yakima, Wash., and it was there that her first book slowly began to take shape. "I worked with a lively little band of parochial-school boys," she says. "They were nonreaders, and in those days it was very hard to find books for little boys. There were animal stories, of course, but there weren't any books about what these boys called 'kids like us.' "

Ten years later, when she had left work and could find time to write, Cleary helped to change that. She wrote a funny, believable story about a boy named Henry Huggins who acquired a flea-ridden mutt he called Ribsy. Henry Huggins was published in 1950, winning instant praise. At a time when most books for young readers still carried earnest moral lessons or, like Nancy Drew and the Hardy Boys, told of farfetched adventures outside most readers' experiences, Cleary had written a story that was simply a delightful slice of life.

For the next 25 years, Cleary produced a book almost every year. Often, inspiration came from her own childhood or from her twins, now in their 30s, Malcolm, a banker, and Marianne, a cellist. ("The mothers in the later books are more weary," Cleary laughs. "I hadn't realized what a trying job it is, raising children.") Unlike many other writers, she has resisted the idea that children's books should be politically relevant. "I write about people, not problems," she says. She has, on occasion, been criticized for this, particularly by those who wonder why her books include no minority characters. "I write about middle-class America—which, in my experience, is pretty much the same no matter what one's color may be," she says. "I like to think that the children in my books are the color of the reader."

In recent years Cleary has slowed her pace. She and Clarence live quietly in a condominium in Carmel. Her most recent Ramona book came out three years ago, and last spring she published a volume of memoirs, for adults, called A Girl from Yamhill. But retirement is nowhere in sight; there is still more to accomplish.

There are, for instance, all those letters to be dealt with. She finds them a constant education. Today's youngsters, she says, "have a superficial sophistication and a tendency toward wisecracks." Their values are changing as well: "Sometimes children write, 'I like to spend money.' Often, as a hobby they list going to the mall."

But the new materialism, she feels sure, is primarily for show. "Underneath it all, children want what they've always wanted: to be loved by two parents, preferably married to each other."

Or, failing that, to be able to read that such happy lives are possible. Thanks to Cleary, they always can. "Reading made a great difference in the quality of my childhood," she says. "I'm happy to learn that my books do the same for children today."


A stack of 100 letters, neatly slit open and arranged in piles, sits atop a desk in the writer's Carmel, Calif., study. Most of the missives—a single day's haul—are penciled on notebook paper in the uncertain scrawl of schoolchildren. "I read everything you ever wrote," one says. "When I feel sad, I pick up one of your books and it makes me feel better," says another. Or, yet another, "You're my number one author in the universe."
Advertisement
Today's Photos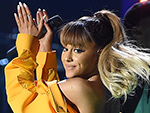 Treat Yourself! 4 Preview Issues
The most buzzed about stars this minute!