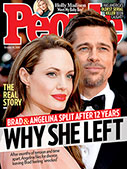 This Week's Issue!
People Top 5
LAST UPDATE: Tuesday February 10, 2015 01:10PM EST
PEOPLE Top 5 are the most-viewed stories on the site over the past three days, updated every 60 minutes
Outraging the Town He Taught In, a Rhode Island Teacher Marries His Former Sixth-Grade Student


A few weeks later Kimberly wore her Girl Scout uniform to school, and Hone saw that the sash across her chest was bedecked with merit badges. "I thought to myself, 'Gee, that's the way I was as a scout,' " he remembers. "I realized we were both achievement oriented."

At the time, Hone was a married man with two young sons. At 41, he was presumed immune to the longings of puppy love. But sometime during the year—while the class was plumbing the mysteries of decimals and percents—Hone became extraordinarily interested in Kimberly.

When summer came, he visited her at her family's house in the quiet seaside town of North Kingstown, R.I. (pop. 23,500). Initially, she says, her parents did not oppose the seemingly innocent friendship. But fall brought further intimacy: Assigned to be Kimberly's faculty adviser, Hone listened patiently to a storm of complaints about her parents. Her mother and father, said the 12-year-old, were strict and emotionally abusive. "That's when I really got to know her," says Hone.

He would get to know her better still, for their relationship would eventually blossom into one of the most controversial love affairs in the 314-year history of North Kingstown. Last January—a little more than six years after they met in the classroom—Kimberly, 17, and Hone, then 46, were married out of state, without her parents' permission.

Expecting a baby this month, Kimberly maintains somewhat strained relations with her mother, Rosemary, 39, a sales representative for Xerox, and her father, Stephen, 43, who works in the metals industry. Hone was released from jail in June, after serving a three-month sentence for violating a court order that he stay away from the girl. The school board has fired him from the teaching job he held for 24 years, and many people in the picturesque little town are shocked to the bone. "Treachery is the best word for what he did," says businessman Nicholas Condon, father of a 12-year-old girl who was in Hone's math class last year. "This teacher disregarded common sense and prudence, parental wishes and a court order. I don't know if they think like that on Mars, but they don't think like that here in North Kingstown."

Frederick Hone and his bride now live in his split-level house in rural Exeter, R.I., nine miles from North Kingstown. Next to the house, which Hone built himself, is a field littered with the skeletons of the cars he likes to rebuild. The debris-strewn home has the air of a fraternity house the morning after. The furniture is Salvation Army-eclectic, and the smell of cat urine pervades the basement family room.

On a balmy day the newlyweds are sitting hand-in-hand on a threadbare sofa, talking about their improbable courtship and the bond between them. Kimberly says she feels more loved now than she ever has. "Every day we find out we're more and more alike," she says. "Just yesterday we discovered we both liked only the brown Necco wafers and threw away the rest when we were kids."

For his part, says Hone, "I love Kimberly. She's playful and goal oriented. She's wise beyond her years. And now that we're married, I can tell you she's great in bed. I doubted my ability to perform with her, but sex is better now than it's ever been."

In Hone's opinion, his critics are a pack of meddlers. "Since when do I need the permission of the superintendent or the school committee before I marry?" he says. "It's none of their business. This is our personal lives." As for the notion that he violated the trust placed in him as a teacher, he insists, "I didn't violate any ethics. What do they think? That I'm going to marry all of their daughters or something? What a laugh."

By the Hones' account, their friendship blossomed into love only in 1987, when Frederick was already divorced from Lana, his wife of 22 years, and Kimberly, then 16, was five years gone from his classroom. Frustrated by what she saw as her parents' inability to understand her, Kimberly had resumed pouring out her troubles to Hone over the phone, while attending ninth grade at a private school in Providence. The two say they met sporadically during the next two years, but only as friends. "We were probably falling in love when I was in 10th grade, but we didn't perceive it as love," she says. "He was my best friend, but then, love is when a friendship lights on fire."

Before the conflagration, Kimberly had boyfriends closer to her own age, and the newly divorced Hone was going out with women he had met through personal ads. He says he had "serious relationships that didn't really last" with five or six of them. "The problem when you start dating women your own age," he explains, "is that they're so set in their ways. You tell them you have pets, and they say, 'No way,' or they don't like the fact that you spend a lot of time restoring cars."

Not until the middle of Kimberly's junior year in high school, say the Hones, did their relationship take on an adult aspect. When Kimberly's parents refused to let her drive a car that spring, she ran away from home. "I was going to hitchhike to New York, and I called Fred to talk about it, and he told me to come over until I cooled off," she says. She spent the weekend baking cookies and cleaning his house, and the two discovered their bond was "more than a friendship," as she puts it.

Hone remembers, "She said to me, 'I wish I could live here.' I told her that people would think it was perverted—that the only way was if we were married. She said, 'That's an idea.' [But] I told her the age difference was ridiculous. I was trying to put the brakes on things."

So were Rosemary and Stephen Ryan. "I was totally knocked off the wall when this happened," says Rosemary. "We're just an average family, the kind that has happy-birthday parties and goes to Mass on Sunday. We thought we were dealing with the typical problems of the teenage years—the mood swings, the retreating to her bedroom."

When someone told the Ryans that Kimberly had spent the weekend at Hone's house, they rushed to school that Monday to retrieve her. After a scene with "a lot of screaming and yelling," recalls Kimberly, she was held for a day in the East Providence jail, then placed in a foster home. Distraught, the Ryans and the state obtained a court order forbidding Hone to see their daughter. In September 1987 he was given a suspended sentence for violating the order; two months later Kimberly ran away from her foster home to Fort Myers, Fla.

Hone happened to fly to Florida last January—to visit a sick relative, he says. He and Kimberly swear he had no idea she was in the same state until she traced him through his family and turned up on his doorstep in Fort Myers. By then, Hone had decided, "I loved her enough to stick my neck out and really go for it." The next day, they were married by a Florida justice of the peace. In February, to make sure their marriage would be legal, they wed again in Georgia, where state law permits a 17-year-old with a bona fide doctor's report attesting to her pregnancy to marry without parental consent.

The couple's troubles began in earnest when they returned to North Kingstown later in the month. Hone was jailed for again violating the court order to stay away from Kimberly, and two weeks after his release the school committee voted unanimously to fire him.

For the moment Hone is supporting his bride with the proceeds from a snowplow manufacturing business he began eight years ago and the income from two modest rental properties. Money, he says, is not a problem, but he wants his teaching job back because he believes a principle is at stake: "At what point is it moral for a teacher to marry a past student?" he asks. "Is it okay when she's 80 or do we have to wait till our next life?"

To North Kingstown mothers and fathers, the next life sounds just about right. Wickford Middle School Principal Martin Hellewell has received a flood of complaints from angry parents and teachers, some of whom have vowed to do everything in their power to keep Hone from teaching again. Among the couple's few supporters is Hone's son, Craig, who is 17, the same age as his new stepmother. "I understand why people are upset," he says, "but they should just leave my father and Kim alone. It's their life, and they seem pretty happy."

For their part, Stephen and Rosemary Ryan are doing what they can to make peace with their only child and their new son-in-law, who is several years older than both of them. "It's not something we would have hoped for, for our daughter, but it's a reality, and we've got to live with it as best we can," says Stephen. "We are trying to keep the lines of communication open."

In the meantime the new Mrs. Hone is supervising the redecoration of her home and planning to continue her eventful education. "We've got a live-in nanny to take care of the kid so I can take classes at the University of Rhode Island," says Kimberly. "By the time the kid starts kindergarten, I'll be starting my own career."

—Michelle Green, with S. Avery Brown in Rhode Island


From the moment Kimberly Ryan first sauntered into her sixth-grade classroom at Wickford Middle School in the fall of 1982, math teacher Frederick Hone paid attention. At 11, she was sharp, bright and funny—"a high-profile student," he says.
Advertisement
Treat Yourself! 4 Preview Issues
The most buzzed about stars this minute!