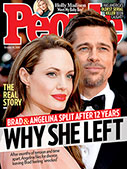 This Week's Issue!
People Top 5
LAST UPDATE: Tuesday February 10, 2015 01:10PM EST
PEOPLE Top 5 are the most-viewed stories on the site over the past three days, updated every 60 minutes
Addicted to Love, Former Model Carole Mallory Remembers Nights in Bed Looking Up at the Stars


Now a recovering alcoholic and reformed man junkie, Mallory, 46, has published Flash, a novel inspired by her licentious past. An unabashed roman à boudoir, the book chronicles the adventures of a cover girl who goes to Hollywood, drinks too much, pops too many pills and beds too many men. "Flashing," says Mallory's heroine, explaining her penchant for exposing herself to cab drivers and delivery men, "was reserved for the servants of the world. I was giving pleasure to the deprived. I liked turning on the poor and deformed. And I was good at it."

Mallory doesn't name names in Flash, but in person she counts her lucky stars: "There were more than 40." Among those claimed as conquests: Warren Beatty, Robert De Niro, Richard Gere, Sean Connery, Peter Sellers, Louis Malle and Rod Stewart. "I was in love with them all," Mallory insists. "I'm not ashamed of the men I've been with. I hope they're not ashamed of being with me."

Mallory, in fact, says she relished every coupling. Her first was a favorite—a one-night stand with movie star Beatty: "We 'dated' on the kitchen table." She hooked De Niro, she says, in a Chateau Marmont elevator. "I thought, 'What a cute garage mechanic' By the first floor I realized who he was. By the time we got to the garage, we had a date. The elevator goes pretty slow."

Mallory rarely relied on subtlety in her pickup techniques. "Usually cleavage did it. Or humor and insults. I said to Rod Stewart, 'Are you wearing a blouse?' " That bit of wit got Mallory invited back to his house for what was the start of a two-year fling. "I said, 'Not without my dog, Tutu.' So we had to stop off and pick up Tutu. Rod gave Tutu a bedroom. Tutu was treated better than I was. Peter Sellers used to feed him steak."

Despite the kindness to her pet, Mallory found few stars were looking for stability: Her standard pattern was love 'em and get left by 'em. Marcello Mastroianni, she says, "picked me out of a bevy of beauties invited to dinner by a producer. I was selected for the night. That's how it works in Hollywood." She went along, Mallory says, "because I thought attention was love. I thought by being on a star's arm, I would be famous." Instead, "I felt increasingly worse about myself. My alcoholism and drug use escalated."

Mallory did, on occasion, just say no. Among the rejected were Ryan O'Neal ("He invited me for dessert, not dinner"), Franco Harris ("He was pretty, but I was busy working") and Roman Polanski ("He was too sober"). Her reason for refusing Jack Nicholson was more poignant: His Oscar-winning role as the rebellious mental patient in One Flew over the Cuckoo's Nest "reminded me of my father."

Born Carole Wagner in Havertown, Pa., Mallory is the daughter of a retired nurse and a banker father. Her father, who died in 1976, suffered from Parkinson's disease. "He'd come home and start twitching," she remembers. "He couldn't hold the telephone to his head." When his symptoms, which also included depression, were misdiagnosed in the mid-'50s, he underwent shock treatments; when they didn't work, a lobotomy was performed. The doctors soon realized their mistake, Mallory says, "but Mother was still sent a bill for $1,000." In the following years, Carole recalls trying to make others not notice his condition. "I would go to restaurants and dress up as pretty as I could, so they wouldn't see him when he twitched and banged chairs. He was Daddy and I loved him." Her father's suffering was only one aspect of Mallory's difficult childhood. "Mother taught me sex was a sin because her mother taught her that," says Carole. "My mother was ashamed of her body. I was ashamed of my body. I would carry books in front of me to hide my chest."

Mallory believes her promiscuity was born of enormous insecurity. "I always wanted friends, but I had rheumatic fever and didn't go to second grade. I had a lot of self-pity. I became an invalid sissy," she explains. "I remember once knocking on a neighbor's screen door and the little girl said from the other side, 'No one's home.' I was devastated. I felt like an unwanted freak."

To relieve that loneliness, she turned to men—but not until she was far away from home. After graduating from Penn State University in 1963 and teaching art at a junior high school in Springfield, Pa., Mallory became a Pan Am stewardess. "I didn't like being around my father's pain, watching both my parents suffer," she says. Once away from her mother's watchful eye, Carole began experimenting. "I started getting pills in Bangkok. I got hooked on Dramamine and Valium. Then a doctor gave me amphetamines, B[12] shots and pills." Carole herself could supply the men. "I used to drop meals on the guys I wanted to pick up."

Soon enough, though, she would drop that career. By 1967, urged by friends and passengers, Mallory had parlayed her spectacular looks and seductive ways into a modeling career, and was soon snapped up by the Ford agency. In New York, she met painter Ron Mallory. "We lived together for almost two years," she says, "and then I read in Cosmo that if you threaten to leave a man, he'll marry you." She did and he did—in 1968. "She was one of the most beautiful people in the world," Ron remembers. "Even the doorman at Regine's said so."

Unfortunately, in Carole's case, the Mallorys' happiness could be measured in liters. "I was drinking heavily," she admits. "I was run by sex, and sex had gotten boring." They divorced in 1971. Enter Pablo Picasso's illegitimate son, Claude. "I'd get sloshed and pick fights," Mallory says. "But he was kind. He asked me to marry him the night Picasso died, in 1973."

Instead, Mallory, who was making $50,000 a year as a model, moved to Hollywood, where she landed small parts (The Stepford Wives, Looking for Mr. Goodbar) and big names. "Some stars pass women," Carole says. "I hate to blow the cover on stars, but they do use the telephone. When one enjoys one, he calls another and says, 'Have you tried it?' It's like Hershey bars."

In 1979, her career destroyed by booze and drugs, as well as a violent live-in relationship with a clothing designer, a bruised Mallory went to pal Dudley Moore for help. Moore referred her to a therapist, who diagnosed her addiction. Recovering alcoholic Gordon MacRae, another friend, helped her seek treatment.

Going on the wagon was relatively simple, Mallory says, compared with breaking the celebrity-sex habit. "I couldn't give it up like drinking," says Mallory. She couldn't even be scared straight. "I wouldn't do today what I did back then, with or without AIDS," she admits. "But my drinking was like committing slow suicide. I wanted to die. AIDS would not have stopped me." She began to write about her sexual exploits as therapy for her love addiction. "Today," she says, "I make love to the pages." Some of her readers return the passion. "Flash is fast, smart, irresistible to read," Gloria Steinem offers in a blurb on the book's jacket, while author Dominick Dunne says he isn't sure if it's "the funniest dirty book I've ever read, or the dirtiest funny book." But highest praise comes from fellow "prisoner of sex" Norman Mailer: "It is comparable to Henry Miller in its boldness and its attempt to come to grips with sexual writing."

Not that Mallory plans to continue to shock. Living alone in a one-bedroom apartment in midtown Manhattan, she spends all day at the typewriter, where a new "no sex" novel is taking shape.

She believes she has her past in perspective. "It's okay to like stars," Carole says. "It's another thing to be obsessed by them, need them and hunt them like I did." These days, she admits, "there's part of me that looks at Sam Shepard and says, 'Gee, isn't he awful cute?' But I'm not going to act like I did in the old days. I won't find out where he is and dye my hair blond to get him. Now, when I see a star, I go the other way."

—By Steve Dougherty, with Sue Carswell in New York


In 1971 she beckoned from the cover of Cosmopolitan magazine, wearing a tight T-shirt bearing a printed promise: "Stroke Me and I'll Purr." In 1973 she lit up television screens, cooing, "All my men wear English Leather...or they wear nothing at all." Readers and viewers got the message, but what they didn't realize was the degree of truth in Carole Mallory's advertising. "I was a sex addict," says the former model, who hopes confession will keep her straight. "I was addicted to movie stars." Finding a fix was never a problem, especially when she moved on to acting. "Hollywood," she says, "is one big mattress."
Advertisement
Treat Yourself! 4 Preview Issues
The most buzzed about stars this minute!