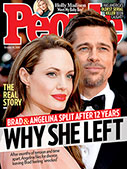 This Week's Issue!
People Top 5
LAST UPDATE: Tuesday February 10, 2015 01:10PM EST
PEOPLE Top 5 are the most-viewed stories on the site over the past three days, updated every 60 minutes
Once America's First TV Family, The Waltons Reunite in L.A. for the Wedding of One of Their Own


Viewers of keen memory might recall that Erin was married six years ago, to Paul Northridge, that nice young fellow from the city. But that was TV, and this was life as we know it. While Waltons of all ages fought back tears, McDonough, 27, was given away by her older brothers, Michael and John. Their father, Larry, who owned a chain of auto transmissions stores in Sepulveda, Calif., died in 1977. But, says Mary, who pinned his tie clip to her slip for the wedding, "He was with us in spirit." The brief ceremony at Salem Lutheran Church included "Somewhere Out There," sung by Lisa Harrison Walmsley, wife of Jon (Jason Walton). Guests then moved on to the Castaways Club in Burbank.

Don't ask Mary to remember the menu. As the 350 guests attacked their chicken marsala, she squealed with delight each time she recognized an old Walton relation. "God, you look beautiful!" exclaimed a bespectacled Richard (John-Boy) Thomas, 37, wrapping his former co-star in a fraternal hug. "When Mary told me she was getting married," confided the bearded father of four, "I said, 'It's about time.' We're getting older by the minute."

Not so old, though, that Thomas couldn't dance to a Sam and Dave tune with Kami (Elizabeth) Cotler, 23. "This is exactly like a family reunion," Thomas decided breathlessly afterward. "We are no less close than cousins or siblings." Cotler agreed: "When a friend asked me where I was going, I said, 'To my sister's wedding.' " Judy (Mary Ellen) Norton-Taylor, now 30 and divorced, also seemed imbued with a sense of shared history. "I couldn't help but think of how much we've all been through," she said. "I'm so happy for Mary. I don't know Rob well, but if he makes Mary happy, that's all I care about."

Mother Olivia Walton, Michael Learned, 49, had a different concern: her hastily purchased jungle-print dress. "It looks awful," she moaned. "Very L.A." But not very L.A., she noted, was her former TV spouse, Ralph (John Walton) Waite. "Of course, Ralph didn't show up," Learned observed to Ellen (Grandma Walton) Corby, who, despite several strokes that have left her unable to talk, enjoyed the festivities. But Waite never responded to Mary's invitation, nor did David (Jim-Bob) Harper. The Waltons' old grocer, Joe (Ike Godsey) Conley was there, beaming, but John (Sheriff Ep Bridges) Crawford was settling an old score in Washington State (see p. 54). For her part, Learned couldn't help but fret maternally over the newlyweds' future. "When you hear all the plans they have, I just think, 'Oh, God, please make it work out.' I try to be optimistic," said the thrice-married actress, "but I guess I'm a little cynical."

Unlike Thomas and Learned, for whom life after The Waltons has included numerous roles on stage and TV, the younger cast members have not prospered as actors—sometimes by choice. Cotler, a junior at Berkeley, got out of the business. "When you've done something since you were 6, to continue to do it didn't feel like a good decision," she says. "I'm relieved that I'm not in it anymore."

Eric (Ben) Scott, 30 and divorced, auditioned frequently but found that "after the show, a lot of us were stereotyped." He is now vice-president of a San Fernando Valley courier company. Norton-Taylor took another tack. Determined to shake her Walton image, she posed nude for Playboy in 1985. "I was sick of being the good little girl," she explained. "I wanted to do something a little bit bad." Walmsley (brother Jason) approved. "I thought her body looked great," he says. "She absolutely has nothing to hide."

McDonough, the unblushing bride, made a few TV appearances after The Waltons, but found her greatest satisfaction in acting classes. "I got to play prostitutes, drug dealers, lesbians," she says. "People would come up to me and say, 'I never thought of you as a slut, but you're a great slut.' "

It was in acting class last year that Mary also met Rob, who grew up in Rochester, N.Y. "I had never watched The Waltons," he says. But when he saw her perform a scene from Casablanca, he adds, "I was just blown away." Within six weeks he was ready for marriage; Mary was merely alarmed. "I put on my Nikes and ran," she says. Two proposals later, she decided to run in his direction.

After a honeymoon in Maui, the couple will return to a three-bedroom house they've bought in the San Fernando Valley. They say they are prepared for the stresses of separate careers (Rob has appeared twice in Moonlighting, and in Ford commercials), but what they'd really like is to work together. Odds are it won't be in anything resembling The Waltons. "I don't see any point in going back," says Hamner, the series' creator. Neither does Learned. "I think it would be better to leave it in memories," she said as the celebration wound down. "I feel like this is the real reunion."

—By Bonnie Johnson, with Vicki Sheff in Los Angeles


It could have been, and it was, a scene from the afterlife of The Waltons, but Earl Hamner would never have written it. From all over the country came the palpable ghosts of episodes past to celebrate the wedding of one of their own. Six years after Mama, Papa, Grandma, Grandpa, Mary Ellen, Jim-Bob, Ben, Erin, Jason and Elizabeth said "goodnight, John-Boy" for the very last time, most of the cast of one of television's most enduring and beloved family dramas assembled in Glendale, Calif., for the marriage of the Waltons' second daughter, Erin—otherwise known as actress Mary McDonough—to actor Rob Wickstrom. It was as wholesome in its way as The Waltons itself but clearly not a period piece. The bride's gown was deep in décolletage, and the bridesmaids wore black. None of the former Waltons seemed shocked.
Advertisement
Treat Yourself! 4 Preview Issues
The most buzzed about stars this minute!