People Top 5
LAST UPDATE: Tuesday February 10, 2015 01:10PM EST
PEOPLE Top 5 are the most-viewed stories on the site over the past three days, updated every 60 minutes


NEWS TO HIM: Dennis Miller, the smirking anchorman on NBC's Saturday Night Live, says that over the last few months, gathering fodder for the show's Weekend Update segment was a summer breeze. "During the season, it's so intense keeping up with all the news and looking for jokes in it," says Miller, "that when I get off in the summer, I don't really focus that much on what's going on. I mostly look at the USA Today weather map just to see what the temperature is in Albuquerque—gee, it gets hot there. That's the extent of my news in the summer."

NOT SPEAKING GINGERLY: Tina Louise, best known for playing Ginger, the sequined beach bunny on Gilligan's Island, can't complain about being type-castaway after that show. "In my last few movies I've played a crazed dope addict, a hard-nosed prison trustee and a lesbian dental assistant," she says. "The only real challenge left might be to play Mother Teresa."

THE CHALK OF THE TOWN: Jonathan (Stealing Home) Silverman chalks one up for Detroit, which he visited while doing the first national tour of Neil Simon's Brighton Beach Memoirs in 1984. "I'm afraid Detroit was my least favorite city during that tour," says Silverman, who's currently filming Hot and Cold with Andrew McCarthy. "I say that only because when we checked into the hotel, a few doors down from my room I noticed a chalk marking of a dead body that had expired hours before. It put us in the wrong frame of mind. The chalk mark came off after a couple of days—it sort of rubbed off on the clothes of the bums who slept in the hallway."

MIAMI SOUND THINKING: Gloria Estefan, the only woman in the nine-member Miami Sound Machine, has elected to get a room on a different floor from the band when on tour. "It'd be 3 in the morning, and I'd peek out and see 30 women wandering around the hallway looking for guys in the band," says Gloria, whose husband, MSM record producer Emilio Estefan, often stays home. "Seeing all those doors opening and closing and people coming in and out gave me an interesting view of life and men that most women never see."

GREAT WHITE NORTH: According to Toronto's Globe and Mail, during an appearance at that city's film festival for her new movie, Madame Sousatzka, Shirley MacLaine reminded the audience that her mother, Kathlyn, is Canadian. "Can you believe that Warren is half Canadian?" asked Shirley, referring to frisky younger brother Warren Beatty. After a strategic pause, she added, "The top half."

MOM'S THE WORD: Comic Roseanne Barr says that her new ABC show, Roseanne, is embracing motherhood. "I'm going to be the first real mom on TV in a long time," she explains. "On most sitcoms these days, either the mom is dead or the dad acts like the mother. There haven't been that many women whose images have impressed me. I always hated I Love Lucy [because] she had to beg Ricky to give her five lousy dollars and then he spanked her when she got in trouble."

IN LOO OF PRIVACY: Just for kicks, snarling rocker Billy Idol was recently bounced out of Los Angeles' notorious hard rock hangout, The Rainbow. "I'd had a bit to drink and had to visit the loo," says the British-born Billy, who's in L.A. recording a new album. "Who knows why, but the guy was taking too long in the stall, so I kicked the door down. Hell, in the good old days, there wouldn't even have been a door."


HORNE OF PLENTY: Legendary singer Lena Home's new album, The Men in My Life (which includes duets with Sammy Davis Jr. and Joe Williams), may have a tantalizing title, but Lena says its lyrics are less ribald than romantic. "It's boring for a 71-year-old broad to sing about how bad she wants it," says Home, "even if it is true we frequently want it badly."
Advertisement
Today's Photos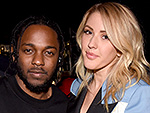 Treat Yourself! 4 Preview Issues
The most buzzed about stars this minute!