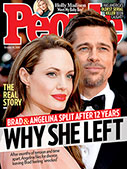 This Week's Issue!
People Top 5
LAST UPDATE: Tuesday February 10, 2015 01:10PM EST
PEOPLE Top 5 are the most-viewed stories on the site over the past three days, updated every 60 minutes
Learning of a Casino Owner's Birthday Parties for Hitler, Even Jaded Vegas Is Outraged


Some might consider the powerful, super-rich hotelkeeper's private museum a sick joke—largely on him. But when the existence of Engelstad's Nazified den became public knowledge last month, Las Vegans were not amused. Nevada Attorney General Brian McKay called the revelation a "black eye" the state didn't need, and the Nevada Gaming Control Board began interviewing some of Engelstad's 2,000 employees who were allegedly pressured into attending "Hitler birthday parties" in the War Room. Jews in the state expressed outrage, and Steve Wynn, owner of the Golden Nugget casino in Vegas, said he'd "like to punch the guy in the mouth."

A Catholic of Belgian-Norwegian descent, Engelstad, born in Thief River Falls, Minn., came to Las Vegas in 1959 from North Dakota, where he was a contractor. His peculiar fascination with Hitler was revealed by half a dozen present and former Imperial Palace employees who have filed lawsuits or grievances accusing him of anti-Semitic remarks, religious discrimination and sexual harassment and, in some cases, wrongfully firing them. Mick Shindel 44, who was the hotel's director of corporate security until last month, charges Engelstad with "name-calling and reviling of my Jewish religion."

Joe Dickie, former body-shop manager of the antique auto collection, alleges that Engelstad once said of the War Room, "I ought to be building ovens up there instead of painting pictures." Engelstad contends that he said no such thing.

Other employees speak of feeling "obligated to attend" what Engelstad calls "theme parties to boost employee morale." The führerbashes were held to celebrate Hitler's birthday this year and in 1986. "There was a cake both years," says Dickie, who sued for wrongful termination after being fired in March. "The cakes were large and had Hitler's name on them. There was a lot of drinking and German marching ballads too. It was outrageous, but people were afraid to blow the whistle on him. We were afraid we couldn't get jobs elsewhere—that no one would believe us if we told them these things." Another guest says that during this year's party Engelstad "forced some Jewish employees to come against their wishes. He wanted one Jew to cut the cake, but the person ducked out. Ralph ran around trying to find him."

Lately the hotelkeeper's alleged obsession seems to have taken an architectural turn. Engelstad is said to have envisioned constructing a scaled-down replica of Hitler's triumphal arch—the one the führer had planned to erect in Berlin. "I wrote Mrs. Speer [widow of Hitler's architect Albert Speer], trying to get her to sell me her husband's plans. But I never heard from her."

Perhaps cowed somewhat by public opinion, Engelstad now says he will dismantle the War Room and has apologized for the Hitler parties, chalking them up to bad taste. But he denies many of the charges. He says he did not order the Hitler European Tour T-shirts or the Hitler Was Right bumper stickers that appeared at the hotel.

Engelstad says he can't understand why people consider him anti-Semitic. I don't hate Jews," he says. "I think of all people the same way—Poles, blacks, Orientals. It's the way people are inside that counts." Exactly so. The Nevada Gaming Control Board, which has the power to call for cancellation of a casino's operating license, is particularly interested in what may have been going on inside the Imperial Palace. Says the board's chairman, Michael Rumbolz: "We are continuing our investigation for as long as it takes."

—William Plummer, and Linda Marx in Las Vegas


While Ronald Reagan was dedicating the Holocaust Museum in Washington, D.C., two weeks ago, Ralph Engelstad was in Las Vegas applying the finishing touches to his own multimillion-dollar tribute to the era. The 58-year-old owner of the Imperial Palace hotel and casino was busy with his War Room, a 3,000-square-foot private suite filled with Nazi memorabilia—heroic murals of Adolph Hitler and staff, swastikas and Nazi daggers, and military cars used by Mussolini and by Hitler and his Third Reich henchmen Himmler and Göring.
Advertisement
Treat Yourself! 4 Preview Issues
The most buzzed about stars this minute!