People Top 5
LAST UPDATE: Tuesday February 10, 2015 01:10PM EST
PEOPLE Top 5 are the most-viewed stories on the site over the past three days, updated every 60 minutes
Post-Graduate Life Proves Unkind to Author Charles Webb—Footloose, Fundless and Looking for Help


Imagine this scenario: Benjamin and Elaine get divorced but never live apart. Remaining true to their unconventional principles, they squander whatever money comes their way. Arriving at middle age, they don't settle for sipping cynicism on the sofa. Instead, we find the idealistic pair huddled in the back of a battered VW bus—their only home—down to their last few hundred bucks.

That just about sums up the fate of author Charles Webb, who wrote The Graduate, and his own Elaine, who now calls herself Fred. Maybe Ben—and Charles—should have gotten into plastics. "It's hard to say how we got to this point," says Webb, 49, as he sits in a Bethel, Conn., diner. His features marked by a perpetual frown, he can barely conceal his anxiety over their situation yet seems equally incapable of discussing it. Fred, 48, although concerned about winter's approach, remains hopeful. "What we need now is a place to settle," she says. "Then Charles can get back to work."

Webb, after all, was once a literary rising star who published The Graduate, his first book, at age 24 in 1963. During the next 15 years, Webb says, he made almost $150,000 from that and five other books, including the $20,000 he received for film rights to The Graduate. "All of that seemed like a lot to us 10, 20 years ago," says Webb. "But money was never important to us." Fred agrees. "In fact," she says, "we have given away just about everything we owned." That includes two houses, a Rauschenberg drawing and a Warhol print—all donated to nonprofit organizations. For the past 10 years, Charles and Fred have subsisted on diminishing royalties from paperback sales of The Graduate, which now amount to about $2,500 a year.

Since the couple pulled up stakes in Southern California and arrived in Massachusetts last July with their mutt, Mrs. R. (named, of course, for the story's Mrs. Robinson), and a few thousand dollars in savings, the fates have not been kind to the Webbs. First, they had hoped to settle in Williamstown, home of Charles's alma mater, Williams College, where he planned to begin writing a sequel to The Graduate. Unable to find a place they could afford, they were taken in by a woman in Bethel, Conn., who read of their plight in a newspaper—but threw them out after learning of their fondness for nudity.

Charles and Fred put up next at a shabby motel in nearby Danbury. At that point, with less than $200 between them, they tried to get public assistance. "Loved the book," a welfare worker told Webb before informing him that he didn't qualify for public funds. "What's your problem?" Since then, the Webbs have been parking their bus wherever anyone will let them. Last seen in Hastings-on-Hudson, N.Y., the couple had been restored to solvency at least temporarily by Charles's agent in New York, Ben Camardi, who presented him with a $500 advance against paperback royalties. "When we met recently, he brought a 30-page outline of a sequel," says Camardi. "It seems he still has talent."

Charles, the son of a prominent Pasadena heart specialist, met Fred, then known as Eve Rudd, when he was a junior at Williams and she was a sophomore at Vermont's Bennington College. When Eve became pregnant, they decided to marry—then changed their minds shortly before the ceremony. Eve's parents, prep school instructors from Lakeville, Conn., forbade her to see Charles again. After her abortion in 1960, they whisked her away to a Baptist college out West. Charles pined for her through his senior year and wrote a short story that became the seed of The Graduate. Eventually he determined that the protagonist, Benjamin, would have a secret affair with the mother of the girl he loved. Thus was born the languidly predatory Mrs. Robinson, immortalized onscreen by Anne Bancroft. "The incident was not autobiographical," says Charles. But Webb's yearning for Eve was, and in 1962 they were married, with her parents' blessing. The Graduate was published the following year, selling a modest 20,000 copies but attracting Hollywood's attention.

The Webbs moved to Los Angeles after the birth of their first son, John, in 1964. No sooner had they bought their own home than the domestic ideal seemed to pall, and they simply gave the $35,000 bungalow back to their Realtor. "[Owning] it was just unexplainably oppressive," says Webb.

The couple's habit of impulsive philanthropy would soon be entrenched. Their second son, David, was born in 1967 in Laguna Beach, Calif., where they were living at Webb's parents' house. Three years later they purchased a $65,000 home in Williamstown, but, after a few weeks, decided to give that one away too, to the Audubon Society. In 1981 the Webbs divorced—a protest, they said, against the inequality of women in marriage—yet remained together. That same year, while living in a campground near Ojai, Calif., they sued the state for the right to school their younger son at home. Today, John, 24, is a graduate student of Russian politics studying at Georgetown University on a fellowship. David, 21, an artist, is working on his master's degree at the University of California at Santa Barbara. "I have no regrets about the way I was brought up," says John, who is "concerned" about his parents' situation. "I can help a little, but they're too proud to ask."

Webb pins his hopes on a long-deferred Graduate sequel, which he says he will write with Fred "because it really is our story." Says Fred: "I think it will be a blockbuster." Then she ruefully surveys the van that contains all the couple's meager belongings: some clothes, a kerosene stove and Charles's typewriter. "I guess we thought that because we were so generous, the world would come to our aid if we needed it," she says. "I guess we were naive."

—Tim Allis, and William Sonzski in Boston


It was an image that captured the rebellious spirit of a generation: Dustin Hoffman pounding frantically on the church window, shattering the sounds of silence with his primal scream, "Elaine!" But the 1967 blockbuster The Graduate did not quite end at the exhilarating moment when Benjamin Braddock broke up the wedding of Mrs. Robinson's daughter, carrying her off to reckless freedom and true love. In the final frames, as Ben and Elaine stole away on a bus, their tentative smiles seemed to ask, "What next?"
Advertisement
Today's Photos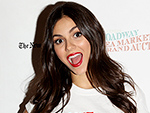 Treat Yourself! 4 Preview Issues
The most buzzed about stars this minute!