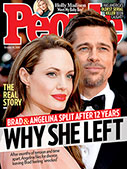 This Week's Issue!
People Top 5
LAST UPDATE: Tuesday February 10, 2015 01:10PM EST
PEOPLE Top 5 are the most-viewed stories on the site over the past three days, updated every 60 minutes
While Looking for a Few Good Men, the Marines Found Gail Reals; Generally Speaking, They're Satisfied


Brig. Gen. Gail Reals is philosophical about such verbal misfirings. "Everyone has qualifications he or she thinks are essential to success," says Reals, the highest-ranking woman in the Marines and the first woman to become a commanding general of a U.S. Marine base. "Some people would say intelligence or enthusiasm or responsibility. But I think the secret is a sense of humor. You just can't take every little thing too seriously."

For General Reals, 53, keeping everything in perspective is a matter of daily survival. Looking after the affairs of the sprawling, 96-square-mile Quantico base is a daunting task, involving responsibility for some 9,000 students, enlistees, officers and civilian employees. Rather like the mayor of a small city, Reals spends her day overseeing everything from courts-martial to road construction and typewriter repair. This is her sixth tour of duty at Quantico, and her new assignment brings her full circle: She was first stationed here as a stenographer 34 years ago.

Reals won't say that her gender has hurt her career, but she admits there have been some trying times. She recalls occasional phone conversations with unimpressed civilians that ended with the curt dismissal, "I'll call back. I want to talk to a real officer." Those were moments when her sense of humor was tested. "That kind of thing really got me hot under the collar," she says. Unfortunately, her fellow marines were sometimes equally obtuse. "In meetings, they'd go around the room asking questions," says Reals. "I'd answer, and then they'd pick up with the next man as though I hadn't spoken." But Reals refused to be provoked and wouldn't be broken. "I have amazed myself at how controlled I can be," she says. "Sometimes you lead with a side step."

Her march to the top—side steps and all—started near Syracuse, N.Y. Her father, a welder, died when she was 14, leaving her mother to raise Gail and her three brothers. "My mother went to work as a domestic, and I went to live with a family and take care of their five children," says Reals, who was then in high school. "When it came time to think about my future, I looked around and asked myself, 'What am I going to do, work for the five-and-dime?' " So 15 months after graduation, she joined the Marines and went off to boot camp. "It was a shock," she recalls. "You're put with 50 other women, and you have to figure out how to get along and survive." Her first reaction: "How the hell did I get myself into this?"

Reals spent her early years in the service as a private in the secretarial pool. But she did get to spend a year in Paris. Months later, when Reals underwent her officer-candidate examination, one of her interrogators, testing her professed enthusiasm for the Louvre, tossed out the question, "Who sculpted the Venus de Milo?" Reals had the answer: "Nobody knows." Commissioned a second lieutenant in 1961, she advanced through a series of command jobs to become personnel officer in the Marine security guard battalion in Beirut in 1968.

The Marines were changing—largely because of women like Reals. "I stayed around long enough to see it," she says. She spent most of the '70s at Parris Island, S.C., as a commanding officer in the Woman Recruit Training Battalion, and took increasingly more responsible posts in the '80s. She was promoted to general in 1985. "I got the phone call from the Marine Corps Commandant in Washington," she says. "He said, 'Gail, the President of the United States has just signed a list to promote generals, and for the first time there's a woman's name on it.' My arm went numb, and I felt like I would throw up."

Reals, who could conceivably acquire one more star should she be promoted to major general, has found fulfillment in cracking the gender barrier. "It's been an uphill battle," she concedes. "But the example I set can make the Marines aware of all the talent they have in the ranks." Says her admiring colleague, three-star Gen. John Hudson: "She's one of the most competent and charismatic leaders I know."

She is also one of the most committed. A military career, she admits, "probably eliminated the possibility of marriage, although I never said I won't get married." Rather wistfully—for a marine—she adds: "Quantico feels like home. The Marines feel like my family. When I retire, I'll probably be around here forever with my wheelchair and cane."

—Tim Allis, and Sandy Travis in Quantico


The men at the Marine base in Quantico, Va., pride themselves on their spit and polish. Chins in, chests out, they snap to attention with martial precision and the pride of a fighting elite. But these days when a shavetail lieutenant answers the CO's command with a sharp, "Yes, sir!" he sometimes stutters and quickly adds. "Ma'am!"
Advertisement
Treat Yourself! 4 Preview Issues
The most buzzed about stars this minute!