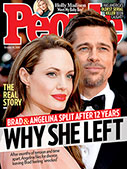 This Week's Issue!
People Top 5
LAST UPDATE: Tuesday February 10, 2015 01:10PM EST
PEOPLE Top 5 are the most-viewed stories on the site over the past three days, updated every 60 minutes
Once Andy Warhol's Ultra Violet, Isabelle Dufresne Writes the Book on Being Famous for 15 Minutes


On a table in her kitchen is a bag full of sequined letters that spell ULTRA VIOLET. It is the name Isabelle used in more flamboyant days, when she was part of Warhol's inner circle. Should she, she wonders now, pin UV to her dress, just for TV interviews? Or will the silver dangling earrings make enough of a splash? Her long purple gloves, at any rate, are a must. Dufresne holds the earrings to her ears and regards her still-handsome 53-year-old face in the mirror. "I thought I had buried Ultra Violet a long time ago," she says with a laugh. "Now, it seems, I find myself reviving her."

It does indeed. Dufresne's spicy memoir, due out this month, brings back to life both the tirelessly self-promoting party girl called Ultra Violet and the bizarre milieu that made her possible: the tinfoil-lined Factory where Warhol labored and held court, the filmmaking, the drugs, the frenzied '60s-style revelry. Dufresne met Warhol in 1963, tried to seduce him and, when that failed, stuck around anyway. "I was curious about him," she says. "I wanted to find out who he was, because he was too weird to be real."

According to her book, she found out plenty. In addition to appearing in several of his underground films, Ultra Violet (swathed always in her signature purple, with hair and lips dyed to match) accompanied the wan one to parties and chatted with him about art, about his family, even about sex. (He once confessed to her, she says, that he was in love with Truman Capote.) Though she admired him as an artist, Dufresne concludes in her book that "this was a man who believed in nothing and had emotional involvements with no one, who was driven to find his identity in the mirror of the press."

Already, other Factory denizens are taking issue with Dufresne's recollections. "Ultra was not an Andy Warhol star," sniffs Viva, once a rival Warhol arm-ornament, now a writer herself. "She was never part of the Factory to my knowledge." Says another Andy intimate: "She's taking things out of context and making them look like some crazy rock and roll groupie sex binge. It just wasn't like that." Dufresne stands by her story.

She was, her doubters should remember, brought up to tell the truth. The daughter of Pierre Dufresne, a wealthy French investor and manufacturer, Isabelle spent her school years at a Catholic convent not far from her family's Grenoble estate. She was also, even as a child, willing to do whatever it took to be noticed. By age 13, she had crept out of her dorm room after hours so many times that her distraught parents concluded she must be possessed and asked that a simple exorcism—a Latin prayer, a dash of holy water—be performed in the school chapel. "On the one hand I was happy they were doing it because maybe they would pay attention to me," remembers Dufresne. "I pretended I was calm for a while, then I started rebelling all over again."

When a stint in reform school also failed to tame her, 18-year-old Isabelle was packed off to live with an older sister in New York. She was delighted by what she found. "It was so easy to meet people in the '60s," she says. "All the doors were open, and I was very beautiful. I was the toast of the town." Dufresne began to turn up in the pages of Town & Country and on the boards of swank charity events. She had affairs with artist John Graham, with Rudolf Nureyev and, for five years, with Salvador Dali. "When I first met him," Dufresne says, "I realized I was as surreal as he was."

Dali apparently realized it too, for he introduced Isabelle to Warhol and his clan. There was Billy Name, the amphetamine addict who lived in the Factory's dark room; Taylor Mead, who composed obscene verse; socialites Edie Sedgwick and Baby Jane Holzer and celebutantes Viva and International Velvet. Here, at last, were people as hungry for attention as Isabelle and even more practiced at getting it. She took the name Ultra Violet to express her incandescent presence. "With Warhol, I had a part to play," she says. "As Ultra Violet, I had to be extravagant, to shock the world. Of course, deep down, it was probably something else—a wanting to be loved and recognized as something of value."

Dufresne shunned drugs, but found Warhol's company addictive: "He had an uncanny ability to concentrate on you and convey the feeling that at that particular moment you were the only person in the world." But he could also be chillingly self-absorbed. He was upset in 1968, Dufresne says, when the press paid more attention to Robert Kennedy's assassination than to an attempt on his life by militant feminist Valerie Solanas. And he once remarked that if Edie Sedgwick ever overdosed, he hoped he would get it on film. (He didn't; Sedgwick died of a barbiturate overdose in California.)

As the '60s waned, so did Dufresne's infatuation with things Warholian. "None of us were concerned with each other," she says. "We were all egocentric, all trying to get a piece of the fame." She drifted into a disastrous love affair with married artist Ed Ruscha and in 1973 suffered a nervous breakdown. "I reached the conclusion that I had to change or die," she says. Religion, meditation and holistic medicine became her new gods. The Factory era was over. "Coming to America for me had been a search for the truth," she says. "Obviously my Warhol years were not about the truth."

But those years proved a tough act to follow. Dufresne, who saw Warhol only a handful of times in the decade before he died, has spent the past 16 years living alone in an apartment high above Central Park, an apartment that is dominated by a giant Warhol silk screen. (Other art works from that period have been sold off to meet the bills.) She has never married, although she would like to. She has tried her hand at any number of vocations—playwriting, acting, art dealing. She even cut a record of pop songs in 1973, but no one seemed to notice. Now, she says, "I'm concerned with making my contribution to society. I think it is yet to come."

It has been nearly impossible, it seems, to find a role that suits her as Ultra Violet did. And so there is her book, and the tour, and the perfect outfit to be chosen. Dufresne admits she still thinks about the '60s often. "We were all buddies, partners in crime," she says. "We were game. We were available. We were doing it."

—Kim Hubbard, and Toby Kahn in New York


Isabelle Collin Dufresne is trying to decide what to wear. Usually that doesn't take long—casual skirts and sweaters are fine for running errands or padding around her Manhattan penthouse, and Isabelle paints the town infrequently these days. But this morning she is being choosy. Her new book, Famous for Fifteen Minutes: My Years with Andy Warhol, is about to be published, and she is preparing for a 10-city publicity tour. "I cannot," she says, "go, looking like a housewife."
Advertisement
Treat Yourself! 4 Preview Issues
The most buzzed about stars this minute!