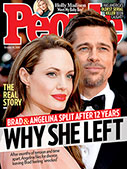 This Week's Issue!
People Top 5
LAST UPDATE: Tuesday February 10, 2015 01:10PM EST
PEOPLE Top 5 are the most-viewed stories on the site over the past three days, updated every 60 minutes
Corbin and Amanda Make Their Love Merger Legal


Ah, but such romantic occasions don't just happen, even for TV stars. Six weeks ago, Bernsen booked the wedding and reception at the rustic Saddle Peak Lodge in the Santa Monica mountains outside Los Angeles. Days before the ceremony, said the Saddle Peak manager, Bernsen was "nervous and upset," fretting over every detail. He even supervised the crew that set up the billowing white canopy for the outdoor nuptials. "Corbin wanted to make sure it was really special for Amanda," says actor Collin Bernsen, the groom's brother and best man. "And he wanted to make sure everything was done firsthand."

Twenty-four hours before the Big Day, Bernsen was still frantic and Pays was getting punchy herself. At one party, according to Bernsen's mother, actress Jeanne Cooper (Katherine Chancellor from The Young and the Restless), "Amanda was sitting there and her little eyes looked so tired. She said, 'It will work, won't it?' "

It did. As a detail of beefy security guards stood watch, 170 guests filed past a blockade of screens and sheets designed to keep prying eyes and paparazzi away. Since the parents of both the bride and groom are divorced, the families alone made up a rather large contingent. There were Cooper; Corbin's father, producer Harry Bernsen; Amanda's father, agent Howard Pays, in from London; the bride's mother, Jan Miller, over from France, plus assorted stepparents, siblings and too many cousins to count.

Most of the regulars from L.A. Law were on hand as well: Bernsen's close friend Jimmy Smits, Harry Hamlin and wife Laura Johnson, Alan Rachins and Joanna Frank, Blair Underwood, Susan Ruttan and executive producer Steven Bochco. Matt Frewer, Pays's former co-star from Max Headroom, was also p-p-p-present.

The 6 P.M. ceremony was short and sweet. "It was very contemporary," says Harry Bernsen, who recommended his own minister, Philip Nicola, from the Unity by the Sea Church in Santa Monica. "[It] was about joy, peace, harmony and love." The groom wore a blue suit; a few days before, a tailor had eased the seams in Amanda's navy-blue velvet dress to accommodate her expanding tummy. The invitations specified "dress warmly," but many of the guests weren't prepared for the frosty evening. "The only things lacking were hand and foot warmers," reports Cooper. "It was colder than—there's a term for it, but you couldn't print it."

The celebrants shook off the chill inside, toasting Corbin and Amanda with champagne. The appetizers included a fiery concoction called Kick-Ass Chili, along with more sophisticated fare such as salmon, baked oysters and stuffed wild mushrooms. For dinner, the guests had a choice of chicken, sea bass, Long Island duckling, lamb chops or baby back ribs. The meal tab came to nearly $75 per person. Throw in parking, musicians and flowers, and the total tipped at about $21,500—just a few days' pay for Bernsen, who reportedly pulls in $32,000 per week playing Arnie Becker.

Next afternoon, the families reconvened for a brunch at Bernsen's Laurel Canyon house to open what Caren described as "your standard wedding gifts." (The standard was fairly luxe, however. For example, Larry Drake, who plays Benny on the show, sent an Irish linen tablecloth and matching napkins.) After producing Thanksgiving dinner for the Bernsen clan, Corbin and Amanda were scheduled to leave this week for a 10-day honeymoon touring bed-and-breakfast inns on the East Coast.

Such a normal wedding trip. But then, Pays and Bernsen apparently crave domesticity. The two met last year and their first public date was an October screening of Cry Freedom. The pair quickly became an item. "Corbin wanted a wife who would have babies," says his mother. His ex, British actress Brenda Cooper, "just didn't want children, and he found out a little late. To him, his career is one thing, but life without children is beyond the realm of thinking. This is the solidity he's always dreamed of."

Bernsen and Pays plunged ahead with the baby part, but the wedding day had to be deferred until the bride could get officially unhitched from her husband, London-based film production manager Peter Kohn, 33.

Reminders of such unhappy times past should recede by the time Baby Bernsen arrives sometime in March. Corbin and Amanda will soon begin Lamaze classes, with the father-to-be prepping nervously for his big role as chief delivery room cheerleader and forehead wiper. His mother isn't so sure how he'll stand up under the pressure. "We know he's going to faint," she says. "I don't care about Lamaze or whatever. Corbin will say, 'Oh, my God, I can't take it.' When that moment comes and the baby's there—talk about breathe, breathe, breathe. They'll be giving Corbin artificial respiration!" Sounds like a direct challenge from your mom, Corb; you've got four months to prove her wrong.

—Jacob Young, and Lois Armstrong, Karen Jackovich and Kristina Johnson in Los Angeles


The bride wore blue, the ink on her divorce was barely dry, she was five months pregnant and the ceremony took place on a restaurant patio. Not your traditional wedding arrangement, perhaps, but in Hollywood, anything goes. And so, while a guitarist played in the background, British-born actress Amanda Pays, 29, and L.A. Law's Corbin Bernsen, 34, were united in holy matrimony. The thoroughly modern couple read their own vows during the nondenominational service while everyone got properly choked up. "It was very romantic," said Bernsen's sister Caren. "Every time I thought I was going to start crying, I'd turn my head."
Advertisement
Treat Yourself! 4 Preview Issues
The most buzzed about stars this minute!