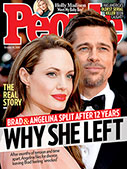 This Week's Issue!
People Top 5
LAST UPDATE: Tuesday February 10, 2015 01:10PM EST
PEOPLE Top 5 are the most-viewed stories on the site over the past three days, updated every 60 minutes
Roll Out a Barrel, and Little Rachel Myllymaki Will Ride Circles Around It—Let None Say Her Neigh


Nobody knows for certain, but one possibility is that 11-year-old Rachel could win the $50,000 barrel-racing first prize at the Women's Professional Rodeo Association's national championships. After earning more than $27,000 this year with 23 victories in her first season of pro rodeo, Rachel—rated eighth in the nation in her event—goes to Vegas as the youngest rider ever to compete in the finals, which begin this Saturday, Dec. 3. "A barrel-racing rider has to have a lot of courage because you're riding the horse extremely fast and asking him to stop and turn quickly," says Lydia Moore, executive secretary of the WPRA. "It's extraordinary that an 11-year-old is this good." Even the defending champ, 18-year-old Charmayne James Rodman of Gait, Calif., acknowledges Rachel's prowess. "If anyone has a chance to break my times, it's her," she says. "She's quite a cowgirl."

Just five years ago, Rachel didn't know a bit from a bridle. That was when cattle rancher Gene Myllymaki, 54, and his wife, Judy, 44, a former barrel racer, learned that Rachel's mother, a distant relative of Gene's who was living in North Carolina, was alone and jobless and felt unable to care for her daughter. The Myllymakis adopted Rachel and brought her to live at their ranch in Arlee, Mont. (pop. 400). "We hide nothing from Rachel," says Judy. "She talks to her natural mother on the phone, and we even visited her last year. I just keep telling her there's no limit to how many people can love her."

To make Rachel feel at home in the West, the Myllymakis immediately gave her a pony. "She couldn't believe it," remembers Judy. "She kept asking, 'You mean he's really mine?' " At first Judy led the horse on a halter. "It was scary because he looked so big, and I was afraid I'd fall off and get stomped on," Rachel recalls. But she adapted quickly and discovered that fast was more exciting than slow. "It was fun," she says. "My heart would start pounding, and I could finally race my [adoptive] mom." Then one day Yeller fell and broke his leg and had to be destroyed. "I thought I'd never get over it," Rachel says. "Even now I still miss him."

Judy, meanwhile, was teaching Rachel to barrel-race. After Yeller's death she bought Rachel a new horse, Page. "Page had been mistreated by previous owners," Judy says. "When we bought her, she was pretty unhealthy, but Rachel fed her and lavished affection on her, and before long she was good as new."

By the time she was 8, Rachel had won the Western Montana Cowgirls Association junior division title. On weekends and school vacations, the family began loading Page and a new horse, Julie, into a trailer and driving to regional rodeos as far away as Texas and Arizona.

A straight-A student in sixth grade at the Arlee Elementary School, Rachel cares for her horses herself and uses nearly 70 percent of her winnings to cover travel and other expenses. The rest goes into a college fund. "Someday I'd like to be a veterinarian," she says. "I'll always want to be around horses. They're my best friends. You know, I'd much rather be with a horse than a boy."

—Susan Reed, and Cathy Free in Arlee


C'mon, Julie," Rachel Myllymaki calls to her mount, giving him a dig with her heels, "show me what you've got today!" In a flash, the sleek chestnut gelding rockets toward three striped barrels set 50 feet apart in the middle of the corral on Rachel's parents' Montana ranch. Wheeling around the first, Rachel spurs Julie at breakneck speed to the next, then around that to the third. "Whew!" she gasps after thundering back to the starting point. "If Julie can be that quick when we go to Vegas, who knows what might happen?"
Advertisement
Treat Yourself! 4 Preview Issues
The most buzzed about stars this minute!