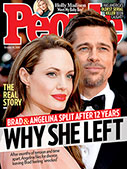 This Week's Issue!
People Top 5
LAST UPDATE: Tuesday February 10, 2015 01:10PM EST
PEOPLE Top 5 are the most-viewed stories on the site over the past three days, updated every 60 minutes
Anne Rice's Imagination May Roam Among Vampires and Erotica, but Her Heart Is Right at Home


"I dreamed my daughter, Michelle, was dying—that there was something wrong with her blood," Rice recalls. "It was horrifying. Several months afterward, she was diagnosed with a rare form of leukemia." Two years later, shortly before her sixth birthday, Michelle Rice died.

Up until that time, Rice had been trying, without much success, to write fiction—grappling for several years with a story about a vampire. After the death of her child, she sat down and wrote Interview with the Vampire in a "white heat," completing the 372-page first novel in five weeks. It was a literary sensation; the paperback rights sold for more than $700,000. One of its characters is a 5-year-old vampire who hungers for life-sustaining blood.

"Writers write about what obsesses them," says Rice. "You draw those cards. I lost my mother when I was 14. My daughter died at the age of 6. lost my faith as a Catholic. When I'm writing, the darkness is always there. I go where the pain is."

Vampires, blood lusts, the intricate mores of the dark and imaginary other-world—that's what Anne Rice, 47, has come to be known for. Since the publication of Interview in 1976, she has continued her vampire chronicles with The Vampire Lestat (1985) and the just-published The Queen of the Damned, which within a week of its official publication date topped the best-seller lists. They are not, despite the subject matter, mere horror stories: Richly written and set in the most dreamlike cities in the world—Paris, New Orleans, San Francisco—these books use the metaphor of a vampire's immortality to explore the themes of loss and change.

They are also highly erotic. "If you surrender and go with her," said a Boston Globe reviewer of Rice's prose, "you have surrendered to enchantment, as in a voluptuous dream." And in fact, Rice has also written five books of erotica under two pseudonyms: Anne Rampling for the more artful sexual fantasies, A.N. Roquelaure for the hard-core pornography. For some time this was her secret. Now it is part of her mystique.

All of this is hard to reconcile with the demure, black-haired woman who welcomes you into her stately, antiques-filled home in New Orleans, where she lives with her husband, the poet Stan Rice, and their 10-year-old son, Chris. If it is true, as Rice says, that we each wear a cloak of respectability while in our hearts we are all monsters, her cloak is pulled very tightly indeed. She dresses in the clothes of a mildly repressed grade school teacher: full skirts and pearls and ruffled blouses closed high at the neck. She has been married to the same man for 27 years. Her 150-year-old house is not lugubriously draped with heavy curtains but is bright and cheerful, the kitchen where she sits down to chat filled with gleaming appliances and countertops.

Yet a tilt of her head reveals tiny skull-shaped earrings. And when she speaks, the image of a practical housewife is supplanted by the dream-rich voice of the novelist.

"I love New Orleans," says Rice in her soft voice. "The twilight sky here is like no place on earth. It is violet and it is golden. New Orleans has all this lush beauty, like Venice and Rome. I was born here, and I had been wanting to come back for years. I always remember the fantastic contrast of New Orleans in my childhood: the romance and gloom. Here were all these great big beautiful houses falling into gloom. If I begin a book elsewhere, my characters end up right back here."

She was born in 1941 into the same neighborhood she now inhabits. Her father worked for the post office, and Rice describes her mother as a "free spirit." Anne was the second of four sisters, storytellers all—"like the Brontë sisters," she likes to say. She takes pains to explain that this area of New Orleans, called the Irish Channel, was, culturally speaking, light-years removed from the aristocratic, mansion-filled Garden District just a few blocks away.

"All of my books are about outcasts who live in the middle of things," Rice says. "New Orleans is an outcast in America. There are more haunted houses here than in any city in the country. The church I grew up with was the old-fashioned Catholic church with its Latin Mass and liturgy. They were magnificent churches—the hymns, the stained glass. You imbibe all of that as a child. You revel in it."

At 14, when her mother died, Anne moved with her family to Richardson, Texas. She felt rudely displaced, as if, she says, "I'd stepped through the television screen and into America." It was in Texas that she met Stan Rice, her future husband. He edited the high school paper; she was the features editor. "I fell completely in love with him," she has said. "I am still completely in love." They married in 1961 when he was 19, she 20. The next year, they moved to San Francisco. Stan taught creative writing at San Francisco State, eventually becoming chairman of the department. Anne gave birth to Michelle, took a graduate degree in literature and worked intermittently at writing.

She also drank. "Two tall beers for breakfast with the sun coming up, that was divine," says Rice, who developed a fondness for alcohol in high school, as did Stan. The death of their child—and Anne's success—exacerbated the problem. They began to drink all the time. It was, says Rice, their "Scott and Zelda" period. "It's easy to get a lot of writing done and still be a full-time drunk," she says. "But you sacrifice everything to drinking...though we never hit any kind of bottom."

In 1979, when their son, Chris, was a year old, Stan and Anne stopped drinking because they did not want their son to have alcoholic parents. Sobriety helped Anne's work. "My output tripled after I stopped drinking," she says. "I've been on a natural high now for years. When I was writing my vampire books I was completely sober, except for a few scenes."

It was during this period that she wrote the sadomasochistic Rampling novels. "I wrote about the fantasy that interested me personally and that I couldn't find in the bookstores," she says. "I wanted to create a Disneyland of S&M. Most porno is written by hacks. I meant it to be erotic and nothing else—to turn people on. Sex is good. Nothing about sex is evil or to be ashamed of."

These days, Rice says, her life is "pretty routine." Something of a recluse, she writes "obsessively," while Stan, who has taken a leave from university life, devotes himself to painting. She reads Mario Puzo. She has seen Moonstruck nine times in the last few weeks. "Writing and my family are my life," Rice says. "I used to write all night. I can't do that with a 10-year-old son. Our family sits down to a meal together every evening."

And where do the wild erotic fantasies of Anne Rampling and A.N. Roquelaure figure into this homey scene? The lady in the ruffled blouse says, with a mischievous grin, that we will never know. "When you've been in love with the same man for 27 years, you have something priceless. People will just have to guess what goes on behind these closed doors. That's my secret."

—Joyce Wadler, and Johnny Greene in New Orleans


Anne Rice does not consider herself a superstitious woman, but there was a time, some years ago, when she had what she calls a prophetic dream.
Advertisement
Treat Yourself! 4 Preview Issues
The most buzzed about stars this minute!