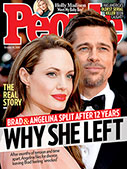 This Week's Issue!
People Top 5
LAST UPDATE: Tuesday February 10, 2015 01:10PM EST
PEOPLE Top 5 are the most-viewed stories on the site over the past three days, updated every 60 minutes
When Horses Head for the Last Merry-Go-Roundup, Auctioneer David Norton Rides to Their Rescue


At a podium, David Norton eyes the crowd with respect. He knows about the power of these painted ponies. Norton, 39, makes much of his living auctioning off carousels and other features of old amusement parks and carnivals. The son of two antique dealers, he began learning auctioneering at 16, then started his own company, Norton Auctioneers of Coldwater, Mich., three years later. He also collects. "My personal view about carousel animals is that I just want ones that catch my eye," he says. "Color is important. I've paid as much as $25,000, but I don't buy for investment. Each one has its own personality."

As a result of Norton's infatuation with carny equipment, the rural Cold-water house that he shares with his wife, Christine, and their three children is a virtual carnival itself. The huge (2,000 square feet) family room boasts antique games, a fun-house mirror, a 14-foot-tall Hi-Striker (that thing you whack with a big mallet to impress your date) and five carousel animals—survivors of a vast herd that once roamed the continent but is fast becoming extinct.

In the early part of this century there were 6,000 hand-carved carousels; today fewer than 200 remain in operation. The last old-timey carousel carver died in May, although a handful of restorers still work to keep the aging animals in shape (modern merry-go-rounds have fiberglass and aluminum steeds). The carousel at auction today is a C.W. Parker, No. 91. It's 45 feet in diameter, with 36 horses and two chariots, all carefully restored. Carved merry-go-round animals are considered American folk art and command $2,000 to $70,000 each, depending on age, condition and the intricacy and style of the carving, and $12,000 to $15,000 is average. "People are often shocked at the prices," says Norton, who notes that "lead horses" are the most expensive. "Almost all carousels have a lead horse, one that is the fanciest of the lot. Often it is armored."

Norton's company handles all kinds of auctions, from going-out-of-business sales to charity fund-raisers, but the carousel-amusement park-carnival kinds are his favorites, and he has conducted nearly 300 of them. "David really performs," says Ron Weir, a postal carrier and collector who has driven from Iowa in hopes of adding to his horse collection. "He's the best I've seen. Plus he gives a party the night before the auction." When it is all over, Norton walks away with a 10-to-15 percent commission for every sale.

The crowd hushes as the auction begins. "Ladies and gentlemen, a rare, rare machine," Norton intones, "and a beautiful one." Bidding on the first horse starts at $10,000 and quickly escalates. "Hey!" Norton taunts one dealer. "You spent a thousand dollars to get here. You're not going to let a mere $500 keep you from getting this beauty?" The dealer bumps up his bid. Norton takes off his jacket and rolls up his sleeves. After 20 minutes the first row of horses is gone, and Norton, sweaty and tuckered out, hands over the reins to another auctioneer. When all the horses have been conditionally sold, Norton adds up the bids—$201,850—then calculates a 20 percent increase before offering the carousel up whole. "I need a minimum bid of $242,300 to keep this beauty around for another 85 years," he calls. Silence. Eyes dart. Then a hand goes up. "Sold! The machine is sold intact!" he screams. Ray and Nancy Carr, from Chester, Pa., who are building a resort, are the buyers. "We just had to have it," says Nancy.

For Norton, it's a satisfying conclusion. He got top dollar, and an equine family will be kept together. "I'm happy when I can save a carousel," says Norton, who succeeds in doing that about half the time. "Once you've split up a carousel, that's it. The horses have left the stable."

—Tim Allis, and Julie Greenwalt in Moosic


There are memories for sale in Moosic, Pa. In the heart of what was once the Rocky Glen amusement park, a crowd of nearly a thousand draws close to the blinking blue, green and magenta lights of a merry-go-round. Fathers hoist children onto their shoulders to watch as two men in red blazers push the richly carved wooden horses around for what may be their last spin. For this forlorn carousel, constructed in 1903, is about to be auctioned off, either horse by horse or, with luck, as a whole. "A lot of these people grew up on these horses," says carousel historian William Manns, in town for the festivities. "They bring back memories of a father, an old girlfriend or their kids. There is something very emotional tied up with carousels."
Advertisement
Treat Yourself! 4 Preview Issues
The most buzzed about stars this minute!