People Top 5
LAST UPDATE: Tuesday February 10, 2015 01:10PM EST
PEOPLE Top 5 are the most-viewed stories on the site over the past three days, updated every 60 minutes
Picks and Pans Main: Song
Talking With...
With its emotional drama and melismatic bursts, soulful singing can be hard work. But Springfield made it seem so easy on "Son of a Preacher Man," her signature tune from 1969 (also recently featured in Pulp Fiction's soundtrack). She sounded as if she were relaxing in a pew or adjusting her big, blonde beehive in the bathroom mirror.
Judging from Springfield's chilled-out soul-sister delivery on A Very Fine Love, her first U.S. album in more than a decade, there's still no need for her to get herself all worked up. Time and experience have rewarded the contralto with a kaleidoscope of nuanced hues and an impressive vocal authority: Poor Daryl Hall, normally a formidable singer, sounds a bit spent trying to keep up with her on the sweetly sentimental "Wherever Would I Be."
Although none of these new country-tinged numbers match the perfect pop craft of "Preacher Man" and some of her other early hits like "Wishin' and Hopin' " and "Only Wanna Be with You," Springfield makes these tunes sound nearly classic. Especially Jerry Gillespie and K.T. Oslin's "Where Is a Woman to Go," a dose of down-in-the-depths honky-tonk blues (with background vocals by Mary Chapin Carpenter), and the title song, a brassy bundle of joy with a Springfield vocal that's so contagious it seems to be daring you not to sing along. (Columbia)
Miles Davis
This boxed set offers listeners a chance to experience the mercurial magic of the late trumpeter near the beginning of his long, successful association with saxophonist Wayne Shorter, pianist Herbie Hancock, bassist Ron Carter and drummer Tony Williams. On classic ballads like "My Funny Valentine" and "Round About Midnight," as well as on straight-ahead blowing tunes like "If I Were a Bell" and "Walkin'," Miles and his band experiment with challenging cross rhythms and abandon traditional chord changes in favor of lyrical chromatic improvisations. The adventurous spirit of the band is most evident on two versions of "So What," played at upbeat tempos with shifting rhythms and harmonies that break the melody up into spectral shards of sound.
This collection of 7½ hours of music, recorded during a two-night period at the now defunct Plugged Nickel nightclub in Chicago, is being released simultaneously as an eight-CD set (Columbia/Legacy) and, for fans of vinyl, as a 10-LP set (available by mail order from Mosaic Records, 203-327-7111). It is a trove full of uncut gems that are a wonder to behold.
Deep Forest
French mixmasters Michel Sanchez and Eric Mouquet fell upon a magical formula in 1992 with their first and enormously popular Deep Forest album, layering traditional ethnic melodies and vocals over a postmodern techno-trance beat. That composite was assembled with studio enhancement and distortion, creating a sound at once synthetic and tribal.
On Boheme, the Deep Forest team is up to their transformative ways again. This time the inspiration is Balkan rather than African. The primary vocalist is Hungarian Marta Sebasteynne, and the texture is more instrumental, less electronic. The result, however, is just as exotic and enthralling, particularly on the gypsy romance of "Bohemian Ballet" and the misty mountain chant "Marta's Song." Once again the influences wander rather far afield. Consider, for instance, the Mongolian cast of "Gathering" or the Celtic lilt of "Deep Folk Song." Wherever Deep Forest puts down its roots, it manages to conjure up a haunting musical hybrid. (550 Music)
Rod Stewart
Now that all his rowdy rock-and-roll IBJ peers have settled down—Elton 11 has an Oscar; Eric Unplugged; Mick is a grandpa—Stewart, 50, is finally acting his age. His latest album, a mature return to his blue-eyed soulful roots, seems to cry, "Pardon my excessive, overindulgent 'Da Ya Think I'm Sexy?' period."
Stewart's mellow manner and nicely weathered vocals Wit Spanner. "Leave Virginia Alone," the jingle-jangly Tom Petty-penned first single, and the big ballad "This" make it hard to imagine that the singer is the same guy who has spent too much of his past behaving like an over-the-hill sex god, shimmying to testosterone rockers like "Love Touch" and "Crazy About Her."
He's less successful, though, with the bombastic "You're the Star" and "Purple Heather," an overripe Scottish hymn. And when he does try to recapture that cocksure strut on "Delicious," his lustiness comes off as grotesque and slightly out-of-breath. But even a crazy 20-year-old ruffneck might have a tough time riding that song's revved-up rush without gasping. (Warner Bros.)
Janis Siegel and Fred Hersch
Prescription for a wistful summer afternoon: a cool beverage and Siegel singing "For All We Know" in a melting arrangement that opens with the seldom-heard verse "Sweetheart, the night is growing old/ Sweetheart, my love is still untold/ A kiss that is never tasted/ Forever and ever is wasted." Siegel, of the jazz group Manhattan Transfer, has a flexible voice with a strong sense of phrasing. But certainly no small pleasure here is pianist-arranger Fred Hersch. Not all the cuts are as successful as the hauntingly lovely "Love Came on Stealthy Fingers" and the evocative pairing of the title tune with "Moon and Sand." On "For No One," Siegel sounds like an overwrought pop diva, and much of the record suffers from rhythmic and emotional sameness. Even the most languorous summer wind needs a change in velocity or it becomes soporific. (Varèse Sarabande)
>Dusty Springfield
ON THE REBOUND FROM BREAST CANCER
Dusty Springfield sounds as powerful as ever on A Very Fine Love, but she didn't feel that way while recording the album in Nashville late last summer. "I was awfully exhausted," says the singer, 56, who thought she had a minor chest infection. "We'd go at it for 10 minutes then break for coffee for half an hour." After wrapping the record, she went home to London, where tests showed breast cancer. Luckily, after several grueling months of chemotherapy, Springfield, who has never been married, is now in remission (her prognosis is very good) and looking at life differently. "If the whole thing blew up in my face, and no one likes my record," she says, "I won't slit my throat, which was my attitude before."
How did you react to having breast cancer?
It was a bit of a shock. It's something that always happens to someone else, not you. And it happened so fast. I had just come back home, fallen in a heap, thinking, 'I recorded an album. Whoopee! Great!' And then I found out I was sick and felt like, 'Gee. Somebody hit me in the face. Wait a minute. Is this my reward? Poor me.'
But the experience has made me grow up, I think. I haven't lost any enthusiasm for what I'm doing, though my illness got in the way of my music for a while [the album's release was postponed because she was too sick to help promote it]. I didn't finish treatment until about three months ago. I lost some of my hair—and I do find myself tired. It was a bit dodgy for a time, but I came through it, and I don't think this thing is going to get me. I'm not going to dwell on the fact that I had cancer. Life is about doing what's in front of me. I could have died, but I didn't and I won't, dammit.
Contributors:
Jeremy Helligar,
David Grogan,
David Hiltbrand,
Joanne Kaufman.
Dusty Springfield
Advertisement
Today's Photos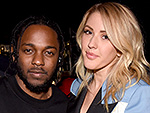 Treat Yourself! 4 Preview Issues
The most buzzed about stars this minute!