People Top 5
LAST UPDATE: Tuesday February 10, 2015 01:10PM EST
PEOPLE Top 5 are the most-viewed stories on the site over the past three days, updated every 60 minutes
Picks and Pans Main: Bytes
Talking With...
Keanu Reeves
, who stars in the movie version of Johnny, players will feel the adrenaline surging through their veins. Thrilling visual effects let you direct Johnny as he tries to prevent his brain from exploding from an acute case of info overload. Unlike many games that rely on intrusive techniques to indicate chances to alter the game's course, Johnny's action unfolds as a continuous video stream. During combat scenes, the game's picture narrows with a black band at the top and bottom of the screen alerting players to punch, kick or block the gangsters bent on liquidating Johnny. Randomized fight sequences force players to keep their wits about them rather than just memorizing their opponents' moves. The two-CD set indulges technophiles with futuristic gadgetry like videophones and mind-machine neurocomputers that they can use. Unlike many such adaptations, the spinoff is far superior to its movie forebear. (Sony Image-soft, MAC & PC CD-ROM, $69.95)
Sure, you may know Kramer's first name (Cosmo). You may even know where Jerry's parents live (Florida). But do you know Elaine's IQ (145)—or her shoe size (7½)? How about the Bubble Boy's first name (Donald)? With the online S.A.T (Seinfeld Aptitude Test), you can find out whether you really are the "Master of Your Domain" or a no-nothing "Wuss." The online quiz is taken from the book of the same name by Beth B. Golub (Citadel, $8.95) and consists of multiple-choice and fill-in-the-blank questions. The questions are demanding. During a piano recital, Jerry places what object on Elaine's leg? What color is the defective condom George uses on a blind date? After you've whizzed through the quiz, move on to other Seinfeld trivia, including a complete episode guide, photos and sound clips. Our personal favorite is George's sage observation that "the tomato never really took off as a handfruit." Address: http://www.engr.wisc.edu/~heinj/seinfeld.html
Rising from the dead can be harrowing. The CD-ROM Frankenstein: Through the Eyes of the Monster lets players make the return trip as the beastly creation of Dr. Frankenstein. Tim Curry stars as the demented doctor who resurrects a man wrongfully hanged for the murder of his daughter. Players must uncover cleverly hidden clues to help them escape Castle Frankenstein. Browsing through the laboratory's collection of oddities with eerie background music is half the fun: Read a newspaper account of the execution, learn the pseudoscience of monster building and uncover concealed passageways. Dr. Frankenstein's lair has never been so enticing. (Amazing Media/MacPlay, MAC & PC CD-ROM, $59.99)
>Tim Curry
HE LAUGHS BEST WHO LAUGHS MANIACALLY
TIM CURRY, FAMED FOR HIS Portrayal of the transvestite Dr. Frank N. Furter in the 1975 Rocky Horror Picture Show, jumped at the chance to play another twisted doctor in the CD-ROM Frankenstein: Through the Eyes of the Monster. But first he had to adjust to acting for the interactive format—without a set or other cast members (scenery and special effects are created separately). "I was on my own," says Curry, 49. "Most of the time I was talking directly to the camera. It is quite strange trying to imagine yourself on a computer screen." Before Frankenstein, the closest Curry had been to a computer was the electronic game he took along last winter while playing a philanthropist who funds an African expedition in the movie Congo. "The director got so bored seeing me there with my Game Boy that he gave me a Sega and told me that he thought it was time for an upgrade," Curry says. But when he returns in July from filming the movie Muppet Treasure Island in London, he plans to use a recently purchased laptop to write a novel. And he would love to portray a wild and crazy guy in a future multimedia project. "I got to do all the stuff that's the most fun to do," Curry says of Frankenstein. "I got to do my maniacal laugh."
Contributors:
Erik A. Meers,
Stanley Young.
Cyberpunk fans disappointed by the film Johnny Mnemonic can take solace in the intelligent CD-ROM version. While you will not see
Advertisement
Today's Photos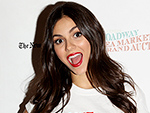 Treat Yourself! 4 Preview Issues
The most buzzed about stars this minute!