People Top 5
LAST UPDATE: Tuesday February 10, 2015 01:10PM EST
PEOPLE Top 5 are the most-viewed stories on the site over the past three days, updated every 60 minutes
Picks and Pans Main: Tube
Talking With...


Lifetime (Wed., July 5, 9 p.m. ET)

B-

Victoria Principal plays a dance instructor who is deeply disturbed when her creepy father-in-law (Robert Vaughn) begins making increasingly aggressive sexual advances. The situation is exacerbated by her lawyer-husband (Nicholas Campbell) who doesn't believe her and instead suggests she get counseling for hysteria and depression. Before you know it she has been forced into a mental institution that makes One Flew over the Cuckoo's Nest seem like summer camp.

This is an extremely overheated example of the woman-in-jeopardy film. Though based on actual events, much of the plot seems incredible, particularly the meek way Principal submits to her harsh fate. Kenneth Welsh plays the bad doctor who turns Principal into a hollow-eyed medication zombie, shuffling around on a locked ward. Geraint Wyn Davies plays the good doctor who gently heals her.

Sci-Fi (Sat., July 8, 8 p.m. ET)

C+

Sean Barker was just a normal guy until an alien armor unit invaded his body. Now without warning and with excruciating pain, he transforms into the Guyver, a bug-eyed and none-too-chipper superhero. Based on a Japanese comic book character, the Guyver (David Hayter) looks like a cross between TV's M.A.N.T.I.S. and a Mighty Morphin Power Ranger villain. His fighting style entails a little martial-arts fore-play. Eventually, though, he simply picks his opponent and heaves him 30 yards or so into a wall.

In this film, Sean heads for Utah to check out sightings of an alien species that are strangely familiar to him. As in the original film (a straight-to-video project), the Guyver is up against the Zoanoids, a mutant zoomorphic breed of miscreants. Such clunky, cult fare would be more entertaining if there weren't such long dull gaps between the action sequences.

TNT (Sun., July 9, 8 p.m. ET)

B+

In this vivid but violent western, Craig Sheffer plays a Latin-spouting eastern dude. Linda Fiorentino is a trigger-happy tougher-than-leather desperada wanted for murder. They are strangers on a stagecoach who abscond with a Wells Fargo strongbox and end up as fugitives. In grim pursuit of this unconventional pair of outlaws is a seasoned sheriff (Sam Elliott), who is...well, let's just say he is highly motivated.

Because the script is a little light in the story department, the film dawdles along in the final hour. But Fiorentino is sublime as a pistol-packing mama, far better than Sharon Stone was in a similar turn in this year's already-forgotten The Quick and the Dead.

HBO (Tues., July 11, 7:30 p.m. ET)

A-

Nicols is a hemophiliac who contracted AIDS through a blood transfusion while still a boy in Cooperstown, N.Y. For four years his condition was kept secret outside his immediate family (his parents and two older sisters). But in 1991 at age 17, Nicols decided to go public in a big way, lecturing numerous student groups and using his own medical plight as a public-service project to earn his Eagle Scout status. (He has been scouting since he was 8.) Henry comes across in this simple but moving documentary as a spectacularly normal young man: enormously likable, brave and upright, truly a good Scout.

>TUBE: Dan Rather croons on Letterman; Victoria Principal is trapped in a mental hospital; the Sci-Fi Channel showcases the Guyver, a glum superhero

SCREEN: Sean Connery is a model King Arthur, but First Knight is no Camelot; Julianne Moore copes with a modern horror in Safe 14

SONG: Bon Jovi is strong on extremes; Debbie Gibson experiences growing pains; Tears for Fears reign with Spain 21

PAGES: For RuPaul Lettin It All Hang Out is no drag; Vicki Lawrence talks it up in a memoir; Robert Ludlum winds up the suspense in The Apocalypse Watch 27

>Clive James

THE GLOBE-TROTTING WAG

FOR THE NEXT EIGHT WEEKS PBS WILL air Clive James' Postcards, an irreverent series of video guidebooks to the world's great cities hosted by the Australian-born critic, author and TV personality. (Scheduled for Thursdays at 8 p.m. ET in most markets; check local listings.) As he filmed these excursions for the BBC over the last seven years, James tried "to capture the all-important first impression" of each city, which, he says, "is not only quite often the strongest but eventually the correct one." Interviewed by phone in Cambridge, England, James was provocative and entertaining—in other words, the ideal traveling companion.

What do you like best about the Postcard from New York City?

The second to the last scene, a guy comes roller-skating down into Times Square at 3 o'clock in the morning, dances in front of the taxicabs and then goes away backward down Broadway. I just love that scene.

Of course, it's the people who make New York. They're all so up-front. It's as if everyone is in the movies. All you do is point the camera—they write their own dialogue. You try that in England, and you're in big trouble, believe me.

Cairo?

You have to get permission for everything. We weren't allowed to film in the City of the Dead, for example. So it was quite embarrassing when they caught us there. A big black Mercedes drew up, and four guys in dark glasses got out of it. I thought we were going to spend the evening in jail, but the usual sort of deal was done.

The usual sort of deal?

Sometimes promises have to be made. You can get a long way by promising someone a video of the finished product.

Bombay?

Filming there is very difficult physically. Everyone looks at the camera, for instance. You cannot get away from the question of poverty. It's the first thing that strikes you and the last thing you must talk about as you leave. But Bombay is also a very creative city, full of mathematicians. More than half of the software coming out of Asia is being written in Bombay, not all of it pirated either. It's a city of people who know how to improvise and make things work. They're like American GIs. They can make a truck run just by pulling up the bonnet, taking a look at it and sticking a few wires together.

Paris?


SURREALISM SEEMS TO BE THE MODE of the moment. Just a week after Michael and Lisa Marie faced off in the Heavy Makeup Competition on Prime-Time Live, CBS news anchor Dan Rather made his bid for pop music stardom on (where else?) the Late Show with David Letterman. Rather shimmied and sang along with R.E.M. on their song "What's the Frequency, Kenneth?" The title, of course, is a reference to the most bizarre chapter in Rather's rather checkered career: the night in 1986 when he claimed that two well-dressed men had pummeled him on a Manhattan sidewalk while repeatedly demanding, "Kenneth, what is the frequency?" Based on his Late Show performance, Rather could clearly use a little help in locating the rhythm, but you have to marvel at his willingness to poke fun at himself. That, however, does not make the spectacle any less strange. It was as unlikely a collaboration as Mick Jagger singing "You're So Vain" with Carly Simon or the Eagles' Don Henley jamming on stage with Mojo Nixon in a rousing rendition of "Don Henley Must Die." (Come to think of it, that last pairing did happen.) As Letterman noted of Rather with mock rue after watching him perform: "He just hasn't been the same since Connie left."
Advertisement
Today's Photos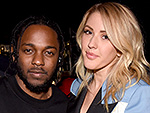 Treat Yourself! 4 Preview Issues
The most buzzed about stars this minute!