People Top 5
LAST UPDATE: Tuesday February 10, 2015 01:10PM EST
PEOPLE Top 5 are the most-viewed stories on the site over the past three days, updated every 60 minutes
After Selena
Haunted by Grief, Her Family Takes Comfort in Her Musical Legacy
"It just breaks my heart to see her laughing and smiling and dancing on TV and then to know she's there, buried," Quintanilla said later. "It's been almost three months, and I can't get it out of my mind."
Judging by the dried and trampled grass around the grave site, neither can her fans. As many as 1,200 mourners still visit the grave each weekend. Some of them bring gifts and letters; a few assuage their grief by carving messages like "Now you can sing with the angels" in the sapling's thin, soft bark. "There are always people here," says a cemetery security guard. "She will always have fresh flowers."
In life, Selena's smooth soprano and passionate stage performances had made her one of Latin music's brightest stars. Offstage, her unpretentious charm and obvious pride in her heritage endeared her to her fans. But since March 31—when the 23-year-old singer was shot in the back outside a Corpus Christi motel, allegedly by Yolanda Saldívar, 34, the former president of her fan club—Selena has become more famous than ever. In May five of her albums were on Billboard's Top 200 chart, and an instant paperback biography, published in both English and Spanish, swiftly climbed to the top of The New York Times bestseller list. Fans waited hours in line to shop at her two clothing boutiques, in Corpus Christi and San Antonio. And now her family is negotiating to make a feature film of her life.
Selena may accomplish in death what had been her biggest dream in life: achieving crossover success in the pop music world. On July 18, EMI/EMI Latin will release Dreaming of You. The album is a collection of some of the singer's biggest Spanish hits along with four new English songs she recorded just before her death, two mariachi songs and a bilingual duet with former Talking Head David Byrne. Already the album's first English single, "I Could Fall in Love," is getting heavy airplay on Top 40 stations around the country.
"[In terms of promotion] the CD is being treated no differently than a
Janet Jackson
or a George Michael release," says Jose Behar, president of EMI Latin, which is donating a portion of the album sales to the Selena Quintanilla scholarship foundation. "She deserved it, and it was her dream."
For Selena's family, the success of course is bittersweet. Having watched Selena blossom from a shy little girl to the Grammy-winning queen of Tejano music, they are struck by the irony of seeing Selena's greatest ambitions realized only after her murder. "It bothers me that she worked so hard to get everything rolling and it didn't happen until she was gone," says Chris Perez, 25, Selena's husband of three years (see page 40). "I can be dealing with everything okay, and then they start talking about her on the radio and play her new song and it's like dropping a heavy rock and squashing me. It brings back all those memories."
A.B. Quintanilla, Selena's brother and the bass player in her band, Selena y Los Dinos, likens his current emotional state to the way he felt the day his wife, Vangie, suffered a miscarriage six years ago. The baby boy "died at 7 months inside my wife, and when doctors removed him, I held him," remembers A.B., 31. "It was a weird feeling. Here was this little baby that my wife and I had made, but he wasn't alive. And that's the way I feel with Selena. Here we made all this wonderful music together but now she's not alive."
Inside the Corpus Christi building that's home to Q Productions, the family's recording studio, Selena's legacy lives on. Two huge oil portraits of the star, condolence gifts from fans, adorn the lounge. Photos of Selena and her three gold and platinum CDs line the walls. And in a back room, a row of mannequins display the skimpy, sequined stage costumes that became Selena's trademark—and the inspiration for her own clothing line. The family has received thousands of letters of sympathy since Selena's death, and at least once each day some stranger walks into the studio to offer condolences. "If Selena were here, she'd be crying because of the reaction of so many people," says A.B. "I didn't realize she had touched so many lives."
The Quintanillas read and sort the mail by state, then respond to each letter with a printed message from Abraham. "You have helped us weather this tragic storm in our lives, and we will never forget you for it," he writes. It's hard work, but they say they've taken comfort from the outpouring. "I thought I was a tough old boy," says Abraham. "I found out that I'm not. I'll cry at the drop of a hat." Family members also admit however that the response from fans has made the healing process more difficult. "It kind of feels good because you know they love her," says her sister, Suzette Arriaga, 28, who was followed home from the boutique one day by a carload of camera-wielding fans. "But then you just want to get on with your life."
Days after Selena's death, vendors were hawking knockoff T-shirts with Selena's picture at her grave and outside the family home, prompting an outraged Abraham to file copyright violation complaints against more than 100 souvenir sellers. Some visitors to the studio ask for money; others drop off videos in the hopes of taking Selena's spot as lead singer for Los Dinos. But Abraham, who managed the band's career from the beginning, is determined to keep the studio gates open to her true fans. "That's the way Selena would have wanted it," he says. "Those people cared for Selena. For me to shut them out would be a slap in their face."
The family is also sensitive to those who would say the album and movie plans somehow exploit Selena's image. "It's not about money," says Suzette. "It's about letting people know Selena, about making her dream come true."
For Saldívar, Abraham says he holds nothing but pity. On the morning she was killed, Selena had gone to sever her business ties with Saldívar, whom the family had accused of embezzling thousands of dollars from the boutiques she managed for the singer. (Saldívar, who pleaded not guilty to murder charges, remains in isolation at Nueces County jail. Her trial is scheduled for this fall.) "I feel sorry for her," Abraham says. "I feel sorry for her father and for her mother because they lost a child too. No matter what she had done, they loved her."
No member of the family has sought professional counseling. Instead, they say they have found strength in their faith as Jehovah's Witnesses ("What keeps me going is knowing that I will see Selena again at the time of the Resurrection," says Abraham) and in each other. "They're very supportive of one another, and they always reinforce how much they love each other," says Debrah Ramirez, 35, Selena's cousin. "That's how they're getting through."
And each has come up with his or her own way to cope. Suzette, once the drummer in Los Dinos, has immersed herself in running her late sister's clothing line; she has hired Chris's sister Patricia Ratcliff to manage the San Antonio store while she works out of the Corpus Christi boutique. "I learned that we have to have someone from the family because you can't trust outside people," she says sadly. And A.B. continues to work the studio soundboards, both for other recording artists and Selena, including some postproduction work on the new album. "Every once in a while I could hear her take a breath on the recording, and that would really get to me," he says. "I could hear her breathing, and now she's not breathing anymore."
Selena's mother, Marcela, 50, sometimes greets young fans who gather outside the family's home in Corpus Christi's working-class Molina district. Although Hispanic Business magazine named Selena one of the country's top Hispanic entertainers and estimated her earnings at $5 million for 1993 and 1994, Selena and Chris shared a modest two-bedroom home next door to her parents. A.B. and his wife live on the other side of the Quintanillas. "The moms tell me their kids are having a hard time understanding death," Marcela says. "I ask the kids what their favorite song was, how they're doing in school. They tell me they miss Selena, and I tell them we have to pick up the pieces and keep going."
For the most part, that's what the family is doing. "Not everyone breaks down at the same time," says Marcela. "When one of us breaks down, the other steps in to comfort. We're always there for each other."
As for the future, Abraham would like to see Los Dinos continue performing ("To me it's a healing process," he says), but he understands that his children and Chris feel differently. They talk of Los Dinos getting together for one last Selena tribute show but wonder if they could find someone to sing Selena's songs. "That music is a very moving, very emotional, very powerful music," says A.B. "The only one who could harness that strength is Selena."
Still, the family is trying to look forward. "I don't want to keep reliving this nightmare," says A.B. "I just think about what we had and try to hold on to that. I remember every little detail."
CYNTHIA SANZ
BETTY CORTINA in Corpus Christi
Contributors:
Betty Cortina.
FOR THREE MONTHS, ABRAHAM QUINTANILLA HAD STAYED away from the tree-lined grounds of Seaside Memorial Park in Corpus Christi, Texas. His memories of his last visit, on that awful April Monday when his youngest child was laid to rest beneath the manicured lawns, were still too vivid. But on a sunny morning in late June, the 55-year-old Quintanilla finally made his way up the stark white driveways, past the tall tombstones and elegant mausoleums to a far corner of the park. There, beneath a mesquite sapling just beginning to sprout leaves, he gazed down at the simple plaque that marks the grave of his murdered daughter Selena.
Advertisement
Today's Photos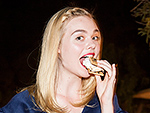 Treat Yourself! 4 Preview Issues
The most buzzed about stars this minute!