People Top 5
LAST UPDATE: Tuesday February 10, 2015 01:10PM EST
PEOPLE Top 5 are the most-viewed stories on the site over the past three days, updated every 60 minutes
Without a Trace
A Popular News Anchor Vanishes, and Fear Comes to An Iowa Town
But on June 27 that luck changed. At first, friends say, it seemed that Jodi had overslept. Her fellow KMIT-TV news anchor, Amy Kuns, called Huisentruit at 4 a.m.—45 minutes after Jodi usually arrived at work—to find out why she was late. "She said she'd be right down," Kuns told a reporter. She never made it. Three hours later police found her shoes, earrings, hair dryer and keys strewn around her red 1995 Mazda Miata in the parking lot of her apartment building. Huisentruit, 27, had vanished.
Within hours, Mason City police launched a full-scale search. Two days later they were joined by the Iowa Division of Criminal Investigations and the FBI, using helicopters, dogs and boats. Nearly two dozen officers fanned out in a 30-mile radius and interviewed more than 400 people. Volunteers plastered thousands of missing-person posters on buildings and trees; computer-savvy friends put up her picture on an Internet bulletin board. But so far the only leads are tenuous. Police say a neighbor reported seeing an unfamiliar white Ford Econoline van in the parking lot at roughly the time Huisentruit would have left for work. Between 4 and 5 a.m., police say, someone heard a scream.
Since then, nothing. With no new leads to discuss, police stopped giving daily media briefings two weeks ago. They are investigating reports that Huisentruit was troubled by a problem facing many celebrities, even the small-town variety: stalkers. Huisentruit was so popular with viewers that prospective suitors sometimes called the station, and in October, she told police, an unidentified man followed her while she was jogging. Another time, according to friends, a man followed her while she rode her moped, but she never reported the incident. Now police wish she had. "We really don't have any other possible theories," Mason City Police Capt. Mike Halverson told reporters. "We don't like what we found at the scene."
As the days pass, Huisentruit's friends worry—and remember how many strangers approached Jodi. "We'd go to restaurants and people would say, 'Hi,' like they were her best friend," says Candy Schneekloth. "She was always friendly, always very warm." Sometimes, says Candy's sister Amy Wahl, "I thought she was too friendly, that she should be more careful. She was so outgoing and gregarious—maybe someone took it the wrong way."
That warmth was an irrepressible part of Huisentruit's nature. She bought greeting cards in bulk and sent them to friends for almost every occasion. She was a big fan of motivational tapes, which she played on her car stereo. She frequently referred to the Optimist International's Creed: "Look at the sunny side.... Talk health, happiness and prosperity to every person you meet." Her family says her cheerfulness never failed her, even when her father, Maurice, the boiler-room attendant at Kraft Foods in Melrose, Minn., died when she was 13. "She was an inspiration to us all," says her older sister Jo Ann Nathe, 45. (Another sister, Jill Lettau, 32, lives in Turkey with her Air Force husband.)
Her energy propelled Huisentruit from St. Cloud State University in Minnesota to small TV stations in Cedar Rapids, Iowa, and Alexandria, Minn. In October 1993 she moved up to CBS affiliate KMIT-TV, where she was a hit as host of the morning Daybreak and Midday news shows. "I'd have signed her for as long as she wanted," says station news director Doug Merbach. Huisentruit reveled in her small-town fame, taking on extra work such as judging beauty contests and tutoring retarded adults. "Those are things she did out of the goodness of her heart," says Merbach. "She's a very generous woman."
She also cultivated a wide circle of friends. Though she put romance on a back burner because of her heavy work schedule, she hung out with a group of other singles who congregated on Friday nights in a pub called The Other Place. From there they would barhop or make plans to golf or water-ski the next day. On June 10, the group threw Huisentruit a surprise birthday party. About 300 people snowed up. "She was thrilled," says John Vansice, 49, a corn-seed salesman, who organized the party. "She just stood there in awe."
Her disappearance 17 days later has dominated news in Mason City (pop. 30,000), a town of tree-shaded Victorian homes in north central Iowa that is the birthplace of composer Meredith Willson, who based his hit musical The Music Man on his childhood memories. "I always thought this was such a pretty place," says mail carrier Mary Jo Burkgren, 38. "Now I keep watching behind me. It's eerie."
KEVIN GRAY
MARGARET NELSON in Long Prairie and PATRICK BEACH in Mason City
Contributors:
Margaret Nelson,
Patrick Beach.
EVERYTHING SEEMED TO BE GOING right for Jodi Huisentruit. A popular television anchor in Mason City, Iowa, she had a close relationship with her family and dozens of friends who doted on her. "I am so lucky. I have such a wonderful life," she recently told her mother. "I've been to so many places, known so many people. I get to do so many interesting things."
Advertisement
Today's Photos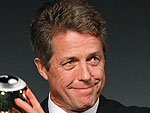 Treat Yourself! 4 Preview Issues
The most buzzed about stars this minute!