Archive Page - 12/1/12 39 years, 2,079 covers and 53,260 stories from PEOPLE magazine's history for you to enjoy
On Newsstands Now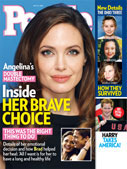 Angelina: Inside Her Brave Choice

New Details on the Ohio Three

Prince Harry Takes America!
Pick up your copy on newsstands
Click here for instant access to the Digital Magazine
People Top 5
LAST UPDATE: Sunday May 19, 2013 11:10AM EDT
PEOPLE Top 5 are the most-viewed stories on the site over the past three days, updated every 60 minutes
Pat Conroy
Sober and Confident, He Relives His Family Torments in Fiction Once More
Bestsellers and boffo movies will do that to you. And for some 20 years, Conroy's autobiographical novels—including The Great Santini, The Lords of Discipline and The Prince of Tides—have been turned into heart-wrenching Hollywood films that exhibit the chaos and calamities of his life. But writing about his suffering is only part of Conroy's creative process; usually a crisis inspires a book, which inspires only more suffering as he relives the horror. Beach Music, Conroy's latest fictionalized chronicle, is a 628-page yarn about the emotional travails of travel writer Jack McCall, who moves to Rome after his wife's suicide but returns to the South to tend to his dying mother. Conroy's own mother, Peg, succumbed to leukemia in 1984 at age 59. "I wanted to write about her death, but that's all I knew when I started this book," he says. "Writing is a journey for me, and it builds like a coral reef."
Indeed, last August, as he toiled on Music, Conroy suffered a devastating setback when his schizophrenic brother, Tom, 33, leaped to his death from the roof of an 18-story apartment building in Columbia, S.C. "Two months before, he showed me some writing he'd been doing, but it was gibberish," Conroy says. "Tom's life was horrible, and I'm sure his death was a relief, but I can't say it." The suicide deepened Conroy's already severe depression, an illness he has battled for most of his life and which usually strikes during the writing process. While working on Beach Music, Conroy became such a recluse at his house on Fripp Island, S.C., that his friends had to drive by with food and provisions. But the agony has subsided for now; Conroy recovered from the depression after intensive psychotherapy and is currently in the middle of a 35-city tour promoting his book, which debuted at No. 1 on bestseller lists and has hovered near the top since.
Beach Music has captivated readers, especially the legions of longtime fans who relish his baroque prose, vivid imagery and chockablock melodrama. "I think he's going to be important long after most of the so-called southern writers have come and gone," says Atlanta-based novelist Anne Rivers Sid-dons, a friend. "I've never seen a fuller world in a novel than in Pat's." Some critics, however, find that world too overblown and indulgent for its own good. "As wet and woozy as its title," said The New York Times Book Review, which dissed Beach Music for its sloppy prose and insufferably smug protagonist, adding that "Tolstoy said that every unhappy family is unhappy in its own way, but he never read Pat Conroy's fiction."
The author, meantime, is unfazed. "The reason for the criticism is the same as for why Baskin-Robbins or Campbell's Soup does so well," says Conroy. "[My writing] ain't for everyone." These days, in fact, Conroy is feeling particularly resilient. He is sober after years of heavy drinking and has learned to cope better with the dark moods that stem from a physically abusive father, a family troubled by mental illness, two failed marriages and his separation from Susannah. At long last, Conroy seems to have found a measure of peace. "I find happy an elusive word," he says, "but I do feel something good going on." Adds Sid-dons: "All of Pat's friends realize he goes at things so passionately, he puts himself in harm's way. But we now know he can handle it. And you might as well worry about the wind."
Conroy lived a peripatetic life, moving 23 times because of the various postings of his father, Donald, a Marine fighter pilot whom Conroy remembers as a sadistic bully who routinely battered his wife and sons. Pat, the oldest among five boys and two girls, often received the worst of it. "My first memory of Pat was when I was about 4 and my dad was slamming his head against the wall for not doing well in a basketball game," recalls his brother Jim, 40, a regional sales trainer for Gillette in Atlanta. After graduating from Beaufort High in 1963, Conroy attended the Citadel, South Carolina's all-male military college, on a basketball scholarship. The school's mind-numbing discipline, however, soured the young cadet. "I think people who send their children to the Citadel hate their kids," says Conroy.
Four years later, Conroy began teaching English at his old high school, writing fiction in his spare time. By 1970 he had published his first book, The Boo, and married Barbara Boiling, a Vietnam War widow with two daughters (Jessica, now 28, and Melissa, 26); the couple had their own daughter, Megan, later that year. After 1972's The Water Is Wide, Conroy began writing The Great Santini, the gripping tale of a heroic but tyrannical fighter pilot who terrorizes his wife and children; it helped make Conroy a house-hold name. Exploring his violent childhood, however, nearly drove Conroy to suicide; in 1975 he tried to kill himself with an overdose of pills. "I woke up," he says. "I was very surprised."
The book outraged his father. "I got to page 233—I don't know what was on that page, but I threw it across the room," says Colonel Conroy, 74, who was divorced after retiring from the military in 1974 and now lives alone in Atlanta. "Pat has managed to blame me for every mishap in his life. He has a way of expanding on problems instead of just getting them settled," he adds. "I'm a Marine. I play hardball!" The colonel's wrath compelled a distressed Conroy, who had moved from Beaufort to Atlanta in 1973, to eventually seek the help of Marion O'Neill, a psychotherapist who would become the model for Dr. Susan Lowenstein, later played by Barbra Streisand, in The Prince of Tides. O'Neill treated his depression and also helped Conroy work through the pain of his 1977 split from Boiling, who kept the children. In 1981, Conroy married Lenore Gurewitz and moved to Rome with her children from a previous marriage (Gregory, now 24, and Emily, 21); soon after, daughter Susannah was born.
Conroy's Roman holiday ended two years later, when he returned to the South to care for his dying mother. In 1985 he completed The Prince of Tides, a roman a clef about an abusive father and the son's redemption through therapy. The movie became a hit in 1991, but Conroy's marriage to Gurewitz began to unravel around that time. (Their divorce is pending.) "Lenore just did not seem to love me anymore," says Conroy, who moved to Fripp Island, a short drive from Beaufort. He plunged into work on Beach Music and into suicidal despair. Once again he turned to O'Neill, who identified a long-ignored drinking problem. "I used alcohol the way other people use Prozac," says Conroy, who quit cold turkey. "It was my drug of choice."
Conroy's new high is cooking meals—usually seafood from the local waters—for a small circle of friends in and around Beaufort. He's also cowriting a cookbook that will include recipes and anecdotes he has picked up during his world travels. But he remains a very solitary man, taking morning swims in the ocean off Fripp Island and reading voraciously (his goal is 200 pages a day). As often as not, his most intimate contact is the rambling, long-distance phone calls with his closest friends. "Talking is how Pat takes a break," says Cliff Graubart, an Atlanta bookstore owner whom Conroy has know since 1972. "He's starving for company after a day's writing."
When he's not in the kitchen or at his writing desk (he's working on the screenplay for Beach Music for Paramount), Conroy can be found twice weekly in the office of trusty therapist O'Neill, who practices in Hilton Head, an hour's drive from Fripp. Mending his relationship with Susannah—who has just begun writing him letters—is crucial, and he's considering settling in San Francisco to be near her. "The idea is to live there, but it would be far too painful if Susannah, the person I love best in the whole world, continues not to talk to me," says Conroy. His despair over his broken family will be grist for his next novel, which "will deal with the divorces and my children," he says. Never mind that daughter Megan says she'd be "freaked out" by the exposure, and that her mother, Barbara, says she'd just as soon "remain anonymous."
After two failures, Conroy doubts that he'll venture down the aisle again. "I have as much hope for marriage as anyone," he says, "but I think I have been a troubled, difficult man to live with." He will, however, continue to find solace in the act of writing, painful as that is. "What I try to do," says Conroy, "is explain my life to myself. It does not particularly make it better, but I'm not sure serenity is the end result of art."
PETER CASTRO
MEG GRANT on Fripp Island
AMBLING THROUGH THE STREETS of his adopted hometown of Beaufort, S.C., Pat Conroy, as is his habit, begins ruminating about his tortured life. Today's lamentable topic: the wages of divorce—namely, the pain of being separated from his 13-year-old daughter, Susannah, now living with her mother in San Francisco. "She won't see me. I've written her about 100 times in the last year. I tried to write a love letter to her in Beach Music," he says, referring to his new chart-topping novel, which features a character named Leah, who was inspired by his daughter. After a pause, Conroy, 49, fesses up. "I think I was a distant father. I'd just go off and write. I did the thing that screws up kids more than anything else in America: I went and got myself a little bit famous."
Advertisement
Treat Yourself! 4 Preview Issues
The most buzzed about stars this minute!