People Top 5
LAST UPDATE: Tuesday February 10, 2015 01:10PM EST
PEOPLE Top 5 are the most-viewed stories on the site over the past three days, updated every 60 minutes
In Thickeness and in Health
After a Year, Alan Thicke and Gina Tolleson Remain Wedded and Blissful
Africa was still on their minds last month when the 48-year-old sitcom veteran and the 26-year-old 1991 Miss World celebrated their first anniversary. Just back from their third trip (part of Thicke's work with World Vision, a Third World children's charity), they were suffering a little from culture shock. On a visit to a Masai tribal village in Tanzania, the couple was offered the traditional display of welcome and respect: Several tribesmen slit a goat from throat to belly and, extracting its stomach, hung the entrails in a tree to attract leopards, revered in Masai lore. Later, a lone leopard strolled through the campsite; though it disturbed nothing, Tolleson says, "I didn't go out of the tent after sundown." Jokes Thicke: "I set [the whole thing] up so she'd find me heroic and brave and pay special attention to me."
Tolleson isn't the only one paying attention to Thicke these days. Returning for the fall as pompous talk show host Dennis Dupree on NBC's Hope & Gloria, he is poised for what could be his biggest success since Growing Pains, where he starred for seven seasons as affable dad Jason Seaver. Perhaps more important, he seems finally to have left behind him a decade that was, romantically at least, decidedly unsettled. In 1984 his first wife, actress-singer Gloria Loring, filed to dissolve their 14-year marriage on the same day his talk show Thicke of the Night was canceled. There followed a string of failed relationships with beauty queens, actresses and anchorwomen as Thicke's home became something of a party palace. Notes his next-door neighbor Pretty Woman director Garry Marshall: "My wife and I used to hear a lot of noises from over there."
Thicke's house has been quieter—and happier—since he married Tolleson on Aug. 13, 1994. "Gina was a savior to me emotionally," he says. But winning her wasn't easy. They met in 1992 at a photo shoot in L.A. publicizing their gigs as cohosts of the forthcoming Miss World pageant. Tolleson, the reigning queen, had flown in from her Atlanta home. She could tell Thicke was attracted to her. "I had a strapless gown on," she says, "and even while the photographer wasn't shooting, his hands were still on my shoulders." Thicke doesn't deny it: "With the crown and the heels and the teased hair, we're looking at 6'5" of the most stunning woman." (Without crown, heels and teasing, Tolleson stands a slightly less Amazonian 6'0".) That evening, Thicke told Marshall, "I just met the next Mrs. Thicke."
But the actor had already blown it with the next Mrs. Thicke—at least for the next 2½ months. In a misguided attempt to be "infinitely respectful," he invited her to appear with him in his cabaret act and told her to contact him via his manager. "I took the number and went, 'Ugh! So Hollywood!' " says Tolleson, who didn't call him for a couple of months: "That completely drove him nuts." But when they cohosted the pageant, she found him engaging and finally decided to phone him. Their first date was a charity tennis tournament in Palm Springs. Thicke brought his son Robin, now 18; Tolleson slept in a separate hotel room.
The only child of Imogene and George Tolleson, owners of a textile-manufacturing business, Gina grew up in Spartanburg, S.C., and began modeling at 13, something she continued while attending the University of Georgia as a journalism major. Thicke, born Alan Jeffrey in rural Ontario, was the only child of William Jeffrey, now a retired stockbroker, and his wife, Joan, a nurse, who divorced in 1953. The following year, Joan married physician Brian Thicke and had two children—Todd, now a 38-year-old TV writer, and Joanne, 39, a chiropractor. Thicke took his stepdad's name but remained close with his father.
In 1967, Thicke graduated premed from the University of Western Ontario to please his stepfather but then decided to pursue his real love, TV, and began writing comedy specials in Canada. He and Loring, whom he married in 1970, had two children—Brennan, now 20, a film student, and Robin, a singer. For much of their marriage, Thicke commuted between L.A. and Toronto to host game and talk shows.
Upon graduating in 1991, Tolleson landed an internship with CNN, anchoring the European desk in Brussels on U.S. elections night, 1992. Her résumé impressed Thicke. "I thought, 'Wow!' " he recalls. " 'Miss World and an anchorperson?!' "
A year after they began dating, Tolleson moved in with Thicke. It was, she says, like "moving into a fraternity house." His son's friends trooped in and out constantly, and Thicke often hosts members of his celebrity hockey team, which raises money for various local charities. "I come downstairs, and it's Alan and Denis Leary or Jason Priestley standing in their underwear, putting on garters," she says. (Friends stars Matt LeBlanc and Matthew Perry are also on the team.) Though Thicke admits his mansion is no longer "the house of hormones"—the Pac-Man machine and air-hockey table have been cleared out—his half-brother Todd reports, "Gina's loosened Alan up. He's having more fun than he's ever had." Then he deadpans, "Of course, he certainly dates a lot less."
A good thing, too, considering that Tolleson and Thicke hope to have a baby next year—preferably a girl, says Tolleson, "and we only want one." Meanwhile, Tolleson has gone entrepreneurial with her own gift-buying business. Recent clients: Tom Arnold's groomsmen, for whom she found antique cuff links.
As for Thicke, he loves playing Dupree because "it's a wonderful, over-the-top, amoral character," a welcome change from affable Jason Seaver. But, off-camera, he's Mr. Nice Guy—thanks, he says, to his bride. "This year, since I've been married, couldn't be much better," he says. "She sprinkled good fortune throughout my family. One of my kids won a film award. The other got a record deal. I got a new show...I even cut five strokes off my golf game."
JENNIFER KORNREICH
CAROLYN RAMSAY in Los Angeles
Contributors:
Carolyn Ramsay.
Advertisement
Today's Photos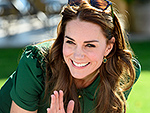 Treat Yourself! 4 Preview Issues
The most buzzed about stars this minute!