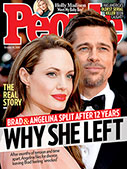 This Week's Issue!
People Top 5
LAST UPDATE: Tuesday February 10, 2015 01:10PM EST
PEOPLE Top 5 are the most-viewed stories on the site over the past three days, updated every 60 minutes
Picks and Pans Main: Bytes
The Crash Site
Ever watch Star Trek and have no clue as to what the crew is talking about? Since the series premiered back in 1966, the writers have been coining neologisms to describe everything from futuristic gadgets to strange life-forms. Now bewildered viewers can turn to the Omnipedia CD-ROM, the definitive information source on classic Trek and its sequels The Next Generation, Deep Space 9 and the movies. If you find yourself wondering just what is an ahn-woon (a Vulcan weapon) or a sehlat (a teddy bear-like animal with six-inch fangs), you can look them up. The Omnipedia's reference section of over 6,000 characters, places, and things briefly defines each one and tells in which shows they appear. The Omnipedia even lets you operate it—with some set-up work on your part—by voice commands. As Capt. Jean-Luc Picard (who has one of the thickest entries) would say, "Make it so!" (CD-ROM for Mac & PC, $57, Simon & Schuster Interactive)
You won't find any hunky surgeons roaming this ER, but the engrossing Emergency Room CD-ROM will give you a crash-cart course in basic medical lingo and procedures. You begin as a medical student at Legacy Hospital and try to work your way up to chief of staff. You get to examine, diagnose and treat the patients. With more than 400 ailments, from stab wounds to nosebleeds, you should have your hands full. Emergency Room is also stocked with useful tips on accident prevention—but, alas, no advice on how to avoid a malpractice suit. (CD-ROM for PC, $69.95, IBM Multimedia Studio)
The Basketball Diaries and oddball encounters with extraterrestrials now share a home on the Web. The Crash Site, the self-proclaimed base for alternative music and culture, provides these and other quirky offerings in one slick package. You can view-concert clips like one from the heavy metal group Anthrax. Users can even download the voice of author Jim Carroll reading from Diaries. By far the most intriguing section is Alien Worship, which collects cases of UFO abductions. One man recounts how he was used as a dining-table centerpiece at an alien banquet. At least they didn't make him a band instrument. (URL: http://www. directnet.com/Crash/indexHigh.html)
Contributors:
Erik Ashok Meers.
You are the prosecutor in a sensational murder case, and you are grilling the key witness. But she's stonewalling you at every turn. Finally, in your most intimidating voice, you confront her: "Are you aware of the consequences of perjury?" Such courtroom theatrics are among the delights awaiting users of the new CD-ROM In the 1st Degree. Like many titles in the emerging interactive-movie genre, 1st Degree tapes live actors emoting through a range of alternative scenarios. Here the defendant, an up-and-coming artist, is accused of slaying a gallery owner. To convict him the player (as prosecuting attorney) begins by sifting through police evidence. Be careful: the accused is not the only one on trial, and local news analysts will judge your every move. Push one witness too far, and you'll hear the TV reporter declare, "The prosecution has really made a mess of things!" (Two CD-ROM set for PC, $50, Broderbund Software)
Advertisement
Treat Yourself! 4 Preview Issues
The most buzzed about stars this minute!