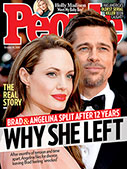 This Week's Issue!
People Top 5
LAST UPDATE: Tuesday February 10, 2015 01:10PM EST
PEOPLE Top 5 are the most-viewed stories on the site over the past three days, updated every 60 minutes
Picks and Pans Main: Tube
This Week


Prime-time analysts say the two series most likely to fail first are If Not for You, the Elizabeth McGovern comedy on CBS, and The Home Court, Pamela Reed's NBC sitcom. If Not for You, which had a drop-off of 28 percent in viewership from its lead-in Murphy Brown, is in critical condition because CBS already has its possible replacement—High Society, a sitcom with Jean Smart—in production.

In fact you can expect a full-scale purge at CBS before this month is over. With its strategy to attract a younger audience a dismal failure and its schedule riddled with low-rated new entries, the network will soon be in full cancellation mode. Among those expected to receive bad news: John Grisham's The Client, Bless This House, Courthouse, The Bonnie Hunt Show and Dweebs. The only thing saving CBS's sensational ratings flop Central Park West from immediate dismissal is the fact that the network has nothing to put in its place.

Around the dial there could be a number of other early exits. ABC's back-to-back dramas Charlie Grace and The Monroes will probably face the firing squad together after the World Series ends. On Fox, David Alan Grier's sitcom The Preston Episodes is in danger. At NBC, The Pursuit of Happiness, a comedy from the makers of Frasier, is under pressure to improve or face extinction.

Some poorly performing shows may limp into November simply because of the fall clutter. (There is safety in numbers.) As ABC's entertainment chief Ted Harbert observes, "The fact that there are so many more shows on now, and the fact that everybody seems to be going after pretty much the same audience [that free-spending 18-to 49-year-old demographic], means the networks must be more patient than ever."

Don't expect them, however, to wait for too long.

CBS (Wednesdays, 10 p.m. ET)

C

This strenuous, sometimes muscle-bound drama begins with a bang. A criminal who has just received the death sentence pulls out a gun and shoots the judge. The victim's black-robed brethren convene in chambers and, after observing a moment of silence, immediately begin wrangling over the dead judge's choice parking spot. It is a quick orientation to the show's portrayal of the urban criminal justice system as a rank environment full of heartless bastards.

Although the bad guys are at the center of the action that drives each episode, the most engaging characters are the handful of people who have managed to stay compassionate in this harsh world, especially a pair of judges (Patricia Wettig and Brad Johnson) and a committed public defender (Nia Peeples). We follow this small band from the courtroom to the bedroom, watching them work through their professional and personal trials.

Although the show tries hard to shock and amuse, the plots are often lumbering and heavy-handed.

ABC (Thursdays, 9 p.m. ET)

B-

This potboiler revolves around a political dynasty known for its wealth, influence and insatiable sexual appetites. Clearly this is meant to capitalize on the public's continuing fascination with the Kennedy clan. But the soapy, overheated antics suggest The Carringtons on the Chesapeake rather than Camelot.

The cast is headed up by the always solid William Devane (Knots Landing) as the Monroe patriarch and Susan Sullivan (Falcon Crest) as the perfect political wife. Sullivan gives one of the finest dramatic performances of the still young season as a woman who must often choose family duty over personal dignity. The rest of the cast is disappointing, full of stereotypes familiar to fans of nighttime soaps. There's the beautiful family consigliere (Cecil Hoffmann) who is having phone sex with the President; the ambitious but weak Congressman (a badly miscast David Andrews) who has turned his office into a love nest; the matinee-handsome military hero (Steven Eckholdt) who has retreated to a horse ranch in New Mexico; the rebellious daughter (Tracy Griffith); and the sullen law student (Tristan Tait) who really wants to be a novelist. The scripts combine intrigue, scandal and political backstabbing in a reasonably entertaining fashion. But these limo-riding, polo-playing characters are ultimately less engaging than the blue-collar crowd on Bless This House.

PBS (Fri, Oct. 6, 10 p.m. ET)

A-

This arresting, unconventional film is a biography of the 1940s movie star best known for her elaborate fruit-basket headdresses. It follows Miranda's life from her early years as a poor Portuguese immigrant in Brazil to her extraordinary if fleeting career on Broadway and in Hollywood. The "Brazilian Bombshell" died in 1955 at 46, only hours after making a comeback appearance on The Jimmy Durante Show. But this documentary is also an unusually personal essay about Miranda's enduring impact on Pan-American culture and on the imagination of Brazilian filmmaker Helena Solberg. Weaving together news, interviews with intimates, vibrant Technicolor footage from Miranda's films and chimerical dream sequences featuring Carmen impersonator Erik Barreto, this film creates a portrait with both depth and flair.

ABC (Saturdays, 8 p.m. ET)

C-

The Foxworthys have a mixed marriage. The wife (Anita Barone) is classy, beautiful and bright. The husband, we are led to believe, is the first person in his family to emerge upright from the swamps and master the use of silverware. That's a rather rancid comic concept on which to build a show, but it does allow Foxworthy to trot out all the redneck jokes behind his popular stand-up act. For instance, one of his signature gags goes, "If their wife has ever said, 'Come move this transmission so I can take a bath,' they might be a redneck." The humor isn't always funny. While giving his son a history lesson, Foxworthy pontificates, "Davy Crockett...he fought at the Alamo. You know those guys were outnumbered 10 to 1, and yet they came back to form one of the largest rent-a-car companies in the country."

This puppy has fleas, folks. In fact if this weak, artificial and strained sitcom tickles your funny bone, you might be a redneck.

Fox (Saturdays, 8:30 p.m. ET)

B-

David Alan Grier (In Living Color) plays a college professor who chucks his academic career to pursue his dream of being a writer in New York City. Too old for an entry-level job and too inexperienced for anything else, Grier ends up working for Stuff magazine, a fluffy photo tabloid presided over by a dyspeptic cockney (Clive Revill), the gruffest TV editor since Lou Grant. Also in the cast are Tommy Hinkley as a wacky neighbor who rents himself out for medical experiments and Brent Hinkley as a creepy coworker ("If people don't start treating me better, I'm going to start rubbing my armpits on everything in the snack room"). Despite the fact that they have identical last names as well as similar berserko roles on the same sitcom, the Hinkleys are not related.

The show has a wry attitude, and Grier is a delightful comic. But the laughs are too few and far between.

ABC (Tuesdays, 8:30 p.m. ET)

B+

Tony Danza continues his string of sitcom Tonys (Taxi, Who's the Boss?) by playing Tony Canetti, a divorced cop in Hoboken, N.J. He is an unaffected, uncomplicated kind of guy, the sort who opines, "If I could just get them to take those dog shows off the Sports Channel, my life would be perfect." The show ferments the old home-and-office brew. Both spheres of his life get complicated when he starts flirting and locking horns with a spunky local reporter (Full House's Lori Loughlin).

There are some surprisingly sophisticated moments (including a Vladimir Nabokov reference that allows one of Danza's precinct mates to crack a string of venial sex crimes). Danza's lunky charm is showcased to wonderful effect, although Loughlin definitely lacks the comic heft to balance this romantic seesaw. With its enviable placement between Roseanne and Home Improvement, Hudson Street is one of the certified season's can't-miss shows.

>TUBE: The Monroes are tedious Kennedy clones; a Carmen Miranda biography captures the entertainer's vibrant soul; Tony Danza shines as a cop on Hudson Street

SCREEN: Moonlight and Valentino illuminates the landscape of grief; Showgirls provides titillation and not much else 26

SONG: Nashville's Emmylou Harris changes pace and makes an album with U2 producer Daniel Lanois; Michael Bolton sprinkles new material into a collection of hits 29

PAGES: Ben Bradley gives the scoop in his memoir; R.L. Stine writes his first tale for grown-ups; Jack Newfield takes on Don King 32


OVERWHELMED BY THE ENORMOUS load of new shows this fall? Join the club. There has never been a season with so many rookie series—42 in all, compared with 28 last year. If you've been meaning to check out any of them, better do it now. The shadow of cancellation is already hanging over several fledgling series.
Advertisement
Treat Yourself! 4 Preview Issues
The most buzzed about stars this minute!