People Top 5
LAST UPDATE: Tuesday February 10, 2015 01:10PM EST
PEOPLE Top 5 are the most-viewed stories on the site over the past three days, updated every 60 minutes
Picks and Pans Main: Song
Talking With...
The great success of this Bay Area trio's first album, 1994's Dookie, left younger punk fans delirious—and older ones dubious. The former, who have adopted punk's fashion, if not its anarchistic ways, loved the band's thrashing but ultimately pop-soaked hits like "When I Come Around." The latter, who lived through the late '70s punk rebellion, took a defiantly been-there-done-that position and scoffed at the notion that the three members of Green Day could be the Second Coming of the Sex Pistols. Green Day, meanwhile, sneered all the way to the bank with lead singer Billie Joe Armstrong's faux Brit accent and hard-to-decipher lyrics, and they seemed to get a good chuckle out of all the hoopla.
Now, on their more visceral follow-up, Green Day is intent on gaining punk credibility among hard-core denizens of the mosh pit—even at the risk of diminished record sales. With Insomniac, which has 14 songs clocking in at just under 33 minutes total, the band seems to be taking a page from Nirvana, who released the relatively inaccessible In Utero after their mega-selling Nevermind. A cut like "Geek Stink Breath," which fits perfectly here, serves as an example of unpolished crudeness that might not have made it onto Dookie. But more interesting is "Panic Song," with a rumbling bass-line introduction reminiscent of The Who. As in most good punk records, the pace is exhausting. There's also plenty of trendy, hard-edged attitude. But there's little of punk's subversive spirit. Young fans may not notice the difference, but to most aging ears, the Clash and the Buzzcocks will remain the keepers of the flame. (Reprise)
Jude Cole
Jonatha Brooke & the Story
The most heartfelt, penetrating music can often be found off pop's well-beaten path. Such is the case with this lovely pair of releases from these obscure but abundantly gifted singer-songwriters. Cole, a native of East Moline, Ill., wields a soothing, inventive melodicism that suggests a cross between Paul Simon and Crowded House. His lyrics are full of poetic ponderings: "The past is a foreign country/ At the dark end of the hall/ And the morning is an offering/ To the shelter of the day/ But the violent come/ And they bury it away." When you combine those components with Cole's breathy, lonesome voice, it makes for captivating songs like "Believe in You," "Lowlife" and "Take the Reins." I Don't Know Why I Act This Way (Island) has a seasoned, sophisticated quality that wasn't hinted at on Cole's three previous releases.
Brooke, a by-product of Boston, also takes a creative leap forward on her new collection. (On her two previous releases, she worked as half of a duet known as the Story.) Her style suggests Carole King imbued with avant-garde sensibilities. On Plumb (Blue Thumb), Brooke glides through poignant, multifaceted songs with her sweet, insinuating voice. The effect, on limpid compositions such as "Nothing Sacred" and "Inconsolable," is both ravishing and heartbreakingly sad.
Wan and winning, these two albums stand in stark relief to much of today's pop music, like a pair of gentle watercolors in a gallery full of robust oil paintings.
Simply Red
From Kajagoogoo to Dexys Mid-night Runners, British one-hit wonders were the toasts of early-'80s pop. So when Simply Red scored a lucky No. 1 hit with "Holding Back the Years," their 1986 U.S. debut single, it seemed unlikely that their résumé would ever come this far: a second chart-topper (1989's "If You Don't Know Me by Now"), eight-digit worldwide album sales (some 25 million and rising) and a stunningly accomplished fifth album called Life.
On previous Simply Red releases, frontman Mick Hucknall occasionally fumbled at the mike trying to live up to classic American soul men like James Brown and Teddy Pendergrass. Now, Hucknall is finally just being himself, writing tunes that are consistently in creative sync with his graceful vocals. He complements the intoxicating shuffle groove of "You Make Me Believe" and the pained, blue-eyed soul of "Out on the Range" with subtle, finely nuanced performances, while "Fairground," the album's energetic first single, combines soulful abandon with tribal ecstasy. Despite cryptic lyrics—it's hard to tell, for instance, whether he loves or loathes that "boring" lady friend he sings so warmly about on "So Beautiful"—Hucknall's finesse brings Life to life. (EastWest)
James Carter
James Carter
At 26, Carter is the most lavishly gifted, formidably developed and astonishing saxophonist to come along in quite, some time. He plays soprano, alto, tenor and baritone sax, and he appears to have not only total technical command of all of them but a powerful, distinctive sound on each, plus an individually tailored soloing style to match. In addition, he plays bass clarinet and bass flute—not just with authority but with insouciance. His mind bursts with ideas that he releases sometimes in torrents, sometimes in long, leisurely, sinuous lines. When he goes "out"—jazzspeak for full-throttle playing beyond the bounds of normal harmony—he rarely loses the thread of musical expression, never resorts to the usual desperate honking and other forms of furious water treading until the next idea mercifully floats by.
Well, once or twice he does in the course of some of his more epic explosions on Jurassic Classics (DIW/Columbia), the more rip-roaring and flat-out of the two discs. But the Detroit native has emotional depth as well as youthful exuberance. The ballads on the beautifully conceived Quietstorm (Atlantic Jazz) bespeak unusual maturity, knowledge and historical vision. Carter has done the artist's essential job of absorbing the past in order to make it his own and perhaps transform it. He has a shot. In this endeavor he's aided by an exceptional band: Craig Taborn on piano, Jaribu Shahid on bass and Tani Tabbal on drums. They've worked together on three stirring albums now (beginning with JC on the Set in 1993), and they've only just begun.
Sonic Youth
Long before bands like Foo Fighters and the Breeders started going gold, Sonic Youth was busy hooking a cult of college kids with their fuzzy, feedback-heavy melodies. But after some dozen albums, the New York City foursome has yet to strike gold—and judging by its loose, unpolished garage sound, their latest release won't alter their track record.
Parenthood has hardly turned singers Kim Gordon and Thurston Moore into softies. (The pair have a 16-month-old daughter named Coco.) They still make a thrilling musical couple: Gordon pummels "Becuz," "Panty Lies" and the title song with her breathless shriek, sounding like some stunned shock therapy patient, while her more mild-mannered husband strums along like a blissed-out Lou Reed strolling down the wild side. Sure, the arch, art-house rock on Washing Machine can be trying—at nearly 20 minutes, "The Diamond Sea" drones aimlessly and begs for a tight edit—but thanks to the potency of their ragged aesthetic, Sonic Youth's latest effort is no washout. (DGC)
>HAIL TO THE CHIEFS The Presidents of the United States of America's self-titled debut album has received more than a vote of confidence from fans; given a major-label release only three months ago, it has sold some 500,000 copies, and its first single, "Lump," made the alternative Top 5. PEOPLE caught up with the Presidents' lead singer Chris Ballew while the Seattle-based band was on tour in L.A.
How did you get your name?
The name made us laugh, and it feels good to say onstage. It's long as hell, but memorable.
Are you political junkies?
Well, actually, we're all pretty much apolitical. We don't even have a favorite president, although Lincoln was pretty kick-ass....
Have you ever met a real President?
We opened up for Bill Clinton last fall when he was in Seattle for a speech. We gave him a T-shirt of ours, and this week we got a copy of our first CD that someone had him sign for us. Now we're working some angles to perform at the Democratic National Convention next year.
>Mel Torme
THE JAZZ SINGER
Last month jazz vocalist Mel Tormé, now 70, got a standing ovation and eight curtain calls from 55,000 Seattle rock-and-roll fans while he was sharing the bill with the Ramones and Mudhoney. And in recent weeks, he has also been an undeniable presence on TV: appearing on ABC's The Monroes, cohosting MTV's Rude Awakening and singing the Top 10 List on Late Show with David Letterman. But despite his current popularity with young and mainstream audiences, Tormé says he still thinks of himself as "the ultimate jazz singer." He has just released Velvet & Brass (Concord Jazz) with conductor Rob McConnell and the Boss Brass.
Which musicians influenced you?
Number one, of course, is Ella Fitzgerald. I call her the high priestess of song. There was also a black singer by the name of Leo Watson. He played with the Gene Krupa Band, and I loved his scat singing. I loved Harry Mills of the Mills Brothers, and I thought Patty Andrews of the Andrews Sisters was a great singer.
Do you like any of today's singers?
Donald Fagen, who's one half of the team of Steely Dan; I think he's marvelous. I like Billy Joel's singing; I like Stevie Wonder. There are a handful of singers that I like, but really not a lot, to be frank, in the current crop.
How do you feel about finding a younger audience? Does it make you happy?
I think it's great. Young people dictate the trends of music. I'm thrilled to death that they have kind of clasped me to their collective bosom and said, "Okay, you're hip, you're cool, we like you."
Contributors:
Andrew Abrahams,
David Hiltbrand,
Jeremy Helligar,
Eric Levin,
Craig Tomashoff,
Nancy Matsumoto.
Green Day
Advertisement
Today's Photos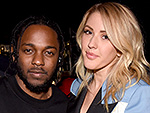 Treat Yourself! 4 Preview Issues
The most buzzed about stars this minute!