People Top 5
LAST UPDATE: Tuesday February 10, 2015 01:10PM EST
PEOPLE Top 5 are the most-viewed stories on the site over the past three days, updated every 60 minutes
Picks and Pans Main: Tube
Programming Notes


The competition is not exactly quaking. "It's not something we're terribly concerned about right now," yawns Today's executive producer Jeffrey Zucker. Still, the new This Morning does have its moments. Special guests like Dan Rather and Billie Jean King pop by unannounced à la Letter-man. And on Fridays weatherman Mark McEwen wings footballs out into the audience as part of his forecast. (Hey, goofy beats dull any day.) As CBS sees it, the nearly $1 million revamp is a step in the right direction. Says Jim Murphy, the producer who designed the format: "It's a different sort of morning news program than what has been available for the past 30 years." Maybe, but there is one part of the show that hasn't changed much, and perhaps never will: the ratings. The made-over This Morning averaged a preliminary rating of 2.2 in its first week, up from its usual 2.0. How weak are those numbers? Put it this way: CBS was doing just as well eight years ago—with the slap-happy duo of Rolland Smith and Mariette Hartley.

CBS (Fridays, 8 p.m. ET)

B-

Farrah Forke (Wings) plays a computer illiterate who pretends to be wired-in to get a job at Cyberbyte Inc. That puts her into the warped sphere of a gaggle of hard-drive hermits (Corey Feldman, David Kaufman and Stephen Tobolowsky) so socially unskilled they can barely dress themselves. The company's visionary boss (Newhart's Peter Scolari) has trouble with the usual civilized conventions himself. "Explain something to me," Scolari mutters to Forke. "Lunch...what's that all about?"

This sitcom, which presents Forke as a kind of Snow White to these digital dwarfs, is really a sweet concept. The problem is that it's also the most poorly cast—and embarrassingly overacted—show of the season. All TV series involve multitasking: the simultaneous operations of writing, acting, concept and chemistry. Dweebs amuses even though one application (the ensemble) isn't compatible with the rest of the system.

Fox (Sundays, 7 p.m. ET)

B

It's war! In the year 2063, Earth's space colonists are suddenly under attack from a brutal race of extraterrestrial marauders who, in their armored panoplies, look like first cousins to the fiends in the Predator movies. As if they weren't trouble enough for our sidereal settlers, there are also packs of robots knocking around the planets who are identical to humans except for their spooky X-pupil eyes. We created these intelligent machines to act as our servants, but they escaped into space nursing a murderous grudge against humankind.

Enter a young cadre of U.S. Marine recruits—the focus of this sci-fi series—who rocket back and forth between their space station and wherever hell happens to break loose in the heavens. Their weekly missions are complicated by a futuristic form of affirmative action: included in their ranks are a government-mandated quota of In Vitros, a minority of humans disparagingly referred to as "tanks" and discriminated against because they are hatched as adults from artificial-insemination cylinders. This disaffected underclass provides the show with its brooding antihero (former Calvin Klein model Rodney Rowland). The Marines' greatest warrior is a woman (Kristen Cloke) who is driven to avenge the slaughter of her parents by the disgruntled robots.

The visual components of the show—particularly the armament and the battle scenes—are sleek enough to excite younger viewers. But the plots and characters in Space are as thin as the air up there, and might leave adults floating out in the cold.

>TUBE: CBS This Morning gets a wake-up call; Maurice Sendak's Little Bear is a sweet and gentle new children's show; Fox ventures bravely into Space

SCREEN: Les Misérables suffers in the translation; Nicolas Cage gives a winning portrayal of a loser in Leaving Las Vegas 19

SONG: The Smashing Pumpkins get pretentious; Collin Raye gets romantic; John Lennon fans get a birthday CD with hits, but it's missing the master's voice 23

PAGES: Luciano Pavarotti hits the high notes with a robust memoir; Nicholas Pileggi hits the jackpot with Casino 31

>AN ANIMATED KIDS'ADVOCATE WHERE THE WILD THINGS ARE IS IN an electronic box smack in the middle of your den. Or so says Maurice Sendak, the children's author and illustrator whose gently chilling Where the Wild Things Are has sold 3 million copies since 1963. "Television gives you a migraine and reduces you to a lump of anxiety lying on the floor," says the 67-year-old Brooklyn native. And that's not even counting slash-and-burn cartoons like The X-Men that mesmerize the nation's young. "If kids watch the violence long enough, they get glazed," says Sendak, who has never married and never had children. "We immunize them. That upsets and frightens me." How best to fight back? Join the enemy. Beginning on Nov. 6, Nickelodeon will run an animated series (Mondays at noon) adapted from Sendak's beloved Little Bear books, written by Else Holmelund Minarik. "What you find in Little Bear is episodes of the very usual things that happen to children," says Sendak, "but to me, those are quintessentially the most beautiful and important things that happen to children. No huge adventures or dangers. It's going to be damned interesting to see if that kind of quiet can compete on TV"


THEY'RE REARRANGING THE DECK chairs on television's ever-listing Titanic again. In other words, CBS This Morning is experimenting with a new format. Don't bother to alert the media. Since instituting a morning show in 1963, the network has changed the title, hosts or focus countless times without ever coming close to the perennial Nielsen leaders: NBC's Today and ABC's Good Morning America. The latest CBS incarnation retains Harry Smith and Paula Zahn (who, after five years together, remain the show's most enduring elements), but now they are situated on an expansive, colorful new stage in front of a studio audience. Paula and Harry scuttle up and down the aisles with microphones to work the often-lifeless crowd like a couple of sleep-deprived Ricki Lake wannabes. And each day the second hour of the show is devoted to a single celebrity or topic. Those are 60 long minutes when the segment isn't working—as with an appallingly awkward appearance by Bill Cosby that even included a botched cooking segment. As Cosby quipped before making his escape: "I want to thank you for letting me slow down an hour."
Advertisement
Today's Photos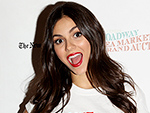 Treat Yourself! 4 Preview Issues
The most buzzed about stars this minute!