People Top 5
LAST UPDATE: Tuesday February 10, 2015 01:10PM EST
PEOPLE Top 5 are the most-viewed stories on the site over the past three days, updated every 60 minutes
Picks and Pans Main: Tube
Spotlight
ROSIE O'DONNELL
, who played Betty in The Flintstones movie and currently cruises the aisles with fellow Kmart shopper Penny Marshall in the discount chain's TV commercials, has signed to host a new syndicated talk-variety show for Warner Bros. Her program, due this summer, is being hyped as the sane, pleasant alternative to the overcrowded field of reality-based talk shows, those daily shout-fests maligned by crusading politicians and TV critics as if they had sprung from the syphilitic mind of a Roman emperor.
O'Donnell will focus on celebrity guests and musical acts. She most definitely won't be convening a panel of cross-dressing gangsters or addressing such topics as "My Friend Is a Thief," to cite two reality-based shows from 1995. She is being paid bucketfuls to make nice (Variety reported that one studio's losing bid for her services came in at $4 million). As a personality, O'Donnell is worth that much. She is telegenic, rough around the edges, good-hearted and has a quick, peppery humor. She always reminds me of a lobster. I like lobster.
But I wouldn't want to view the world exclusively through Rosie-colored glasses. Or
Oprah
Winfrey's viewfinder, for that matter, now that she has ascended to her Eleanor Roosevelt phase. You see, reality-based shows are important. They're maybe even essential. Yes, they are repulsive, exploitative, preposterous, idiotic, debasing and sometimes phony, but their basis remains reality, after all, and we should never deny that.
Women denounce their daughters-in-law on these shows, daughters attack their fathers, and brothers criticize sisters. Why? Because children are being raised poorly, vows are being broken, precious income squandered and substances abused. The emblematic, eternal guest, it seems to me, is a middle-aged woman, heavyset and boiling mad. Oh, the inchoate, explosive anger! Oh, the crabbed desperation! These unhappy Americans are struggling to solve their problems and make sense of their lives, and they have decided (or have been cajoled by savvy producers into thinking) that venting on TV is a solution. It's not, of course. But, like it or hate it, such raw and authentic misery deserves its due.
The Family Channel (Sun., Jan. 7, 7 p.m. ET)
B+
This movie is a sure-handed piece of work, a simple, touching memory tale. In 1956 a young Yankee (Unstrung Heroes' Nathan Watt, who has the face of a prepubescent Walter Matthau) summers down South with his eccentric great-aunts: Earline (Linda Lavin), stern and matriarchal; Sally Ann (Shirley Knight), a giddy dumpling; and Jessie (Mary Tyler Moore), who suffered brain damage from a mysterious childhood accident and now barely ventures out of her flower garden. This story, with its mix of nostalgic reverie and racial vicious-ness, is unduly indebted to To Kill a Mockingbird, but the three actresses are in good and distinctive form.
PBS (Sun., Jan. 7, 9 p.m. ET)
A-
Juliet Stevenson plays the woman of the title, a loving helpmate who radiates decency and devotion. She initially stands by her man (Trevor Eve), a rising conservative member of England's Parliament, when he's caught in an extramarital affair (with none other than Circle of Friends' Minnie Driver). But Stevenson eventually realizes that this arrangement stinks of hypocrisy and sets out to undo the husband. There aren't many surprises in this two-part, three-hour Masterpiece Theatre presentation (concluding Jan. 14), but it glides along smoothly. And anything with Stevenson (Truly, Madly, Deeply) is worth viewing. This astonishing actress, with boyish face and soft, piping voice, works quietly and assuredly, adding just a drop of honey to her sweet revenge.
ABC (Mon., Jan. 8, 8 p.m. ET)
C-
Lisa Hartman Black's asthmatic son is stolen by her estranged husband (Jameson Parker, with a mustache). It's all pretty standard, except for delectable '50s film-and '60s TV-star Anne Francis (beauty mark still intact) as the husband's incestuously close mother and co-conspirator. Her cold, film-noir nastiness is much appreciated.
NBC (Mon., Jan. 8, 9 p.m. ET)
D
Dear
Tori Spelling
: You seem to be doing a
Madonna
/Drew Barry-more number in this silly suspense movie, in which you are cast as a former lap dancer mixed up in the criminal underworld and romantically involved with a Princeton student (Patrick Muldoon). You enter wearing a red-checked dress about the size of a gum wrapper. You also sashay about in a halter top, fire-engine red. You do a slow, hip-grinding dance in the streets of Charleston, S.C. And you try to give your lines—such as "It's way dangerous!"—a girlish, flirty insouciance. No, Ms. Spelling. You have some talent, or quality—an awkward, tremulous vulnerability, maybe?—and a shrewd director would know how to exploit it. Good luck on your next project.
NBC (Tuesdays, 8:30 p.m. ET)
B
In this new sitcom, John Lithgow, an enormously talented actor, plays an extraterrestrial who assumes the form of a college professor in the Midwest. Lithgow is effortlessly funny doing silly physical comedy, everything from getting tipsy on cough medicine to squeezing into leather pants. And his chemistry with Jane Curtin, as a fellow academician, is charmingly light. The show needs work—why all the breast jokes?—but those two don't. They could be the new Hepburn and Alf.
>TUBE:
Rosie O'Donnell
plans a kind and gentle talk show; British actress Juliet Stevenson wins our vote in The Politician's Wife
SCREEN: 12 Monkeys is a virus drama that doesn't catch; Emma Thompson scores a double triumph in the delightful Sense and Sensibility; Oliver Stone's Nixon isn't the one 19
SONG: Tom Petty and the Beatles dig into the rock archives; All-4-One, Amy Grant, Rod Stewart and others weave a fond new Tapestry 26
PAGES: Donald Spoto considers Charles and Di's woes only the latest evidence of The Decline and Fall of the House of Windsor; Michael McClay really, really loves I Love Lucy 34
>FINDING THE CO-SEIN
DAN TANENBAUM'S EXISTENCE IS DEFINED by one theme, and all you have to do is look to the picture below to know its name. The 24-year-old freelance copywriter, a lifelong Toronto resident, is what one might call close DNA buddies with Jerry Seinfeld, 41.
In fact, claims Tanenbaum, not a day goes by that he doesn't have to deal with the double takes of people who mistake him for the NBC sitcom star. "They gush, 'We love your show' or 'What are you doing in Toronto?' " he says. "Or they tell me, 'I never realized how short you are.' " (He is 5'8", versus Jer's 5'11".) In bars, Seinfeld fans send over drinks. They insist on being photographed with him. "The more I deny it, the more they don't believe me," says Tanenbaum. "So, I take the pictures. Who is it hurting?" The never wed Tanenbaum has even had "Pig!" bellowed at him by a woman who assumed he was the one dating 20-year-old Shoshanna Lonstein.
Tanenbaum isn't complaining. After all, he considers himself a fan. But he contends that the similarities between himself and the famous comic are more coincidental than calculated. Yes, he does the same hand-swipe-through-the-hair thing as Jerry, and a row of old Nikes do neatly line his closet. "I've always dressed this way," Tanenbaum says of his preppy-casual wardrobe. He does, however, sometimes milk the connection. His business card imitates Seinfeld's logo.
Comic and clone met once, three years ago, when Seinfeld was playing Detroit's Fox Theatre. "It was a little discouraging," Tanenbaum recalls of the moment when he realized this would not be a Vicki Lawrence-Carol Burnett kind of thing. "I had let my imagination run away. He just glanced at me and said, 'Yeah, he kind of looks like me.' That was it."
Contributors:
Heather Cheifetz.
COMEDIAN-ACTRESS
Advertisement
Today's Photos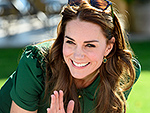 Treat Yourself! 4 Preview Issues
The most buzzed about stars this minute!