People Top 5
LAST UPDATE: Tuesday February 10, 2015 01:10PM EST
PEOPLE Top 5 are the most-viewed stories on the site over the past three days, updated every 60 minutes
Loss of Innocents
Twenty-Three Primates Died in Philadelphia's Heartbreaking Zoo Fire; the Grief Afterward Shows How Loved They Were by Humans
She would never see the animals alive again. Early on Sunday, Christmas Eve day, Unger was awakened at the home of her fiancé's family in Delaware by a call from Dr. Andy Baker, the zoo's curator of primates and small mammals. During the night, he told her, toxic smoke from a fire at the World of Primates house had suffocated all six gorillas, as well as three orangutans, four gibbons and 10 lemurs. The worst zoo fire in U.S. history, it spared only 10 animals—marmosets and tarnarins—at the primate house. Tufani and her half sister Kola, 7, were found in their nests with Tufani's mother, Samantha. Kola's sister Maandazi, 11 months, was snuggled against her mother, Snickers. Rita, an orangutan, was lying with her daughter Jingga, 3. John was found in a tunnel leading away from the exhibit. "I know he didn't sleep there," says Unger. "But in his role as the silverback, he's the one to get up and investigate trouble."
Unger, a University of Delaware graduate who joined the zoo nine years ago, had been so attached to the apes that she kept framed pictures of them in her Philadelphia apartment. The investigation has only compounded her grief. The fire was caused by improperly insulated heating pipes in the ceiling of a breezeway between the gorilla and orangutan exhibits. The building had a fire alarm on the roof—which may have been muffled by snow—but no sprinklers. More dismaying was the fact that two guards on duty had smelled smoke but, assuming the odor was coming from nearby railroad tracks, did nothing. (They have been suspended while the investigation continues.) "At the scene, one fireman was crying," says Baker. "He didn't know how he'd explain this to his kids."
That despair is shared by many. A Remembrance Gallery of photos and information drew 30,000 visitors before closing last week. A Zoo Renewal Fund, started by a local bank to help rebuild the primate house—at an estimated cost of $6 million—has raised $800,000. One 5-year-old girl sent in a few dollars. "She said, Tm giving you all my money,' " says zoo president Alexander Hoskins. "She said she loved the animals and this was her way of helping to get them back. I just started crying."
The deaths are also a loss to the scientific community. All orphaned in unrelated poaching incidents in Africa, John, Snickers and Samantha arrived in Philadelphia in 1970 and have been together ever since, making them the longest-established gorilla family in America—thus perfect for behavioral studies. Equally devastating are the deaths of Rita, a full-blooded Borneo orangutan, and many of the other primates born in the wild, who were invaluable for maintaining the breadth of the gene pool in the captive population. With laws now making it nearly impossible to bring in animals from the wild, it may be years, says Hoskins, before the zoo can acquire animals of equal caliber.
To those who considered them family, though, the primates are irreplaceable. Unger, who has returned to work to care for the surviving primates, still becomes tearful recounting her favorite memories. Once, after she banged her head on a cage, John let out a sympathetic rumble and touched her forehead. When Maandazi was born, Snickers, in a rare sign of trust, let Unger approach while the umbilical cord was still attached. "I've had a huge part of my life torn out," says Unger. Sometimes she even dreams of her lost friends. In one dream, she sees John leaving the earth with his family. "They are comforting dreams, believe it or not," she says. "I'm glad at least none were left to mourn the others."
JANICE MIN
BOB CALANDRA in Philadelphia
Contributors:
Bob Calandra.
IT WAS 4:30 P.M. ON THE FRIDAY BEFORE Christmas, but Julie Unger was in no rush to get home from her job at the Philadelphia Zoo. As the primary keeper of the facility's six-member western lowland gorilla family, she often stayed late to spend quiet time with the animals. That evening, armed with honey and peanut butter, she invited the gorillas to the kitchen window where, separated only by a mesh screen, she fed them the treats. "I poured the honey onto their tongues," she says. "They were having a ball." Even John, the 450-pound silverback and clan patriarch, was so pleased that he didn't balk when Tufani, his 3-year-old daughter, snatched his food from his hands. "With the days so busy, this gave me one-on-one time with them," says Unger, 31. "And that night, they were especially calm."
Advertisement
Today's Photos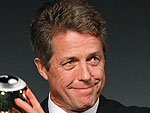 Treat Yourself! 4 Preview Issues
The most buzzed about stars this minute!