People Top 5
LAST UPDATE: Tuesday February 10, 2015 01:10PM EST
PEOPLE Top 5 are the most-viewed stories on the site over the past three days, updated every 60 minutes
Picks and Pans Main: Song
Pause Button
This second full-length, major-label album from the Gin Blossoms is a quick fix for any dark mood; the songs are so upbeat they almost conjure sunny summer afternoons. Perhaps by design, the good mood this Arizona-based band generates is just what the characters in the tunes could use, whether it's the melancholy fellow in "Day Job" who misses his college days when "we started out to conquer doubt and Frisbee," or the luckless lover trying to ease his heartbreak by cruising the streets with the radio on in "My Car." Gin Blossoms' music may not cure all that ails these guys, but the warm, pleasant sensations Congratulations I'm Sorry creates is good medicine for anyone else who hears it. (A&M)
Neil Diamond
Although Diamond's slick musical ways have earned him a reputation for being only slightly hipper than Barry Manilow, he's sure one hell of a songwriter. But Diamond gems like "Red Red Wine" and "I'm a Believer" all sounded best when other artists—UB40 and the Monkees, respectively—covered them. Blame it on Diamond's perfect diction and a go-for-the-gusto vocal approach that renders his man-size sensitivity fake and overblown.
And so it goes on the prince of pomp's latest release, an 18-track foray into country and western that was recorded in Nashville. While Aaron Neville and Dusty Springfield scored creatively with their recent salutes to Music Row, Diamond falters because the spare middle-of-the-road arrangements of such tunes as "Like You Do" and "Win the World" magnify the bluster in his baritone, which is better suited to the stately pop of "If I Lost My Way" and "Everybody."
Diamond has excellent taste in talent, though. His collaborations with Waylon Jennings, Hal Ketchum and the Mavericks' Raul Malo bring out the best—as in less bravado equals more—in him. But then on "Deep Inside of You," his guest pop singer Beth Nielsen Chapman is so sweetly fragile compared to Diamond that the whole thing ends up sounding like the Opryland marriage of Beauty and the Beast. (Columbia)
16 Horsepower
Hold on to your 10-gallon hats, folks, 'cause this Denver trio has rustled up the most haunting, lingering sound you're likely to hear all year. They've been branded a kind of Echo and the Bunnymen gone C&W, dominated by vocalist David Eugene Edwards' doleful wail, which floats over the creepy-sounding acoustic country melodies like a cloud of gun-smoke after a shootout.
Whatever their major-label debut is ultimately tagged, this is rugged American music, with spare instrumentation, like Edwards' spooky slide guitar on "I Seen What I Saw." Drummer Jean Yves Tola (whoa, pardner, where did the Frenchman come from?) guides the taut threesome through tempo changes like a sidewinder skipping along the hot desert sand while bassist Keven Soil lays down sturdy lines with his acoustic upright. The pervasive themes of death and carnal sin fit snugly with the eerie proceedings. "I am an honest man, when I'm not lyin,' " bellows Edwards, buoyed by his own swaying bandonion on "Harm's Way." The dark myths and legends of the Old West burst alive again in the hands of these wonderfully obsessed and original musicians. (A&M)
Bobby Darin
If nothing else, Darin was protean. In his short but prolific career (he died in 1973 at age 37), the Bronx-born singer tried nearly every conceivable contemporary pop style: doo-wop, rock, standards, folk and even country. What made this diversity possible was Darin's surprisingly hip sensibility and his canny, often subtle gift for mimicry. Those abilities resulted in a series of hits in the late '50s: "Splish Splash," "Mack the Knife" and "Beyond the Sea." Soon after his commercial peak, Darin entered his best known and least ambitious period as a lesser lounge singer, failing to keep the mold off chestnuts like "My Funny Valentine" and "Hello, Dolly!"
The real treat on this kitschy but intriguing four-CD set is the potency of the earliest recordings, those made in the late '50s, when Darin was working with pioneering producer Ahmet Ertegun. Rife with echoes of everyone from Louis Prima to Fats Domino to Roy Orbison, these energetic songs sparkle as brightly as any music recorded in that early rock era. Wow, Bobby Darin: a majorly cool dude. Who would have thunk it? (Rhino)
Lari White
On her third album, Florida-born country singer-songwriter Lari White gutsily serves up two wildly diverse takes on Cole Porter's 50-year-old-plus title tune and, in between, delivers an aggressive mix of brawlers and bawlers. White, who co-produced the set, kicks off with a brief Andrews Sisters-esque "Fence" teaser (assisted on vocals by Trisha Yearwood and the underrated Shelby Lynne) and reprises the song later as a frantic, full-length stomper.
The singer dabbles in other genres too, as on the acoustic "Soul Searchin' Blues" (a longer, complete version curiously offered as a final "hidden" track, not listed on the CD's packaging), and growls and wails alongside a rampaging rhythm section on the rockabilly-tinged "Wild at Heart." To be sure, White's sassy vocals and musical risk-taking are proof that she's got the strength and talent to free herself from the limited commercial confines of today's country landscape. (RCA)
>REQUIEM FOR A BAND
FOR SQUIRRELS SHOULD BE DELIGHTED that sales of their major-label debut album, Example (550 Music/Epic), have been strong enough to break into the Billboard 200, but the success is at best bittersweet for the Gainesville, Fla., rockers.
Last Sept. 8, a day after the quartet was presented with the first issues of their CD in New York City, the foursome—guitarist Travis Tooke, 23, drummer Jack Griego, 28, lead singer Jack Vigliatura, 21, bassist Bill White, 23—and their road manager Tim Bender, 23, climbed back into their van to head home to Gainesville. On an interstate highway near Savannah, the van's rear tire blew out, causing the vehicle to flip over several times. Tooke and Griego were able to crawl from the wreckage with a broken elbow and broken vertebrae, respectively (Griego suffered nerve damage in his shoulder but is, remarkably, able to play). "My three best friends died and I came out of it with a hurt elbow," muses Tooke. "I feel guilty about that sometimes. But other times I feel inspired to carry on what we started. We're going to do it for Jack and Bill, and we're going to do it for us."
They are. Tooke and Griego have hired bassist Andy Lord and will be performing as a trio, with Tooke taking over lead vocals. But will they ever be as good as the original band, whose jangly guitar sound critics have likened to R.E.M.'s? "I don't think so," says Tooke. "That camaraderie would still have to be there, and it's gone. All we can do is our best." The new Squirrels will go back on the road in March to support their album. "But," says Griego, "we're not in a van this time. We're traveling in a bus."
Contributors:
Craig Tomashoff,
Jeremy Hellicar,
Andrew Abrahams,
David Hiltbrand,
Randy Vest,
Peter Castro.
Gin Blossoms
Advertisement
Today's Photos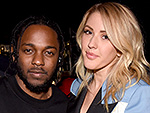 Treat Yourself! 4 Preview Issues
The most buzzed about stars this minute!