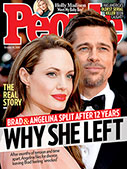 This Week's Issue!
People Top 5
LAST UPDATE: Tuesday February 10, 2015 01:10PM EST
PEOPLE Top 5 are the most-viewed stories on the site over the past three days, updated every 60 minutes
Picks and Pans Main: Song
Talking With...
With twentysomethings like Tracy Lawrence,
Faith Hill
and Bryan White currently competing for precious chart space, country is finding a new fountain of youth. And White, who in 1994 released his debut album, which went gold, has quite a photogenic head on his broad shoulders: The toothsome 22-year-old regularly finds his mug in the pages of teen mags like Tiger Beat and 16, while his live shows leave young ladies swooning in the aisles.
Yet for all his baby-face appeal, White is really nothing new. On this sophomore set, his virtually twang-free tenor should sound familiar to any Vince Gill fan. And one can find immaculately produced sap like the title ballad, and slick raveups like "Sitting on Go" on just about every Top 20 country disc. Aside from turning in a haunting vocal on "Still Life" that's soulful way beyond his years, White offers perfectly average pleasures. Between Now and Forever isn't a hard listen. It's just too damn easy to forget. (Asylum)
Cracker
As the title suggests, these are the best of times for this Virginia-based quartet. Their 1993 Kerosene Hat spawned three hits and went platinum. On this third full-length effort, Cracker splurged on jumbo production; a 15-piece string section is featured on five cuts—a palpable, and unfortunate, departure from the austere but spirited southern rock that made them stars.
The Golden Age does contain traces of the rhythmic guitar grooves, powerful vocals and arch lyrics that have made these good ol' boys such an enjoyable punky-tonk combo. But for every toe-tapping keeper—"Useless Stuff," "Sweet Thistle Pie," "Nothing to Believe In"—there lurks a clunker—"Big Dipper," "Dixie Babylon," "Bicycle Spaniard"—that sounds more like a Moody Blues outtake than a crisp new Cracker. (Virgin)
Love and Rockets
Love and Rockets have yet to revisit the lofty No. 3 height of their one hit, 1989's "So Alive," but the British trio's substantial discography and distinguished post-punk credentials (as members of Bauhaus, they helped found Goth-rock in the early '80s) make them much more than one-hit wonders. Their sixth album, Sweet F.A., will whet the appetite of the band's cult following, but its strange fruit may be too ripe for pop radio. Boasting a slinky sexiness that recalls T. Rex's Electric Warrior, the new CD has a sweet and sour sound—sometimes in the space of one song. The hushed ambience of its sweeter minimalist numbers ("Pearl" and the title track) makes them sound like jaded folk music for the next millennium. By contrast, on saltier fare like "Judgement Day," vocalist Daniel Ash loses his detached cool, sounding agonized as guitars cascade and bass lines drone ominously in the background. The spine-tingling effect makes Sweet F.A. a welcome antidote to the drab homogeneity that monopolizes modern rock. (American Recordings)
Maria McKee
From her days in the mid-'80s with the cow-punk band Lone Justice through her subsequent solo career, McKee has been one of the most underrated singer-songwriters. Her records never sold as well as they should, but she stuck by her cozy blending of rock, folk and country.
Until now. Like any good artist, she has tried to stretch. But on her third solo effort, the change is not for the better. This is one excessively moody, guitar-heavy disc, seldom capturing the warmth and spirit of her earlier work. McKee's fragile vocals salvage some tunes, notably the title track and "Everybody." But most of the melodies trudge along. The album leaves you with that vaguely gray feeling you get when you're trapped in the house on a rainy Saturday afternoon. (Geffen)
Various Artists
This four-CD set from the Great White Way is not the "comprehensive" collection it claims to be. Not a single note from major hits like South Pacific, My Fair Lady, Camelot or Hair—to name a few. It's a partial assembly, of the well-known (Ray Bolger's "Once in Love with Amy" from Where's Charley?), the incomparable (Eddie Cantor's "Making Whoopee" from Whoopee!) and the obscure (Nancy Walker's "I'm the First Girl in the Second Row" from Look Ma, I'm Dancin'). Actually the box is comprehensive, in one sense—the sole source is the Music Corporation of America's archives. The result is an indiscriminate grab bag. (MCA)
Herbie Hancock
The pianist who mastered his craft in the band of that great innovator Miles Davis combs through the work of rock's best songwriters in search of a new set of standard tunes to supplement the usual chestnuts. Hancock and his cohorts—drummer Jack Dejohnette, guitarist John Scofield, saxophonist Michael Brecker, bassist Dave Holland and percussionist Don Alias—transform Don Henley's "New York Minute" into a surging sea and Peter Gabriel's "Mercy Street" into a propulsive, vaguely Near-Eastern magic-carpet ride.
This music isn't "fusion"—i.e., jazz players slumming on electronic instruments, noodling over a numbing funk beat. This is Hancock slamming back from artistic limbo to deliver invigorating, thoroughbred jazz. And maybe, in the process, inspiring his peers to find new springboards. (Verve)
Various Artists
The music never stops in Brazil, and it is hot, hot, hot! This four-CD set traces the development of the country's rich musical heritage from its Portuguese, African and Amerindian folk roots through the birth of samba and bossa nova, culminating in a contemporary funk-and rock-influenced style known as tropicália. The 65 cuts include such gems as "Ella Diz Que Tem," a rare 1941 recording by the Brazilian bombshell Carmen Miranda. A good intro and overview, this box will also delight those already aware. As internationally known singer Milton Nascimento says in the liner notes, "It is music that enchants any ear and moves any heart, anywhere on the planet." (Blue Jackel Entertainment)
>Sting
THE KING OF PAIN ABDICATES
Lovesick laments like "I'm So Happy I Can't Stop Crying" dominate Sting's new album, Mercury Falling (A&M), but the British rocker is one lucky star. He's happily married to film producer Trudie Styler, and three months ago the couple had their fourth child, Giacomo Luke. (Sting also has two children from a previous marriage to actress Frances Tomelty.) "I used to subscribe to the idea that some kind of drama had to be going on in my life in order for me to be creative," says Sting, 44. "But Bach was a happy family man, and yet he made this wonderful music. So it's not impossible."
Where does the new album's somber tone come from?
I'm very happy and fulfilled in my personal life, but I certainly have distinct memories of pain and loss. "I'm So Happy I Can't Stop Crying" is about divorce and separation, but it's also about acceptance of situations which can't be changed. Not to say that I've become complacent, but some things I simply can't change, like getting old, dying. Acceptance of those large issues is a new acquisition for me. I think it's a function of wisdom that you get as you get older. In your happiest moments you know it's going to end one day. That's one of the paradoxes of existence. You learn to accept.
You also performed songs recently on the Leaving Las Vegas and Sabrina soundtracks. When do you rest?
I like to work. As soon as I come off tour, I think about writing a new album. Maybe after this [18-month worldwide] tour, I'll take a sabbatical. [1991's] The Soul Cages took a long time because I was suffering from writer's block. I think it was some sort of emotional block, and the album ended up being about the death of my father. There's always a reason why you make a song and why you don't. In a way music is my therapy. I'm my own psychiatrist. I find that the deepest form of meditation I do is songwriting. When I finish a song I always look at it and say, "What is this about? Why did I write this? Is there a common theme with this song and another song?" I write unconsciously. Then I can see what's going on in my mind.
Contributors:
Jeremy Helligar,
Peter Castro,
Craig Tomashoff,
Joanne Kaufman,
Tony Scherman,
David W. Grogan.
Bryan White
Advertisement
Treat Yourself! 4 Preview Issues
The most buzzed about stars this minute!