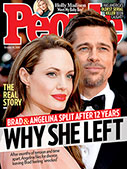 This Week's Issue!
People Top 5
LAST UPDATE: Tuesday February 10, 2015 01:10PM EST
PEOPLE Top 5 are the most-viewed stories on the site over the past three days, updated every 60 minutes
Picks and Pans: Pages
Under Covers
Krantz's novels do tend to be like literary Low Boat episodes: Her characters embark lonely and confused and, by the final chapter, find themselves flushed with the glow of newfound romance or, at least, heightened self-esteem. It's a formula that usually works—after all, who doesn't need a dose of romantic fantasy?
Unfortunately, Krantz's latest cast is even more thinly drawn than many of Boat's two-dimensional TV cruisers. There's beautiful, insecure ex-dancer Frankie Severino, who hides behind a tough Brooklyn attitude; Justine Loring, her smart, sophisticated, also beautiful, but lonely agent; and a trio of young models—April, Jordan and Tinker—who are all (sigh!) stunningly beautiful but troubled. Arriving in Paris to prepare for a young Italian designer's debut show, each woman is forced to face her demons and give love a chance.
Fashion junkies might find this insider's view intriguing, but anyone else will probably want to leave Krantz's Spring Collection on the rack. (Crown, $24)
by Diane Ackerman
Naturalist Ackerman ventures to a remote, lava-encrusted island off the coast of Japan, the world's last stronghold of the short-tailed albatross. Descending sheer cliffs by rope, she is finally rewarded by the sight of a vibrant white female with a bill "the sultry coral of a Bahamian sunset" and a suitor. The birds nuzzle and curtsy and flap their wings.
More than the albatrosses' own courtship dance is at stake. Like the other endangered animals—among them Hawaiian monk seals and beautiful golden-lion tamarins (silky-maned, Brazilian monkeys)—portrayed in these six adventure-filled essays, the albatross pirouettes on the edge of extinction. Ackerman is there not only to view the birds but, she says, "to bear witness" as a member of the species that slaughtered millions of them for feathers to be used as mattress and quilt stuffing.
Enraptured descriptions of creatures and their habitats (in the Amazon "the air sizzles with oxygen and smells of sedge and damp amber. Pink auroras gush across the sky....") conceal meticulous craft; rearranged on the page, many sentences would be poetry.
Ackerman also pays tribute to the dedicated (and sometimes whimsical) environmentalists who work desperately against time and indifference. "What a rich remembrance," she writes, "to know that you preserved a miraculous form of life from disappearing forever from the planet." With this illuminating and impassioned testimonial, Ackerman has done nothing less. (Random House, $23)
by Dennis Miller
No offense, Dennis, babe, but don't ml you think it's time standup comedians stopped hauling down big-bucks advances just for typing up their old routines? Jerry Seinfeld popularized this literary subgenre (let's call it Shtick Lit) with his 1993 bestseller Seinlanguage, a flimsy collection of bits which spawned similar works from comics-turned-TV stars Tim Allen, Paul Reiser, Jeff Foxworthy—you name it. Even Miller admits that these rants, culled mainly from his HBO show, add up to little more than "an amusing trifle" (though there's nothing amusing or trifling about the price). What's next, Drew Carey's 101 Favorite Gags?
To be fair, Miller gets off some great lines about dumb people (they think genealogy is when "Barbara Eden visits her ob-gyn"), violence ("We live in a zoo where it's turned into free crack night in the ferret hut") and Republicans ("Dan Quayle deserved the vice presidency like Elvis deserved his black belt, all right?").
But while Miller's run-on monologues are marvels of lung power when performed, reading them is like looking at still photos of Michael Jordan—you're just not getting the full effect. Too bad this inherent drawback isn't likely to deter future comics from cashing in. Will somebody please stop Drew Carey before he gets anywhere near a word processor. (Doubleday, $21.95)
by James McBride
Mothers are supposed to be an open book to their curious children, but when they are not, so much the better for an author. Take Ruth Shilsky, who is anything but a standard-issue mom. A rebellious daughter of an authoritarian and abusive father who happens to be an Orthodox rabbi, she leaves her home in rural Virginia in 1941 and ventures north to Harlem, where she marries a black factory worker turned minister. Then, renouncing her own religion, she starts a Baptist church in her living room. Through it all she remains a mystery to friends and even to her family of (eventually) 12 children, deflecting dinner-table questions about her birthplace, her parents and even about race. When asked by her perplexed son James whether God is white or black, Ruth sighs and tells him, "God is the color of water. Water doesn't have a color."
This memoir, written by James (a saxophonist, songwriter, journalist and former PEOPLE writer), weaves Ruth's troubled past with his recollections of growing up with a white mother in an all-black world. Molested by her father, forbidden to make friends with blacks or gentiles, watching her beloved but sickly mother fade and her father philander, she leaves home to survive. Once in Harlem, she shrugs off the racial insults pitched by blacks as well as whites and tends tenaciously to her family. She even manages to send her brood through college on a bank clerk's wages and a wealth of determination.
While Ruth holds the family together, James periodically falls apart. He wrestles with his mixed-race identity, and during the turbulent era of the Black Panthers, though he is embarrassed by his white mother, he fears for her safety. The two stories reach an effective crescendo when Ruth overcomes the pain of her long-buried memories and James makes peace with his Jewish roots. (Riverhead, $21.95)
by Jane Heller
Page-Turner of the Week
FUNNY THINGS START HAPPENING TO Barbara Chessner after her husband dumps her. Overnight the Florida real-estate agent goes from frump to fox, the hottest saleswoman in her office. And a devilishly handsome client seems smitten. Naturally, Barbara wonders what the hell is going on.
As it turns out, the H-word may be right on target. For Barbara comes to believe that Satan himself has moved into Banyan Beach and that it's up to her to drive him out. But in hedonistic South Florida, just singling him out from all the likely suspects looks fiendishly difficult.
In the hands of the sly Heller (The Club), it's also smart-mouthed fun. You can just picture Ellen DeGeneres, for whom film rights have been optioned, tossing off lines like, "She was so simple, she probably thought a tropical depression was that melancholy feeling you get when you come home from a vacation in the Caribbean." (Kensington, $21.95)
>Carolina Garcia-Aguilera
HAVANA DREAMS, MIAMI SPICE
"I'M A WHIZ AT COCKTAIL PARTIES," says Carolina Garcia-Aguilera—and it's no wonder. After all, not many folks you meet over Chardonnay boast such an arresting résumé: graduate of Miss Porter's School, Jackie O's genteel alma mater; Miami private eye; and, with the publication of Bloody Waters (Putnam), mystery writer. "I started working as a detective so I could have material to write about," explains the Havana-born author, 46, who grew up on the Nancy Drew series. "Somehow it stretched out into almost 10 years. I liked it, and I was really good at it."
That's just the kind of comment Garcia-Aguilera's engaging investigator Lupe Solano would make. Like her creator, the feisty Lupe has 200-proof attitude, is close to her "privileged" family and is Cuban to the core. Although the author has chosen not to return to the island where she spent her first 10 years because of her animus toward the Castro regime, "Boy, I'd love to," she says. "You should see my office. I have Cuban maps, Cuban flags, Cuban everything. I live, breathe and eat Cuban."
Nowadays, instead of staking out shady characters at 3 a.m., Garcia-Aguilera is revising the second in the planned Lupe series. She works in the five-bedroom, Coral Gables, Fla., home she shares with the youngest of her three daughters, 10-year-old Gabriella (Sarah, 18, is a freshman at the University of Pennsylvania, and Antonia, 16, attends boarding school near Boston), as well as three cats and "two very badly behaved Labs." She and third husband Robert Hamshaw, a financial administrator in New York City, commute to see each other several times a month. "The stewardesses," she says, "hardly ever need to ask me what I drink any more."
Recently, Garcia-Aguilera had another brush with real-life sleuthing. "We lost our dog Buddy," she explains. "I called a pet detective—like Ace Ventura."
>KING'S SERIAL CHILLER
SOMEONE HAS HACKED STEPHEN KING'S new novel into six grisly pieces and sent it to bookstores one bloody chunk at a time! Actually, the culprit is King himself, and the dismembered creation is a Depression-era prison thriller, The Green Mile (Signet). Bored, perhaps, with knocking out plain old blockbusters, the Sultan of Spook took a leaf from Charles Dickens and decided to serialize his latest gothic work into six monthly installments, with each paperback "chapbook" priced at $2.99. The first 96-page episode, subtitled The Two Dead Girls, landing in bookstores this week, involves a death-row guard, a mysterious inmate and a supernatural mouse.
There's one terrifying scene that should hook horror lovers, but having to wait a month for the next scare could diffuse the trademark tension that made Carrie, The Shining and Cujo, among others, such satisfying King creepers.
Contributors:
Cynthia Sanz,
Marlene McCampbell,
Alex Tresniowski,
Wayne Kalyn,
Pam Lambert.
by Judith Krantz
Advertisement
Treat Yourself! 4 Preview Issues
The most buzzed about stars this minute!