People Top 5
LAST UPDATE: Tuesday February 10, 2015 01:10PM EST
PEOPLE Top 5 are the most-viewed stories on the site over the past three days, updated every 60 minutes
Human Bean
Eric 'Butterbean Esch Would Like to Beat Up on Mike Tyson, but It's Possible He's Too Gentle a Giant
In fact, as big as Butterbean is—and he is very, very big—he is an oversize bundle of sweetness who poses no threat at all to unwary civilians. On the other hand, in the traveling slugfest known as the Toughman Contest, an elimination boxing tournament for the rankest of amateurs, Esch was, from 1990 to 1994, a bell-to-bell brawler who scored 40 knockouts on his way to a 67-4 record. His heroics inspired a Tough-man video game for Sega systems and have earned him numerous appearances on
The Tonight Show with Jay Leno
.
They have also led Esch, 26, to leap from the Toughman circus to the legitimate prize ring, where he has rung up 19 wins in 20 fights against opponents of dubious quality. (His next will be on USA Network on April 30 against George Clark.) Now, of course, he wants Mike Tyson—which boxing insiders believe would be a fatal mistake. "He's a sweet, likable guy" says boxing commentator Larry Merchant. "But he can't fight." Butterbean, who once shed weight by adopting a diet consisting mostly of his vegetable namesake, will not be discouraged.
"I believe I can beat Tyson," says Esch. "I fight differently than other folks, that's all."
For years the mild-mannered giant didn't fight at all, at least not by choice. Esch spent his early years in St. John's, Mich., near Lansing, where his father, Bernard, worked on a General Motors assembly line. In 1975, after Esch's mother, Dorothy, died from injuries incurred in a car accident, Bernard remarried and took his new brood—Eric has four step-and three full-siblings—to live in Jasper, Ala. There Eric was forced daily to refight the Battle of Shiloh. "Southern people don't really care for Yankees," says Esch, who by seventh grade tipped in at 250 pounds. "They think they won that war."
Never one to throw his weight around, Esch didn't fare much better at home. "You could always hurt his feelings with a cross word," says his sister Debra, 38. Once, during an argument, Esch's sister Tammie, 35, threw him to the ground and broke his arm. "I was in shock," says Esch. "Then, I started hollering."
At Curry High School, Esch went out for football but decided it was boring and quit. He preferred drag racing and bass fishing or shooting BB guns with his buddies. "Basically, we'd go into the woods and shoot each other," he says. "Whoever gave up first lost."
Married to high school girlfriend Libby Gaskin, 28, Esch had bulked up to 420 pounds in 1990, when the Toughman Contest came to town. Encouraged by his coworkers at a mobile home factory, Esch signed up. Twenty pounds over the limit, he was forced to diet, and for two weeks he resorted to the humble butter bean, a legume high in protein and devoid of fat. "I ate some chicken breasts and tuna," says Esch. "But mostly I ate butter beans. It sucked terribly. I hate them now."
In his first bout, Esch lost a decision. But thereafter, fighting as often as three contests a month, he saw his earnings rise to $1,000 a week, compared to $250 at his job. "I liked the money," he says. So did Libby, whose shouts of "Kill 'em!" could be heard above the fans who chanted his name whenever the Bean entered the ring.
After losing in the finals of the Toughman World Championships in both 1993 and 1994, Esch sensed it was time for something new. In 1995 he moved to Bay City to be closer to his manager Art Dore, 59. Dore is thrilled with Butterbean-mania but admits that, so far, Butterbean hasn't fought anyone with a discernible pulse. "That's the way it is," says Dore. "You want your fighter to be able to beat the other guy." A big problem with Esch, says Dore, is that "he's really just a big teddy bear."
Maybe so. But now Esch has his game face on and is curled up in front of the Sega game bearing his name with Caleb. "Dad, I'm going to knock you out," says the boy. At that point, the virtual Butterbean appears on the screen, and father and son go at it. On the ropes, Bean battles back and Caleb goes down for the count. Butterbean smiles, and another critic is silenced. "What's that you were saying," he asks, "about me being easy to beat?"
WILLIAM PLUMMERBRYAN ALEXANDER
in Bay City
Contributors:
Bryan Alexander.
ERIC ESCH IS NOT ABOVE (JETTING DOWN ON THE floor of his Bay City, Mich., living room with his sons Caleb, 7, and Brandon, 10, and playing with their Power Ranger figures. Or, as on this afternoon, "having tea" with his 2-year-old daughter, Grace. Clearly smitten, the 300-pound fighter—better known to diehard fans as Butterbean—holds out a tiny teacup in his meaty A paw and pleads for a refill. "She can date," says Esch. "But it has to be in this room—and when she's 25."
Advertisement
Today's Photos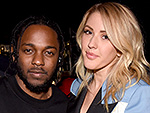 Treat Yourself! 4 Preview Issues
The most buzzed about stars this minute!