Archive Page - 12/1/12 39 years, 2,079 covers and 53,260 stories from PEOPLE magazine's history for you to enjoy
On Newsstands Now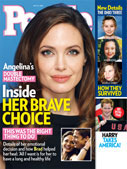 Angelina: Inside Her Brave Choice

New Details on the Ohio Three

Prince Harry Takes America!
Pick up your copy on newsstands
Click here for instant access to the Digital Magazine
People Top 5
LAST UPDATE: Monday May 20, 2013 09:10AM EDT
PEOPLE Top 5 are the most-viewed stories on the site over the past three days, updated every 60 minutes
Picks and Pans Main: Tube
Talking With...
The happiest makeovers reassure us we would all be knockouts with the right professional advice. To celebrate her 10th year on television,
Oprah
took 10 excited Chicago viewers to Hollywood last fall for movie-star makeovers that enhanced their confidence, they said, as much as their looks. "Makeovers," as guest star
Brooke Shields
told beefy and once-mustachioed Harold, the lone guy in the group, "are from the outside in."
But some hosts see makeovers as a way to degrade and abuse their guests. On an appalling Richard Bey Show, four husbands complained their wives had become "sloppy" and demanded that they be changed into clones of Raquel Welch, Angela Bassett,
Janet Jackson
and Claudia Schiffer. The mostly female audience groaned in sympathy as one wife, a construction worker, was dressed in leather bondage gear and another, a secretary, was tressed up in a garish wig. Worst of all, an overweight young mother was stuffed into a slinky dress; when her husband looked disappointed, Bey brought a shapely model in a bikini onstage to prance and gyrate next to her. These are not makeovers—they are takeovers, demonstrations of TV's power to humiliate and shame.
Still, making people feel good about their looks can give them hope about their lives. On a recent Gordon Elliott show called "Last Chance at Romance," some unhappy married couples were made-over together and seemed to see each other anew. Gordo urged his guests to be generous with their compliments; as his on-air therapist said, "We don't want to hear 'nice,' we want to hear 'gorgeous.' " Gorgeous may be the nice of the '90s, but if it turns ducklings into swans, it's worth the hype.
TBS (Mon., April 15, 8:05 p.m. ET)
A-
Courage is the theme of this engrossing special on the history of the modern Olympic Games, from the beginnings in Athens in 1896 to the centennial in Atlanta this summer. Writer-producer Bud Greenspan is fascinated by the heroic endurance of athletes who surmount pain in order to compete. We see not only great gold medalists such as sprinters and long jumpers Jesse Owens and Carl Lewis, and distance runner Paavo Nurmi, the Flying Finn, but also John Stephen Akhwari, the Tanzanian runner who completed the 1968 marathon with a broken foot. I felt a bit limp myself after three hours of legendary sportsmanship but was relieved to see that even Olympians are mortal: Soviet gymnast Lyudmila Turishcheva, who is as prissy and dowdy as she was in 1972, is still annoyed with her dazzling teammate Olga Korbut.
ABC (Sat, April 20, 8 p.m. ET)
B-
Demi Moore
and her Hollywood friends showcase the talents of city kids in this clunky and sentimental special. The anonymous young singers and dancers are way upstaged by the likes of Michael Bolton,
Paula Abdul
and Salt-N-Pepa, but one bluesy growler with hot-hunk hair like Bolton's (I found out his name is Eli Saposnick) steals the show with his version of "America."
UPN (Wednesdays, 8 p.m. ET)
B
Rescued after 18 months in the Peruvian jungle, GI Jim Ellison (Richard Burgi) has developed heightened senses. Home in fictional Cascade, Wash., he turns supercop—what anthropologist Blair Sandburg (Garett Maggart) terms "a human crime lab with organic surveillance equipment." With the hippie-ish Sandburg's help, Ellison sniffs out serial bombers and terrorists in an exciting but hyperactive series.
Family Channel (Sun., April 21, 7 p.m. ET)
B+
This freewheeling adaptation of Rudyard Kipling's 1897 sea adventure is pure Hallmark. In Kipling's classic tale, rich kid Harvey falls off a cruise ship, is rescued by a fishing schooner and learns the manly virtues of hard work. The producers have made Harv (Kenny Vadas) an orphan, softened the captain (Robert Urich) and added lots of heartwarming hokum. Take it with a shakerful of sea salt.
>Jonathan Katz
COUCH POTATO
DR. KATZ: PROFESSIONAL THERAPIST, Comedy Central's animated, cult-hit series about a Manhattan shrink, is where you would probably find Bart Simpson if he ever decided to seek help. The year-old show, which has just been picked up for 13 more episodes and will soon spin off into a comic strip, is graphically primitive—mere squiggles—but the humor is drily edgy as the doctor plays straight man to the neurotics in his office. One patient, asked if he still suffers from vertigo, answers, "No. I realized there are a lot of other directions. Why focus on one?" Katz always gets the last word. A musical theme chimes, and he tells the patient, "Oops, you know what that means: Our time is up."
Katz comes from the picked-over mind of a confirmed analysand. "I've been in therapy for different reasons at different times," says Jonathan Katz, 49, who is producer, co-creator, co-writer and voice for the doctor, also named Jonathan. Katz, whose father, Sidney, was executive director of a Manhattan psychiatric hospital, says his first big mental crisis came at age 12 in summer camp. "I had this phobia about bees and wasps," says the New York City native, who now lives in Newton, Mass., with his wife, Suzan, and two daughters. "I was playing left field and someone hit a high fly ball my way. While it was in midair, a bee landed on me. I just took off like a bat out of hell. The camp director sent me home, and I started seeing a therapist. I told him about my fear of insects, which he interpreted as a fear of incest."
More recently, he recalls, "when my wife would confront me, rather than face an issue I'd smile. My therapist said to wipe the smile off my face."
Katz, whose work on the show won him an Emmy last year, would love more therapy, "but I don't have time." He's lining up deals with DreamWorks studio for non-Katz animation, a sitcom and a movie—plus "a theme park," he jokes, "where patients can go with their shrinks."
WHEN THE TALKING GETS TOUGH, THE tough get makeovers. I've seen punks turned into preppies, mechanics suited up in Armani, and moms who dress like hookers tastefully transformed by the gurus of fashion on daytime talk shows. Studio makeovers are talk TV at its worst and best: They can be exploitative and cruel but also compassionate and upbeat. I cringe when some dolt forces spandex on a chunky homemaker, but I like to see shy women and self-conscious men blossom under the effusive praise of hosts like Geraldo and Leeza and the skill and attentiveness of hairstyle wizards such as Louis Licari and José Eber.
Advertisement
Treat Yourself! 4 Preview Issues
The most buzzed about stars this minute!