Archive Page - 12/1/12 39 years, 2,080 covers and 53,257 stories from PEOPLE magazine's history for you to enjoy
On Newsstands Now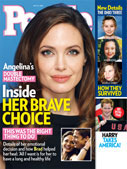 Angelina: Inside Her Brave Choice

New Details on the Ohio Three

Prince Harry Takes America!
Pick up your copy on newsstands
Click here for instant access to the Digital Magazine
People Top 5
LAST UPDATE: Wednesday May 22, 2013 07:10AM EDT
PEOPLE Top 5 are the most-viewed stories on the site over the past three days, updated every 60 minutes
He Will Not Be Broken
A Determined Christopher Reeve Relies on Love and Laughter—and Has No Time for Self-Pity
After the show, Reeve and Dana Morosini—the actress whom he married in 1992 and who has sustained him since the accident—were toasted in a private room by Steven Spielberg and Oscar producer Quincy Jones along with
Tom Cruise
and
Nicole Kidman
. Later, at the Governors Ball, Reeve and Morosini, 35, celebrated with Susan Sarandon and Robin Williams, a close friend since he and Reeve were classmates at the Juilliard School in Manhattan. "Chris loved showing people that he's back," says Scott Henderson, his agent at William Morris.
"I can't tell you how his presence lifted everybody," adds producer Susan Winston, a friend who helped Reeve write the speech in which he adjured Hollywood to "take risks" and tackle social issues.
Those who had met Reeve two weeks earlier, when he flew to Green Springs, Ohio, to christen an $18 million wing of the St. Francis Health Care Centre, a state-of-the-art facility where spinal-cord patients are treated, had been similarly impressed. Reeve confessed that, for a few dark moments at the University of Virginia Medical Center in Charlottesville (where he was taken by emergency helicopter after his injury), he had wondered whether it would be better to die. When he told Dana of his doubts, he said, "without missing a beat, without looking away, she said to me, 'But you're still you, and I love you.' She has never once wavered...and I feel I owe her my life."
Marshae Ohms, 24, a graduate student at the University of Louisville who learned to walk unassisted two years after a 1989 spinal-cord injury left her in a wheelchair, was moved by Reeve's tribute to his wife. "You can see the support that he gets from her," says Ohms. "Family and friends are your backbone."
But as Quincy Jones discovered, Reeve has plenty of fortitude of his own. When the two were plotting his Oscar segment, which featured clips of groundbreaking movies including Philadelphia, "he told me he didn't want anyone pushing him onto the stage," says Jones. "He asked for a clip of Jon Voight [as a paraplegic Vietnam veteran] in Coming Home, because he said people in wheelchairs are seen as geeks, and he wanted to change that." And just 20 minutes before his segment, Reeve nixed the Superman theme that the orchestra had rehearsed, sending Jones scrambling for new music.
As it happened, the trip to L.A.—his longest since his accident—was a meticulously orchestrated event that reveals just how complex Reeve's life has become. Last month he told the Los Angeles Times that, after he accepted the invitation in January, "I put down the phone and said, 'What have I done?' "
Early in March, a team that included Neil Stutzer, president of Access of New Jersey—a firm that coordinates travel for the disabled—checked floor plans at the Chandler Pavilion and met with Academy board members to map out security and travel routes for the three-day excursion. Stutzer prepared a 75-page manual that included a section about what to do if Reeve's motorized wheelchair needed repair, and Jones persuaded Warner Bros, to lend its corporate jet to fly Chris, Dana, Stutzer and a crew of doctors and attendants to L.A. on March 23.
Determined to remain incognito, Reeve checked into the Beverly Hilton under an assumed name; security staffers cleared the halls as he and Dana were escorted to their room. After dinner with Williams and wife Marsha, they communed with friends including Thompson (who starred with him in 1993's The Remains of the Day) in the presidential suite.
On Oscar day, Reeve was driven to the closed-set rehearsals in a specially equipped van. After a nap at the hotel, he returned to the auditorium with Morosini at around 6 p.m. Despite the radio leak, "we managed until the very last minute to keep the secret," Reeve told the Los Angeles Times. "Me and the author of Primary Colors."
What Hollywood, and the global Oscar audience of 1 billion, hadn't witnessed, of course, was the year of struggle that preceded Reeve's Oscar triumph. On May 31, the actor, who had skied, sailed and performed his own stunts, woke in a drugged haze at the Medical Center in Charlottesville. He remembered nothing that had happened after he warmed up his 7-year-old chestnut, Eastern Express, before the Culpeper County spring horse trials. Only later did he learn that he had been resuscitated by a quick-thinking spectator after his mount had galloped to a jump, refused it and sent him into a flip that ended when he fell, full-force, on his head.
In the days after the accident that shattered his first and second vertebrae, Reeve was buoyed by his family (including his long-divorced parents—Barbara Johnson, a reporter for a Princeton, N.J., newspaper, and Franklin Reeve, a novelist and creative-writing professor at Wesleyan University in Connecticut) and by thousands of letters from strangers. Gae Exton, 44, the British advertising agent who is mother to Reeve's children Matthew, 16, and Alexandra, 12, sat vigil, as did his brother Benjamin. 42, a neuroscience research advocate.
By all accounts, though, it was Morosini (who met Reeve in 1987 when he caught her cabaret act in Williams-town, Mass.) who was his constant source of inspiration. While he was recuperating in Virginia, Dana (the New Jersey-born daughter of a heart surgeon and a publishing executive) did her best to make his room a sort of haven: She posted inspirational messages and hung an autographed photo from a space-shuttle crew. Although Reeve has no feeling in his hands, she made sure to clasp them and touch him lovingly, and she often crooned a song that the two had sung to son Will, now 3.
Of course, there were moments of pain and tension. "Chris can be extremely opinionated and very stubborn," says Bonnie Monte, a longtime friend who is artistic director of the New Jersey Shakespeare Festival. On one visit, she said, "he was extremely frustrated and angry that he couldn't sit in his wheelchair that day. It was just some minor medical problem, but he feels in control in that chair."
Since Reeve's return home to Bedford, N.Y., in late December, Morosini has been "determined to make life as normal as possible," says Monte. Adds Margot Kidder, Reeve's Superman co-star: "They just don't allow themselves to be self-pitying. That takes an awful lot of strength."
Although Reeve completed 24 weeks of rehabilitation at the Kessler Institute in West Orange, N.J., after his five-week stay in Charlottesville, he is still learning to live with a body he can scarcely move or even feel. Immobile below the shoulders, he cannot sweat, control his bladder or feed himself; his respirator tube must be cleared frequently, and his body must be shifted every two hours to keep his muscles and joints flexible. Says Barbara Walters, who interviewed the couple last September: "Dana learned everything those nurses do. She knows how to move him, to change him—she can do everything now."
Reeve's rehabilitation routine is grueling. The family home is being fitted with ramps and wider doors, and the garage has been converted into a gym. He combats spasms and muscle atrophy by using a bicycle-like device called a Regis Cycle, which allows his legs to move on its pedals, and by using custom-made pants fitted with electrodes that force his muscles to relax and contract. In addition, his limbs must be moved and stretched frequently—a task that Dana often performs.
"There's nothing that is easy—everything is a struggle," Dana has said. "And of course we are also mourning the loss of [Chris's] mobility and moving on from that...."
While Reeve has lamented the fact that he can no longer hug his wife, he has made a point of saying that they are still intimate. Morosini, says Walters, "laughed and got a little embarrassed" when Walters raised the subject of sex. "She said, 'Well, we can, and we are able to,' " remembers Walters. "I thought it was wonderful." (Both Dana and Chris have said that they hope to have another child.)
One thing that does trouble Dana, says Monte, is being billed as a ministering angel. "She makes jokes about the media portraying her as 'St. Dana,' " Monte says. "But she doesn't want to be that. She says, 'I am just a woman whose husband fell off a horse, and I'm going to take care of him. That's what you do.' "
One important goal, for both Chris and Dana, is to return to the working world. Says Monte: "It's important for them to get back to doing what they do." Next month, Morosini (who has an MFA from the California Institute of the Arts and has appeared at the Manhattan Theater Club) will return to acting by playing Julia in the New Jersey Shakespeare Festival's Two Gentlemen of Verona. Chris is tackling projects including an autobiography with writer Roger Rosenblatt, for which Random House will pay a reported $3 million. On April 18, he will fly to Atlanta to deliver a 25-minute speech at Peter Lowe's Success '96 Seminar, a motivational convention whose headliners include Barbara Bush, Margaret Thatcher and Hank Aaron. In August he will return to Atlanta as master of ceremonies for the 11-day Paralympic Games, to be televised by CBS.
A Princeton native who spent much of his career trying to move beyond his role in the 1977 blockbuster Superman, Reeve is also determined to forge a new path in show business. Says his agent: "He wants to find a good part, and he's hopeful that producers will be creative."
The response has been encouraging. Warner Bros, producer Frank Gladstone recently asked Reeve to provide the voice of King Arthur in an animated feature called The Quest for Camelot. Keith Samples, CEO of Rysher Entertainment, who signed Reeve to direct a romantic comedy last year, expects him to begin work on the project by year's end. "Chris is incredibly focused, and he has a strong sense of moviemaking," says Samples, who distributed HBO's Above Suspicion, in which the then able-bodied Reeve played a policeman paralyzed by a bullet. "Obviously the locations will have to be very carefully thought out. Chris gets fatigued, and I don't think you want to put him in a situation where he is shooting 14-hour days. But I don't think we'll have to."
A major hurdle, at the moment, is raising funds for Reeve's 24-hour medical care and rehabilitation, which costs an estimated $400,000 a year. The insurance policy that Reeve bought 20 years ago through an actors' union has a lifetime cap of $1.2 million, and because unlucky investments depleted his earnings from projects including Superman, living comfortably is no longer a given. In January, Reeve said, "A year or two ago we seemed to be very well off, [but now] the picture has changed."
Early this year, Reeve agreed to support an amendment from Sen. James M. Jeffords of Vermont to raise the lifetime insurance limit for catastrophic illnesses to $10 million. Since then, the actor—a longtime environmental and human-rights activist—has been briefed by Jeffords and has written a letter to each senator. "He was determined to help," says Jeffords. "He realizes what the caps do to thousands of others in this situation, who are forced to go on welfare or Medicaid."
Reeve also has urged Congress to allocate more funds for research into repairing crushed nerve tissue. Convinced that a cure is within reach, he has inspired California philanthropist Joan Irvine Smith, a fellow horse-lover, to found a multimillion-dollar facility at the University of California, Irvine. The Reeve-Irvine Research Center will be dedicated, he has said, "to really pushing scientists who have been working in dark laboratories by themselves, very underfunded and underappreciated."
The question, of course, is how far Reeve can go while science works to catch up with his dreams. From the beginning, he has been clear about the fact that he expects to "get up out of this chair and throw it away." While cautioning that it's still too early to make a final call, physicians who treat patients with injuries like Reeve's are less optimistic. Kessler Institute medical director Dr. Marca Sipski notes that patients typically make the most significant improvements within two months, although progress can continue for a few years. Those with injuries as severe as Reeve's, doctors say, usually can expect only to regain some shoulder movement or, perhaps, breathe without a respirator.
On some level, Reeve seems to recognize that he may never take another step. "Either you do or you don't" recover, he told Walters. "It's like a game of cards. Sometimes you get [lucky], and sometimes you don't. But I think the game is worthwhile."
So, too, do legions of those who love him. "Chris has lost nothing but the use of his body," says Monte. No matter what happens, she says, "he still has his tremendous intelligence, talent and unbelievable commitment to various causes. He's lost one thing—a thing we all dread losing, to be sure—but so much of what makes up Chris is still there."
Contributors:
Anne Longley,
Linda Kramer,
Carolyn Ramsay,
Todd Gold,
Sandra Gurvis,
Maria Eftimiades,
Mary Esselman,
Danelle Morton,
Cindy Dampier,
Barrara Sandler,
Stanley Young,
Greg Aunapu.
Advertisement
Treat Yourself! 4 Preview Issues
The most buzzed about stars this minute!