People Top 5
LAST UPDATE: Tuesday February 10, 2015 01:10PM EST
PEOPLE Top 5 are the most-viewed stories on the site over the past three days, updated every 60 minutes
Friends on a Roll
Wheelchair-Bound Bong Delrosario Makes An Unusual Buddy Film with Best Pal Donnell Green
"Hey, girls! Aren't you in eighth grade?"
Hormones rage and pickup lines compete as the two dudes inspect the schoolgirls on Baltimore's Rolling Road. Like many other kids his age, Bong Delrosario, 17, wears the requisite badges of coolness—two small earrings in his left ear and a Guess? wristwatch with a silver band. And like many of the local teens, he spends his free time at the Owings Mills Mall with his best pal, Donnell Green, also 17. Theirs is a never-ending competition. "We can't even count the arguments we've been in over girls," says Bong. "But there were only two fights. Once he clocked me on the head. Once I clocked him." Concedes Donnell: "He's not shy. I'm shy. He'd go up to girls and come back with phone numbers."
But where Donnell saunters along the mall's wide marble promenades, Bong cruises in his "Jaguar"—a $10,000 computer-controlled four-speed wheelchair. He may be the smoothest pickup artist in his junior class at Milford Mill Academy, a public high school in Baltimore, but since birth, Bong has been crippled and virtually" paralyzed by arthrogryposis, a congenital condition that freezes the joints.
Near-total immobility, however, has hardly slowed him down. Thanks to his astonishing resourcefulness, sheer will and immense charm, Bong has beaten the odds. He has learned how to brush his teeth, dress, do his homework (with pen in mouth), thrive in a mainstream school and even—much to his mother's consternation—light a cigarette. "When I can't do things right there on the spot, I just stop and do other things," says Bong. "And while I do them, I may be thinking about how to do such-and-such in a different style."
Most recently, Bong mastered filmmaking. Last spring he and Donnell cowrote, codirected and co-starred in a 15-minute video called The Mall, under the supervision of documentary movie producers Susan Cohen and Bill Whiteford (who first met Bong in 1985 while making an Emmy-winning film about handicapped children). On May 22, The Mall won the Golden Apple Award—the Oscar for high schoolers—at the National Educational Film and Video Festival in Oakland. "This is a movie about their fantasies," says Cohen, who admits that when she found out that Bong's movie was "basically about picking up girls, I tried to get him to change the script." With characteristic stubbornness, Bong refused—and won. The Mall "dealt with an issue we hadn't seen before," says Angela Rose, competition director for the festival. "Bong's handicap is there, but you see him as a regular person. That's very unique."
But as his proud mother, Vicki Delrosario, 42, is quick to tell you, Bong has always been one of a kind. "When he was little, the doctor said he was going to be like a vegetable," she says. "They did not know my Bong."
Nor did they understand the single-mindedness of Vicki Delrosario, who works as a supervisor in a Baltimore library. A Philippines native, she separated from her husband shortly after becoming pregnant with Bong. After moving to Baltimore, she learned from a sonogram in her sixth month that something was wrong with her baby. Nevertheless she chose to have the child. "It wasn't a hard decision," she says. "I turned my back on everything just to take care of him."
Magtanggol Saradpon Delrosario was born on Feb. 8, 1977, and nicknamed Bong because that was what Vicki's ex-husband had affectionately called her. Weighing in at 4 lbs., 2 ozs., the infant had tiny feet that were clubbed and bent backward, his knees were pushed up against his stomach, and his head twisted to one side. He spent his first 11 months in the hospital undergoing treatments to increase his range of motion. It worked to some extent. At 7 months he had learned to roll over.
So three days a week, starting when Bong was an infant, Vicki took him by bus to what is now the Kennedy-Krieger Institute in Baltimore, an evaluation and treatment center for children with brain and developmental disabilities. There, thanks to federal aid, he received the extensive medical attention he needed and attended preschool until age 6. As a small boy, Bong was often in casts or braces, the result of more than 15 surgical attempts to loosen up his joints. "I had operations all the time when I was younger, recalls Bong, who, though healthy, is still at risk of scoliosis, a spinal deformity caused by generalized weakness in the muscles.
From the beginning, Vicki was determined to teach her son independence. Holding him in her arms, she would wander through local hardware stores searching for ideas to increase Bong's dexterity. Using a system of sling supports, an elevated dish and a spoon spliced onto a piece of plastic molded to the form of his hand, Bong was able to feed himself by age 2. A simple wire coat hook taped to a stick, in young Bong's mouth, became almost as serviceable as a real hand, allowing him to open drawers and the door latch. Vicki also lowered the toaster and microwave and put a cord on the fridge so that Bong could open it with his mouth.
But she is most proud of figuring out how to replace the zipper on the fly of Bong's trousers with Velcro when he was 6 and getting ready to go to public school—"so that he can go to the bathroom by himself," she says. By 9, Bong, proud of his growing independence, wrote in a class paper, "I like lo drive my wheelchair and break-dance. I write with my mouth and erase with my mouth, and I can do a lot of other stuff with my mouth...I like to do things on my own."
Even more, he liked lo do them with Donnell, the friend who eased Bong's entry into a wider world. They met when they were 5 and lived in the same apartment complex until last September, when Donnell moved a car ride away. "We've grown up together," says Donnell. "I don't consider him my friend—he's my brother. I call his mom Momma. He calls mine Momma."
Strong though their bond may be, it cannot ease the frustration built into Bong's daily life. Mornings are perhaps the toughest part of the day for the Delrosarios. Up at 6, Bong grabs his shirt and pants with his mouth, then rolls around on his bed until magically, it seems, he is fully dressed. With his mouth and various homemade mechanical "arms," he hangs up his pajamas, buttons his buttons and sometimes even cooks a fried egg. (He can also dial—and answer—the phone.) Every so often, however, he shouts, "Mom, help me." And she shouts back sternly, "You can do it, Bong."
That has been Vicki's mantra from day one. When Bong was 8, she recalls, she listened, agonized, as he begged for help to get from the wheelchair to the toilet. But she closed her ears until, she says, "he finally did it." Admits Vicki: "I don't want lo hear, cannot do it.' I am tough on him. But I have to be. I worry so much about when I am gone. What will he do? So I push him."
If school is any indication, Bong will do fine. Although he is only a C—student, his English teacher, Rosalind Sparrow, who recently gave Bong a 65 on his paper "The Downfall of PCP," says, "We don't cut him any slack. He can do much better than he does. But he's trying so hard to be normal."
Filmmaker Susan Cohen agrees. "Unlike a lot of kids with severe handicaps who try to please adults, Bong tries hard to be bad," she says. "And he's pretty good at it for someone who basically only moves his head." He has been known to "roll away" from home, skip school and head-butt bullies. Last year he alarmed his mother so much by staying out by himself till 3 a.m. that she shipped him to his cousin in Virginia for the summer.
In the large, noisy lunch room at Milford Academy, Bong speeds from table to table to visit his buddies, cutting up with a wise remark here, a "Yo, dude," there. "He's one of us," says Chris McCracken, 17. "People treat him the same." For a guy who can neither dance nor hold hands. Bong is no slouch with the Milford girls either. "He's a regular guy," says Reeshema Halstead, 16. "He don't let his handicap get to him." Adds April. Phillips, 15, with a laugh: "One time he looked up my skirt. I don't know how he did it. but he did." Jenny Young, 15, says she likes Bong because he is a great listener. "He gives advice. Good advice. Like, if you're having trouble with boys, you can talk to Bong. I call him the Dr. Ruth of Milford Mill."
Bong, who in fact toys with the idea of becoming a psychologist, likes to point out that his date to this year's junior prom asked him. He spent $300 on roses, a balloon and a teddy bear for her, as well as the official prom pictures, which he proudly displays to a visitor. Of his date, whom he calls the most beautiful girl in the world, Bong says that they have a "close, close, close friendship."
Still, he maintains certain cardinal rules about girls: "There's no steady. There's no commitment." "Exactly," chimes in Donnell. "You are free to have other [girl] friends."
Yet the most significant person in Bong's life, apart from his mother, is not any young woman, it is still Donnell. The boys, sharing a love of movies, music-and girls, feel especially close because they were both only children. Also, "neither of us has a father in the picture," says Donnell, adding, "Sometimes we tell people we have the same dad. And they believe it. That's how tight we are."
Even their movie—a fictionalized competition between them to see who can amass more girls' phone numbers at the mall—was, in part, about their friendship. "We were trying to say two things," says Donnell. "Like, my boy can do anything. And that you shouldn't ever let anything come between you—even girls." When Donnell is around, Bong can relax about the status of his precious wheelchair and its batteries, which run down after 18 hours. "I'm damn sure I've got juice when I go out," says Bong (who carries a beeper to keep in touch with his mother), "especially when I'm by myself. With Donnell, I'm less cautious."
"Man," recalls Donnell, "how many limes have I had to push you home? One night it was in the pouring rain. It was like an hour pushing him."
After graduation next June, Bong plans to live with Donnell in an apartment, and both hope to attend college. Vicki is both happy and terrified at the prospect of Bong's leaving home. "I want to get my own life back," she says. "But I worry about him."
And not without reason. One afternoon, waiting outside Milford for the power-lift on the school bus to hoist his wheelchair, Bong for one uncharacteristic moment seems small and vulnerable. Then the bus attendant, Doris Linton, catches his flirtatious eye, and he smiles. "I've known Bong since middle school," she says. "And one thing about him is that all the girls love him. He's just a very nice and handsome cat."
MARJORIE ROSEN
PETER MEYER in Baltimore
Contributors:
Peter Meyer.
YO, CHECK IT OUT."
Advertisement
Today's Photos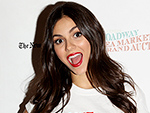 Treat Yourself! 4 Preview Issues
The most buzzed about stars this minute!