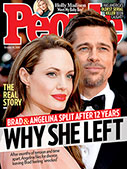 This Week's Issue!
People Top 5
LAST UPDATE: Tuesday February 10, 2015 01:10PM EST
PEOPLE Top 5 are the most-viewed stories on the site over the past three days, updated every 60 minutes
Picks and Pans Main: Song
Destiny's Gate
Initially it may not have read like the most adroit pairing—the clean, clear voice of scat woman Schuur and the rough-hewn sound of King. On second thought, it makes perfect sense: Both are virtuosos who don't like to hold anything back. Sometimes, though, you wish they would. While the King of Blues and the woman some consider the heiress apparent to Sarah Vaughan frequently raise a lovely royal racket, there are moments in "I Can't Stop Loving You" where the two almost seem to be in the midst of a shouting match. And however much they make "Glory of Love" soar, Schuur's vocal pyrotechnics seem self-indulgent. Heart to Heart is most successful when the two performers keep things simple, when they appear to be singing to each other rather than for each other. "You Don't Know Me" and most particularly "At Last"—with King showing himself to be quite the balladeer—are two soul-stirring cases in point. (GRP)
Marcella Detroit
As one-half of Shakespear's Sister (whose "Stay" went Top 40 in 1992), Marcella Detroit provided glass-shattering counterpoint to Siobhan Fahey's sly growl. Now on her own, she puts on quite a show, playing a stylistic Everywoman. Her soprano stretches from quirky funk ("Cool People") to silky soul ("James Brown") to chamber music ("Prima-donna") to campy psychedelia (the title song). Except for a couple of minor blemishes (like the bland "You Don't Tell Me Everything"), this Jewel outshines most of the competition. (Lon-don/PLG)
Public Enemy
With its first album in nearly three years—an almost suicidal hiatus in the quickly changing world of rap—Public Enemy is out to prove that it's still No. 1 among hip hop's explosive acts. Though far from a failure, Muse Sick N Hour Mess Age is hampered by its numbing length, less than forceful production (the album lacks PE's distinctively strident sound) and Chuck D's predictable racial rants. Yet Public Enemy show's lively signs of its former self, especially on the finger popping "Give It Up" and the ominous "So Whatcha Gone Do Now?" The latter, which criticizes gangsta rap and its emphasis on violence, may be the most challenging cut this group has recorded, reminding you of what made Public Enemy so important in the first place. (Columbia)
Take 6
Adding instrumental backing to the astonishing vocal harmonies of Take 6 was a bold move, and it's the five-time Grammy-winning a cappella group's first major misstep. When the workmanlike music isn't being manufactured by synthesized keyboards and drum machines, it's being ground out by musicians who seem to want to achieve parity with those machines. Another stumbling block is the show-stealing presence of such high-profile guest stars as Ray Charles, Stevie Wonder and
Queen Latifah
: All three sing and rap so distinctively that Take 6 winds up sounding like a guest on its own album. Still, there are examples of the squeaky-clean group's vocal wizardry here, notably a cover of Ambrosia's easy-listening staple "Biggest Part of Me." Take 6 is most successful when it sticks to what it does best: making the human voice sound like a divine instrument. (Reprise)
Keith Sweat
Attention, record shoppers: There's a red-light special going on over in the R&B section. Lead by salacious sex shouters like R. Kelly, soul artists are now embracing lyrics of such carnal candor they would make Dr. Ruth blush. For singers like Keith Sweat, known for a tamely romantic brand of crooning, this overt eroticism presents a challenge. But one glance at the song titles on his latest album—"Grind on You," "Come into My Bedroom" and "Feels So Good"—and it's clear that Keith is keeping up with the times.
Other than tossing his hat in with R&B's nasty boys, however, Sweat hasn't changed much on his latest opus. You still get two excellent songs: in this case, the bump-and-grind of "How Do You Like It?" and the title track, a steamy duet with Kut Klose. And, as usual, the gems are surrounded by a batch of slickly produced, musically flaccid grooves. There is one new twist: Sweat devotes one cut to reciting a benediction to all those who made the record possible, from his engineer to his managers and to guest rapper Left Eye of TLC (recently arrested for burning down the Atlanta mansion of her boyfriend, Andre Rison). Hey, Keith, save it for the liner notes like everyone else. (Elektra)
Branford Marsalis
With rap's man of the moment, DJ Premier, bringing the beats and Branford Marsalis bringing the chops, Buckshot Lefonque was one of the more anticipated of an endless stream of hip hop-jazz fusion projects. Surprisingly this album falls short of expectations. "Buckshot" is the perfect tag: The artists simply ricochet from pleasant Elton John covers to MOR jazz to backing Maya Angelou while she reads poetry.
Still, the album has its moments. "Breakfast at Denny's" kicks into high gear when Premier's scratches play hide-and-seek with Branford's horn. And in "No Pain, No Gain," the music burns with a stinging attack of beats, bent guitar strings and butt-wiggling funk. In the end, Buckshot Lefonque goes from being a cool idea to be-coming cool music only when Branford and crew let hip hop's noise erupt. (Columbia)
Tish Hinojosa
With simple gentility at such a premium in today's pop, it's hard to resist the soft elegance of Texas singer-songwriter Tish Hinojosa. On Destiny's Gate she nimbly combines elements of country, folk, rock and Mexican music into one diverse, intelligent package. From the mariachi-flavored "Espérate (Wait for Me)" to the rockabilly-laced "I'm Not Through Lovin' You Yet" to the haunting "Noche Sin Estrellas (Night Without Stars)," the bilingual Hinojosa knows how to break down cultural barriers—and melt hearts to boot. (Warner Bros.)
Contributors:
Joanne Kaufman,
Jeremy Helligar,
Amy Linden,
Tom Sinclair,
David Hiltbrand,
Billy Altman.
Diane Schuur, B.B. King
Advertisement
Treat Yourself! 4 Preview Issues
The most buzzed about stars this minute!