On Newsstands Now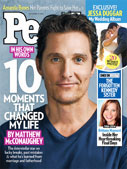 Matthew McConaughey: In His Own Words

Jessa Duggar's Wedding Album

Brittany Maynard's Final Days
Pick up your copy on newsstands
Click here for instant access to the Digital Magazine
People Top 5
LAST UPDATE: Tuesday February 10, 2015 01:10PM EST
PEOPLE Top 5 are the most-viewed stories on the site over the past three days, updated every 60 minutes
Picks and Pans Main: Screen
Kika
Like a Chinese opera, this formulaic action film is colorful and visually striking. It also needs a libretto. A typical line of dialogue sounds like, "I mmrph ngaga mbuttlzi un daboodi glonf."
Production sound mixer Thomas Causey uses mixes that are so muddy the actors' lines seem to have been filtered through oatmeal. Add plenty of loud music and ambient noise and it's impossible to tell what's going on.
There are other problems too: Jones, as a fugitive crackpot Irish terror bomber who's out to devastate Boston, affects a comically thick brogue. And Whitaker, as a member of Bridges' Boston police bomb squad, swallows his lines.
While none of this is the fault of screenwriters Joe Batteer and John Rice, they aren't exactly churning out Macbeth, either. As far as characterization goes, there haven't been this many stick figures since the Egyptians gave up hieroglyphics.
Bridges is your standard disgruntled movie cop. He wants to retire, but has to come back to battle the bomber, leaving his new wife and stepdaughter to maneuver themselves into position to be targets for the killer's extortion.
Jones, meanwhile, is an aimless, sadistic fiend who, after planting an elaborate, massive bomb on a man, cries when it explodes. He also harbors some kind of ill-defined grudge against Bridges for something in their mutual past. Amis is a strikingly old-fashioned damsel in distress.
The most amusing character is Jeff's real father, Lloyd Bridges, who plays his uncle and mentor, a retired cop. Jeff and Lloyd's scenes generate what little energy there is, outside of the incessant explosions—that's 103 GIANT ORANGE FIREBALLS!! folks; 103! (R)
Julie Walters, Jim Broadbent
Walters (best known for 1983's Educating Rita) is a feisty woman stricken with a mysterious ailment; Broadbent is her supportive husband in this story set in the 1980s and based on the true-life saga of English couple Diana and Deric Longden. She has blackouts, her fingers break at the slightest pressure, and she can no longer walk. Walters goes from hospital to hospital (her stays are enlivened by her deliciously dotty mother-in-law, Thora Hird). The doctors administer test after test, finally suggesting—patronizingly and incorrectly—that it's all in her head. She believes she's going to die and quite gamely accepts the fact, hiding pills around her suburban London home in case she decides to take matters into her own hands. She also takes into her own hands the matter of finding Broadbent a new wife (Sian Thomas).
The Wedding Gift doesn't have much context. Because we are thrown smack into the midst of Walters' grievous plight—the movie opens with a scene of her having a blackout—there is little sense of the couple's life before it became hostage to hospitals. But this is not to be dismissed as a disease-of-the-week movie. It is instead a sharply written and beautifully played drama of a couple whose love, regrettably, is not a cure. (PG-13)
Alec Baldwin, Penelope Ann Miller, John Lone, Peter Boyle, Ian McKellen
As penumbral superhero action films go, The Shadow beats the feathers off The Crow; it's faster, wittier and clearer of plot, and it takes its supernatural mumbo jumbo less seriously. This is a comic book brought neatly to life, and nobody is pretending it's anything more.
Like his crime-fighting prewar contemporaries Batman and Superman, the Shadow is a modern city dweller with alter egos. His civilian persona is Manhattan playboy Lamont Cranston.
Unlike most playboys, however, Cranston once took a life-changing trip to Tibet, where a mysterious monk taught him the secrets of telepathy and invisibility. The monk also taught Cranston how to "cloud men's minds," which might have led to a career in advertising had not Lamont become a semipro buttinsky, showing up at crime scenes as a disembodied, self-righteous voice that browbeats criminals.
The laconic Baldwin frequently gets to use his best move, gazing bale-fully into the middle distance. Writer David Koepp shows some principles (there are no "Oh, Expletive!" lines) and a modest sense of humor: When Baldwin meets his main foe, Lone, a diabolical Genghis Khan descendant who comes back to life, he says, "So, what are you doing in the Big Apple?"
Director Russell Mulcahy sadly underuses Miller, who is appealing despite another unworthy role: she has only to be sweet and innocuously vampy as mad scientist McKellen's daughter. Mulcahy simply wastes Jonathan Winters, who wrings a lot of laughs out of a handful of scenes as Baldwin's prating uncle, the police commissioner.
Mulcahy also wastes the Baldwin-Lone showdown, using it before the movie's climactic scene, during which a bomb is about to explode. The conclusion puts an unsatisfying end to an otherwise enjoyable experience. (PG-13)
Verónica Forqué, Victoria Abril Rossy De Palma
At first, Spanish writer-director Pedro Almodóvar (Women on the Verge of a Nervous Breakdown) seems to be in good form with this typically flamboyant comedy melodrama. He slowly and skillfully draws together such outlandish characters as the scatterbrained makeup artist of the title (Forqué); a lesbian maid whose great wish in life is to be a prison matron (De Palma); and a headline-crazed tabloid-TV hostess (Abril, decked out in elaborate Jean-Paul Gaultier costumes that make her look like the most beautiful squid in the world). He also comes up with some inspired bits of nonsense (the kindly-old hostess of a book-chat show apologizes to a guest for not having read his latest but promises to pass it on to her grandchildren). Then Forqué is raped, by a sex maniac on the lam, in a prolonged, extremely unpleasant sequence that Almodóvar has decided to stage as frantic bedroom farce. From here on out, the movie, which winds up a Hitchcockian thriller with a couple of twists, is effectively dead. Nothing can make the viewer forget the nastiness of that rape. Almodóvar could have conjured the ghost of Franco and commanded it to sing The Girl from Ipanema, and it wouldn't have helped. (Not Rated)
Contributors:
Ralph Novak,
Joanne Kaufman,
Tom Gliatto.
Jeff Bridges, Tommy Lee Jones, Suzy Amis, Lloyd Bridges, Forest Whitaker
Advertisement
Treat Yourself! 4 Preview Issues
The most buzzed about stars this minute!